Start of main content
Using EngTech to kickstart your career
Daniel Nock currently works as an Electromagnetics Environmental Effects (EEE) engineer in Bristol where he enjoys a varied role that helps him use his MEng in Electronic and Electrical engineering and his vocational experience.
"Some days I am developing electromagnetic models and then analysing the results of them, other days I am reviewing schematics for compliance with EMC standards and writing code typically in MATLAB to analytically model a problem as well."
It's a role that combines his passion for maritime platforms as well as interest in electromagnetics, which is fortunate as Daniel's first step on his career path would be quite nautical.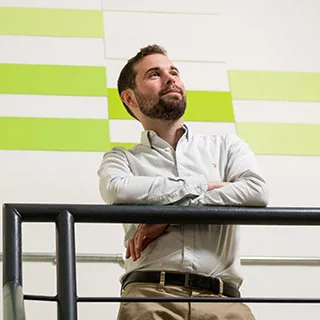 "I first took up work experience in a boat yard local to where I grew up, from there my interest in all things naval grew. I then went on to study Electronic and Electrical Engineering at Loughborough University where in the summer I interned at a large well-known defence company as a Systems Engineer. From there I got to be a part of the design and development of several large naval platforms for the Royal Navy."
However, it was during a placement year that Daniel first thought of applying for EngTech.
Becoming EngTech
Wanting to gain some experience away from defence engineering, Daniel undertook a placement year at Vodafone as a Project Manager and was able to build a lot of the competencies he would need to successfully gain EngTech.
Daniel talks about what led him to applying; "While I was at Vodafone, I was working with an engineer who was also a Fellow of the IET, and so was able to mentor me through the process".
Taking full advantage of the IET's self-assessment tool (part of Career Manager), Daniel was able to assess his competence and start to draft an initial application which was then ready to be sent to a Professional Registration Advisor (PRA).
"It helps massively, it allowed me to break down the whole process of applying for EngTech into bitesize steps".
Always thinking of the future, Daniel believed that gaining EngTech status would give him a real advantage in the job market post-university and demonstrate his competence to potential employers.
Lucky enough to have the mentorship of an IET Fellow, as well as the PRA who provided valuable feedback, Daniel was able to piece together his application using both his academic knowledge and practical experience, making sure he provided examples for each competency area, and once he submitted his application "the whole process seemed to be pretty seamless".
Life as EngTech
After getting the formal notification that he had been awarded EngTech, Daniel wasted little time in thinking of his next challenge and how he could use his new EngTech status to benefit his career, as he predicted it would.
"Being EngTech made me a more suitable candidate when applying for graduate roles. I probably owe it to the fact that I had a level of professional registration that I got the engineering job I did straight out of university."
Holding an active IET membership also helped as "being part of a well-recognised institution helped show my competence to future employers".
Since starting his registration journey and feeding his appetite for knowledge and learning, Daniel has also started to place more of an emphasis on his Continuing Professional Development (CPD) and often finds innovative ways of doing so.

"I find it particularly interesting to create mini projects for myself to learn a new skill from, for example this year I learnt more about MATLAB by developing a new app that models mutual interference between antennas."  
Paying it forward
Currently putting together an IEng application, Daniel has started to give back to the engineering community and help those who were in a similar position to him by assessing EngTech applications.

"I find it really interesting as I haven't been involved in the other side of the application process before" he enthuses. Becoming an ever more active member of the IET community, Daniel attended EngTech Assessor training in April 2022 and the registration volunteers conference in January 2023.  

Gaining advice from a PRA and an IET Mentor was also a large part of Daniel's journey, and helped him put together an application that best represents him and his skill set. Daniel's mentor was able to provide some clarity and guidance that enabled him to showcase his ability within the application.

"In my experience, IET members are always happy to support you in whatever way they can, and seeking their help can only aid your application" he remarks.

When asked what future success looked like after his whirlwind engineering career start, Daniel simply expressed his desire to "keep on learning and feel like I am improving as an engineer".

<!—Lead forensics script -->