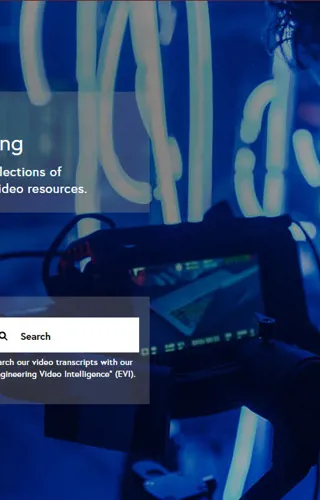 IET.tv The Research Engine
Gain access to the world's largest collection of engineering and technology videos.
It's a source of engaging and inspiring content from leading academics and influencers. IET.tv's video content is sourced globally and supports researchers, students, librarians and instructors.
Here's a little of what you can expect:
Seminars from universities and research institutions worldwide.
Teaching and coursework material for lectures.
Interviews with leading experts.
Lectures and presentations from all major IET events.
Bite-sized content like news, product demonstrations and showcases.
Visit IET.tv
Tune in to the latest conferences and events.
If you are thinking about filming an event at your institution, recording experiments or lectures or even just highlighting the engineering department of your university, IET.tv productions can provide you with all the technical and creative expertise you need to make inspiring videos. Contact us today to see how can help you.
EngTalks: The autonomous, connected, electric revolution
Millbrook: Autonomous village
Institutions
Find out how your librarians and administrators can gain 24/7 access to increase your video content and increase the depth of knowledge assets for your organisations.
Corporate organisations
We support researchers and your staff with our collection of presentations, lectures and training videos.
IET Members
You have free access to all content.  Just login to gain access to the world's largest collated resources of authoritative and multidisciplinary engineering and technology content.
Not ready to commit?
We offer free trials so you can find out just how IET.tv can enhance your research experience at no cost.

Find more of our content on YouTube

<!—Lead forensics script -->