Start of main content
IET Fellow Ian Naylor is a skilled negotiator who understands the power of listening. A man on a mission to improve safety, he has used his steely determination and persuasive abilities to improve electrical engineering standards around the world.
In 1981, Ian left school with few qualifications. He started out on a coal-mining electrician apprenticeship for British Coal, helping to maintain and install underground electrical plant and equipment. Hungry to learn more, in 1990 he resigned from the colliery to start a four-year degree in Electrical and Electronic Engineering at the University of Huddersfield.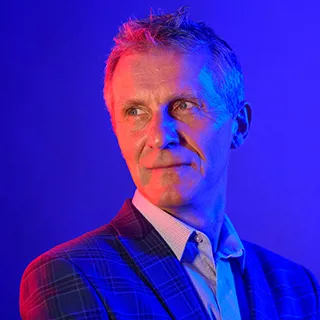 Professional career
The degree kick-started Ian's professional career and ignited his passion for safety standards. In 1994 he joined a medium-voltage switchgear manufacturer in Leeds, where he became heavily involved in development. He gained a solid understanding of how switchgear is built and tested. Observing equipment failure during destructive testing had a big impact on him.
Six years later he became Switchgear Asset Manager at Yorkshire Electricity Group. This change of role gave him important new insights. "I was 'poacher turned gamekeeper'", he said. "Buying the switchgear equipment made me recognise the lack of understanding in the industry about destructive testing and how powerful it is."
Safety standards
Determined to make a difference, in 2000 Ian joined the Electricity Association (now the Energy Networks Association). This marked the start of his safety standards journey: "I travelled round the world on various standards committees for HV [high-voltage] equipment, which taught me a lot about how to influence people and keep things moving in the right direction. It also raised my profile in the industry.
"With the help of software developers, I converted the NEDeRS[National Equipment Defect Reporting Scheme] from a fax-based system to an electronic one with search capabilities. It's now used around the world as a powerful tool for reporting equipment failures in substations."
Ian went on to produce a large number of standards and specifications for high-voltage switchgear and sat on the UK committees of various IEC switchgear standards. He was Secretary of the Energy Networks Association (ENA) Switchgear Assessment panel from 2000 to 2005 and took on the management of NEDeRS.
In 2005 he became a consultant, working for the research labs of utilities and power stations. He spent the next 10 years travelling the world in this role, which gave him more opportunities to build his standards presence. He was also an elected member of the IET Power Committee between 2007 and 2013.
"I wrote a lot of HV substation specifications," said Ian. "I also chaired the revamp of the BS-6626 standard for maintaining electrical switchgear and control gear. This was a big factor in me being awarded the BSi [British Standards Institution] Distinguished Service Certificate in 2013."
Ian is now Principal Consultant at Threepwood Consulting Ltd. He works with large engineering companies around the globe, so is ideally placed to keep a close eye on safety and standards issues arising in the electrical industry. He's still very involved in modifying engineering documents and revising industry specifications.
Personal safety campaign
Ian has campaigned relentlessly to stop the use of oil-insulated medium voltage switchgear in industry. This is because when an oil-filled switchgear tank ruptures, the results can be catastrophic, with burning oil and gas clouds causing fatalities and serious injuries, significant damage to buildings and plant nearby, and huge financial losses.
"I've done a lot of research into the impact of oil switchgear on personnel and buildings," said Ian. "The plain and simple truth is that when oil switchgear fails, there will be fatalities. Yet despite all the evidence, there's still a lot of oil switchgear out there in the industry. Manufacturers are still producing it and companies are still buying it because it's cheaper. That's crazy. It's like buying a new car that doesn't have seatbelts.
"I want companies that are using oil switchgear to get rid of it now and replace it with a new, safer alternative. It's a massive personal campaign for me. I don't beat about the bush. When it comes to oil switchgear, I tell manufacturers and users what I think: don't touch it with a barge pole!"
Fellow status
Ian is immensely proud to have become an IET Fellow.

He plans to use his new status to emphasise the value of two-way communication. "My experience of working down the coal mine and with manufacturers, utilities, committees and trade associations means I'm able to talk to anyone at any level," he said. "I understand how to get on with people and I'm good at listening and talking to them. These are very important skills for engineers of all ages."

Ian will continue his long-term quest to improve engineering safety standards: "I always go the extra mile to meet the client's needs, but I'll never bend any rules in doing so. If I feel the client is taking undue risks, I'll tell them. Shortcuts are simply not an option where safety is concerned."

He intends to inspire engineers to keep taking on new challenges that are outside their comfort zone: "If a project is in a completely new area, I'm always willing to study and gain the expertise to take it on. I encourage other engineers to do the same – and I tell them the IET is an excellent conduit for getting the right support and the right people to speak to."

<!—Lead forensics script -->