Start of main content
Using Incorporated Engineer (IEng) to help tackle global issues
Emma Bryan is currently a PhD researcher at Imperial College London where she is studying organic semiconductors for flexible electronics. Emma has been undertaking this research since 2021 and every day presents new ideas and fresh challenges.
"Sometimes I'll be making samples in the lab using our vacuum chamber for depositing organic thin films; sometimes I'll be collecting data on the atomic force microscope or x-ray diffractometer, and sometimes I'll be analysing my results in line with the scientific theory."
Emma originally studied Materials Science at undergraduate and Masters levels as it allowed her to apply science to real-world problems and answer questions about the physical world and developing technology.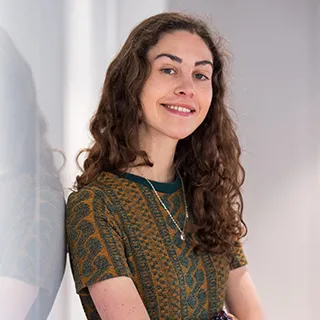 After finishing her studies in 2019 Emma started work at General Electric (GE) Aviation Systems on their Edison Engineering graduate programme where she was involved in the development of composite materials as well their sustainability initiative which allowed Emma to focus on a subject she cared about. It was during her time at GE that Emma had the idea of applying for Professional Registration.
Applying for IEng 
Emma first became a member of the IET when she started at GE and began to think about how her career could develop as an engineer. After identifying what competencies, she needed to improve, Emma started to seek out opportunities that would allow her to obtain the skills required to start an application.
"After my second year at GE I was ready to apply, spoke to my manager and completed the application. The process was also a good way to reflect on what I had learned as an engineer during the 2 years on the graduate programme. I saw it as a stepping-stone in my career and hopefully a way to allow me to get more involved with the IET."
Drawing on her experience at GE as well as her studies allowed Emma to demonstrate her competence and put together a compelling application, however she also received help from a Professional Registration Advisor (PRA) supplied by the IET.
"My PRA provided me with plenty of useful feedback on my application, and the areas that I should provide more examples for. Discussing the application with my PRA allowed me to optimise my application and boosted my confidence and on the interview day, everyone at IET Savoy Place was also very kind and made me feel welcome."
Emma enjoyed her interview experience as it gave her an opportunity to speak to experienced engineers who were able to give her a new perspective on her research direction. After the interview Emma was successfully awarded an Incorporated Engineer (IEng) status.
Facing the important issues
With a boost in confidence and determination to change the world Emma re-focussed on the original inspiration for becoming an engineer and one that she worked on during her time at GE.
"I've always been keen on tackling climate change, and I think that engineering offers a practical way to develop solutions to this global problem."
Emma is able to use her vast knowledge and practical experience to work on new technologies and develop solutions to one of society's biggest challenges. Having work with purpose is something that motivates her.
"Engineering is such an optimistic profession, and it's great to work on building technologies that a few years ago were only in our imagination. Being an engineer and scientist allows me to be inventive, creative, curious and work in a team with interesting and like-minded people."  
Next steps and next success
Despite going back into the world of academia Emma has maintained her IET membership in order to stay connected to the world of engineering and attend webinars and lectures on the topics she cares about. Emma also recognises her achievement in obtaining IEng and how much it helped her.

"Becoming professionally registered is a milestone in my career as an engineer and I think it will make me more employable. I'm trying to use my engineering skills as much as possible and keep up to date with the field."

Passing on advice to those who are also thinking of applying for Professional Registration, Emma said: "Look at the UK Eng Spec well before you want to apply so that you can find opportunities to demonstrate your potential in the different areas. This helped me to become a more well-rounded engineer, for example gaining experience in the people management and leadership roles that I wouldn't normally go for.

I also felt a bit hesitant about applying coming from more of a science background, but I would definitely say to go for it even if you think your application is not typical. Speak to a PRA if in doubt – they are there to help."

Looking ahead at where her career may take her Emma wants to find a balance between being part of projects that develop technology but also benefit society, something that has been a clear focus throughout her career and studies.

"If I can work in a job that I feel like is both making a difference and challenging me then I'm happy."

<!—Lead forensics script -->