Start of main content
IEng at 24, and not stopping there…
Andrew works as an Electrical Engineer for AECOM where his day-to-day work includes completing designs, calculations or schematics, in the UK and around the world. AECOM's flexible working policy also allows him to dedicate time to the things he loves, like walking the dogs or going to the gym, whilst also connecting to colleagues and clients on a global level.
Inspired by his brother working as a heating systems engineer, Andrew quickly developed a passion for engineering.
"It gives me the ability to find solutions to problems and a sense of fulfilment at the end of each day."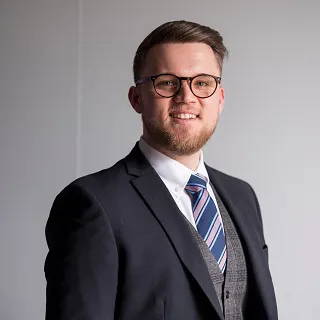 Starting an Electrotechnical Apprentice in 2016 with the goal of becoming an Electrician, Andrew quickly realised what he wanted to achieve and how he was going to do it.
"In the third year of my apprenticeship, I started a HNC in Electrical and Electronic Engineering. After I completed my apprenticeship, I progressed from Electrician to Approved Electrician and then Electrical Site Manager. Around this time, I started working for Laing O'Rourke at the Royal Liverpool University Hospital and was then referred to AECOM."
Creating the building blocks
Combining his enthusiasm for development with high career ambitions Andrew quickly identified Professional Registration as an opportunity to be recognised and validated as an engineer, something he always wanted. After achieving EngTech status at the start of 2022, he went straight to work on an IEng application using his on-the-job & work-based learning experience.  
"I was keen for progression to IEng to ensure the continuation of my professional development. I downloaded the competency criteria and aimed for 2-3 examples or 1000 characters per competency."
Knowing he had key experience in managing teams of personnel, projects and resources but also recognising the value of seeking advice from other colleagues and the help that the IET could offer him served as a good starting point.
"Firstly, I spoke with Chartered colleagues for advice and joined an IET webinar to further learn about the process. My mentor and a Professional Registration Advisor gave me feedback to rectify any issues or missing information and then I submitted my application."
Using all the resources on offer is common practice for Andrew and he made sure to take advantage of the IET's Career Manager platform, which "allows individuals an effective and straightforward process that is completed stage by stage. You fill in the separate parts of your application like job role, CPD record and education, also the competency criteria tracker in Career Manager is also easy to follow and allows for a mentor to give feedback on the application."
Andrew was awarded IEng in January 2023 and is delighted to see his hard work paying off.
Boosting confidence  
After achieving such an important milestone in his career, Andrew was keen to use his talent and work ethic to benefit the engineering community by taking on a role as a STEM Ambassador.
"I volunteer with young people in schools and in the community with the goal of inspiring the next generation of STEM Professionals, including volunteering at my old secondary school."
With a sense of his career coming full circle and having recently given a career talk during an open day, Andrew was able to reflect on how his IEng status helped contribute to this next stage in his career and chance to give back.
"I believe the process has given me more confidence in my ability as an Engineer and a sense of achievement for what I have already accomplished" he explained.  
Also knowing that his employer was right behind him by having a recognised programme with the IET, contributed to the sense of confidence, with AECOM being "very supportive at all steps and keen to see progress to CEng."  
Maximising CPD
Keen to take advantage of the benefits that Continuing Professional Development (CPD) can offer, Andrew has not rested on his laurels after achieving IEng and seems more determined than ever to make his career and development progress in the way he wants.
"I have a Development Action Plan (DAP) which I use to compare my current position with where I think I should be, I then review this with my line manager and mentor to ensure my goals are ambitious but achievable. As my DAP contains both short, medium and long-term goals I know where and what I should be achieving to keep me on track."
Andrew believes that by making the most of his CPD and engaging with the process it helped him with his Professional Registration applications, by allowing him to give reasons why he wanted to undertake certain CPD opportunities and what he learnt after. CPD also benefitted him by ensuring his knowledge and competency were up to date.
What now?
"My main career goal is to attain CEng before the age of 30. Professional Registration is open to all, extremely beneficial and something we should all work to attain."

With Chartership firmly in his sights, Andrew has already started to map a course to CEng and look at how he can make the most of the opportunities his Professional Registration brings him.

With his love of engineering and the wider STEM professions apparent, Andrew believes that "the industry is open to all who have the desire and work to continue their development."

<!—Lead forensics script -->