Start of main content
A year in the life…. Ama Frimpong
Published: Tue 3 Oct 2023
What has the past year felt like for you, and what have you been up to?
The past year has been such an incredible and transformative journey. Winning YWE served as validation for years of hard work, dedication, and innovation in healthcare technology and engineering. However, what became even more apparent in the last year was its impact on others. It ranged from individuals who found validation for their own journeys and stories, feeling a kinship with my experience, to those who were inspired to support others with dreams similar to mine, or those who were motivated by the award to pursue their own engineering aspirations.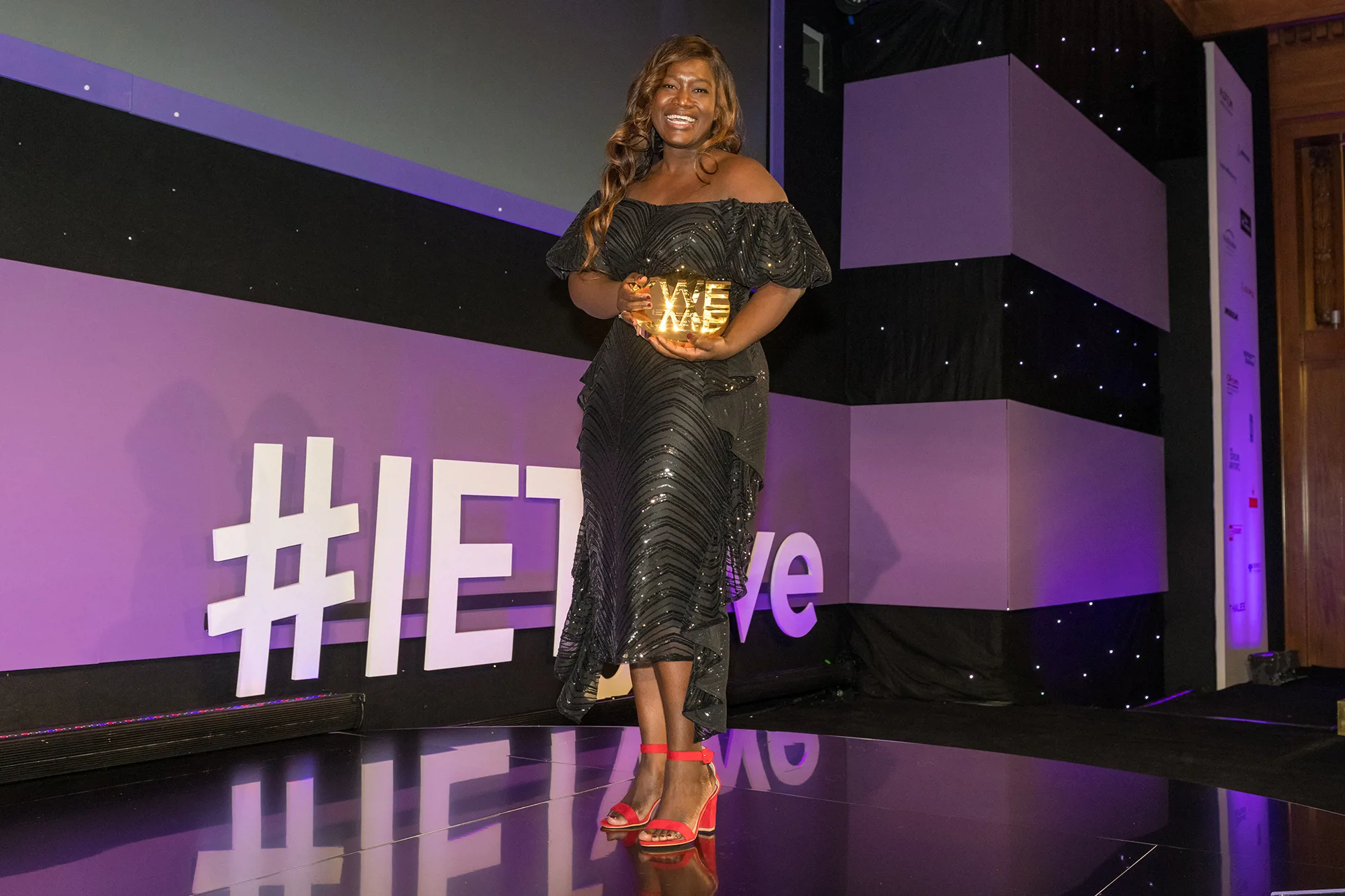 Winning and serving as an ambassador for engineering has been a humbling experience. I've had the privilege of sharing the stage with some of the brightest minds in the field, and it's been an exhilarating rollercoaster ride.
It all began with a 6 a.m. BBC radio interview the morning after the awards ceremony and continued throughout the year with personal and career development, public engagement activities, and ongoing opportunities to influence the engineering profession and the journeys of fellow engineers.
I've grown both as an engineer and as an individual. I've met inspirational people and now have the privilege of learning from them.
Through these numerous opportunities, I've gained a deeper understanding of the challenges that STEM careers face in their efforts to increase DEI, and I remain committed to working towards improving the representation and support available to all underrepresented individuals in STEM.
Can you tell us about a highlight or two from your year as our YWE winner?
The highlight of my year was participating in REflect and attending the Faraday competition. Both of these events showcased the incredible efforts made by organizations and individuals to create early fun opportunities for young people, particularly those from underrepresented groups, to engage with STEM fields.
They provided learning, access to role models who look like them and aimed to offer the best possible chances for them to choose and embark on successful journeys in the field.
Events like these hold such significant meaning for me because I did not have these growing up. They address a crucial need in the STEM community and open doors for individuals who might otherwise face barriers to entry, ensuring that they have the opportunity to explore and thrive in STEM. 
What would you like to see change in the future to improve diversity in engineering?
Promoting and providing support to enhance DEI in engineering should be inclusive, aiming to benefit everyone. I would like to see increased alignment among organizations, governing bodies, and governments regarding initiatives and policies aimed at better supporting individuals entering the profession.
Additionally, it's crucial to extend this support to those who are already part of the engineering community. 
This collective approach is essential because it not only broadens the pool of talent entering the field but also acknowledges the value of retaining and nurturing the exceptional talent that currently contributes to the engineering domain.
By fostering an inclusive environment and providing opportunities for all, we can strengthen the engineering profession, drive innovation, and ensure a more equitable and diverse future for STEM disciplines.
Why are female role models like our YWE winners so important?
Female role models in engineering play such a vital role in both directly and indirectly empowering the next generation of women in STEM, particularly within the engineering field.

By showcasing these accomplished women and sharing their inspiring stories, we provide aspiring engineers with tangible examples of success. Sometimes, all it takes for someone to embark on their own STEM journey is to see someone who looks like them and has achieved remarkable feats.

YWE winners offer accessibility to themselves that is invaluable. Their presence allows individuals to approach them with questions, seek guidance, and share thoughts.

This access to accomplished engineers not only demystifies the path to success but also creates a supportive network that fosters growth and development.

To me, I see YWE's past and future as beacons of possibility and accessibility in engineering, encouraging greater gender diversity in the field and ensuring that talented women have the encouragement and resources they need to thrive.

<!—Lead forensics script -->