Start of main content
IET Fellow Keith Heyes' invention wins this year's Royal Academy of Engineering MacRobert award
Published: Tue 26 Jul 2022
Experts say that the device, which is currently used by around 50 patients in the UK, could transform the lives of people with kidney disease.
Quanta's compact home dialysis machine is designed to be used by non-clinical people.  They can expect a higher quality of life and a significant increase in life expectancy.
IET Fellow Keith Heyes, Systems Engineering Director and Head of Integrated Architecture at Quanta Dialysis Technologies, invented the machine and initiated the dialysis project.
Following the incredible award win, we spoke with him to find out about the machine, his role and his passion for engineering…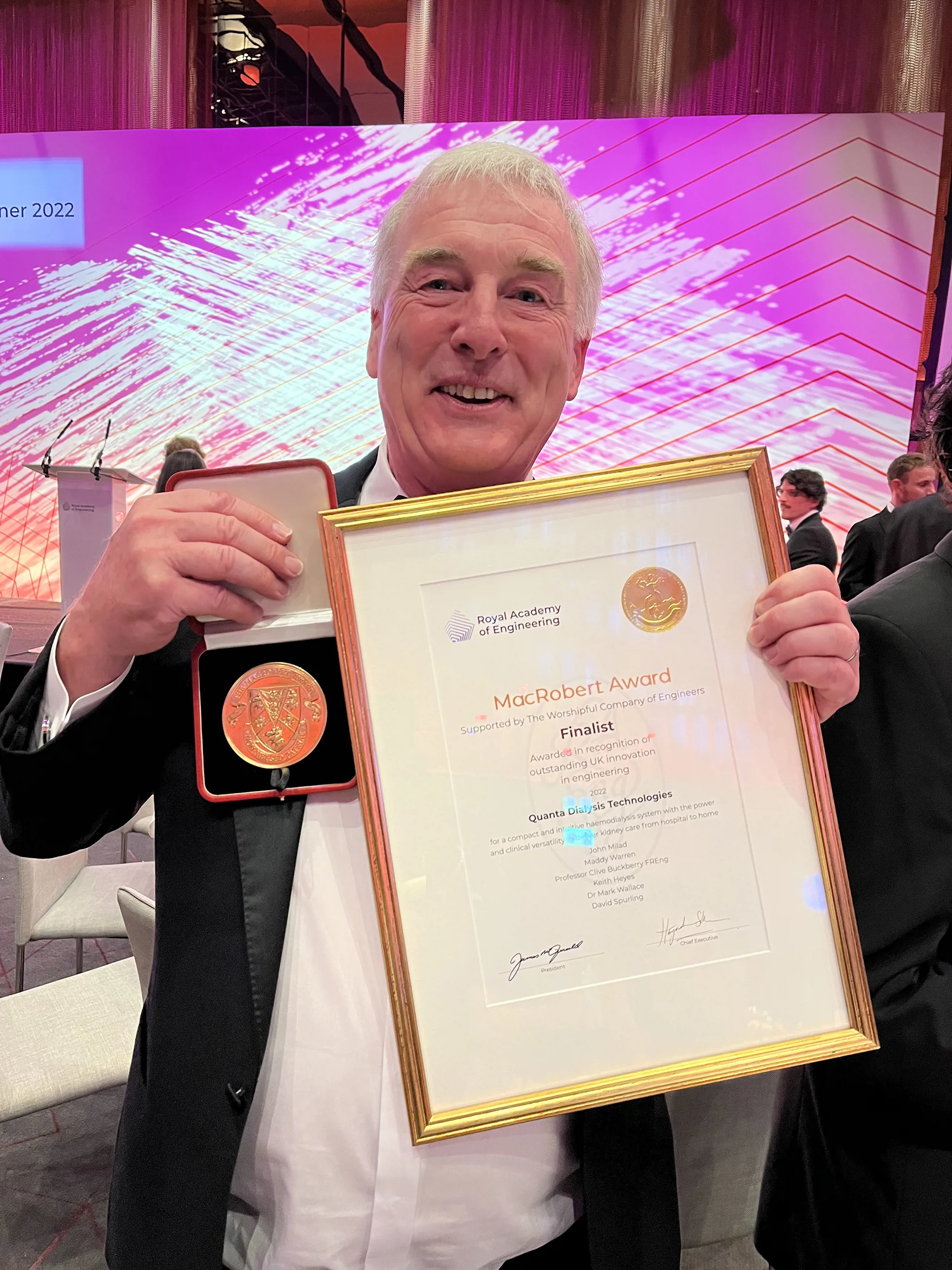 How does it feel to have won the MacRobert Award?
I must say that even though it's been a few days since the ceremony, it is still sinking in. My initial reaction at the awards dinner was disbelief. We were elated to be shortlisted to the final three, but to come first and be the best in the UK is amazing.
Of course, my wife, family, friends and colleagues are thrilled, and I've been reminded of the challenges the team have overcome over the last 15 years. I am particularly grateful for the support and encouragement my wife has given, and continues to give me; thank-you, I could not have done it without you.
Back in 2008, we formed Quanta. There were 10 of us and we had very little funding and no experience of dialysis machines. We had a basic technical concept and business plan. 14 years later, we have an industry-leading machine on sale in two continents, a growing company in excess of 260 people, active representation on the international standards committee for dialysis machines, and sufficient funding to take us to profitability.
Being the originator of the idea and project, being able to drive the system design and architecture, and build a high performing team around me, the MacRobert Award has reminded me of my own personal contribution to the project. I feel immensely proud and humbled.
What do you do in your role?
My day-to-day role is varied and challenging. No day is the same, and it's this that attracts me to engineering and innovation.
I am the original inventor and initiated the dialysis machine project. My current responsibilities include technical responsibility for the system architecture and design, and overall responsibility for System Engineering and the System Engineering Team.
These responsibilities result in a varied day. For example:
There may be a query from a clinic coming in via the technical support team. I will work with them to dig into the log files, help them understand the actual versus intended system behaviour, and identify if there is a fault of the system or a design flaw. This helps with the ongoing training of the technical team, and provides me with potential design flaws requiring design changes.
Guidance to the technical and project leadership of work packages and projects for feature upgrades of existing systems. This allows me to share my experience and knowledge to less experienced members of the team, and allows them to develop their skills and competences.
Developing product, platform and tool roadmaps. From these, forward plans for projects, resources and budgets can be constructed. It gives the company leaders a chance to develop a shared vision for the future.
Development and coaching of the team members. This is often overlooked, but is key for knowledge creation and dissemination within the business. Everybody in the team needs to understand the vision, and how they can contribute to it.
All of the above is in the context of collaboration and teamwork. We have an open working culture essential for innovation and effective problem solving. 
How does it feel to know the team's innovation is directly helping people?
Often, engineers don't know how their work directly affects people and society. My team is lucky in that we encourage members to visit dialysis clinics and meet patients. Through this, we can understand how the innovation directly benefits the patients.
For a typical in-centre dialysis machine, the patient would need to visit the clinic three times per week for four hours per session. Often this involves a lot of travel, and interrupts home and work life. The result is that half of the week is devoted to treatments, and the other half feeling ill or recovering from the session. Life expectancy is typically 5-7 years on dialysis in the UK.
With our invention, the machine is small and is designed to be used by non-clinical people at home. This means that patients can treat themselves to their own schedule, and if they increase the frequency of treatment, they feel less ill and can reduce their medication. The result is a higher quality of life, and a significant increase in life expectancy.
Knowing this is highly rewarding and motivating to all the team.
What attracted you to a career in engineering?
This is an easy question, but is difficult to answer. There is no event that I can point to and say, 'this is why I have gone into engineering'. However, my dad was constantly tinkering with his car and motorbikes. As a teenager, I developed an interest in electronics, building radios and amplifiers, and a couple of single board computers. I had a love of maths and physics. When the question of careers came up at school, all I wanted to do was electronic design.
Throughout my career, I have been lucky to practice creativity and innovation, and have expanded my interests into the other engineering disciplines.
Why is engineering and technology so important to solving societal challenges and helping people?
Many of the challenges today stem from human population growth, which in itself is a result in part of advancements in science and technology. If the population is to continue to grow, be healthy, be fed and looked after with dignity when old, then the limited resources we have need to be used more efficiently, be re-used whenever possible and with as little human interaction as possible. This implies a reliance on science, engineering and technology.

So, for the future we need an increasing stream of engineers and technologists. The decision to start a career in engineering and technology does not start with the career officer at school. A desire to understand how the world works and how to create innovations needs to be instilled in children at an early age.

This requires influencing parents, early-school teachers and children group leaders of the importance of engineering and technology, and the personal reward, even as a child, that involvement may bring.

It also means that those choosing such a career are given the right encouragement and guidance throughout their career, through coaching and mentoring schemes. Recognition by society for their contribution can give them a longer-term drive to succeed. 

Congratulations to Keith and the entire Quanta team on their incredible achievement!

<!—Lead forensics script -->