Start of main content
Today's decisions delivering tomorrow's sustainable future – launch of our new report
Published: Mon 30 May 2022
The IET Energy Panel has launched a new report, UK renewables – limitless energy or a precious resource?, that provides a high-level view of the UK's transition to a net zero energy system.
The UK has significant renewable energy development opportunities, yet even for the most modest demands considered, the new sustainable resources required for heat, transport and industry are significant multiples of current capacity.
Critically, today's system choices and decisions could substantially increase those multiples. Almost all our existing sustainable power plants are scheduled to retire before 2050, and the renewable assets we are using today will need re-powering before then.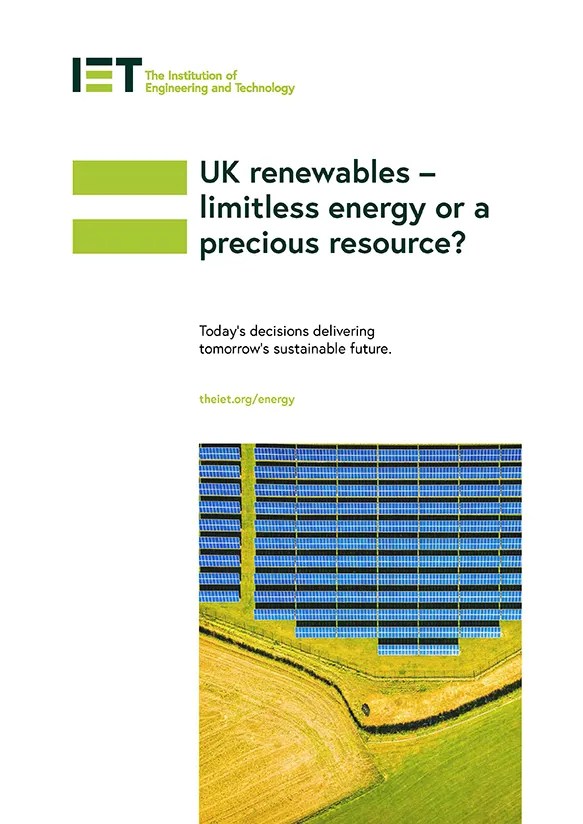 Below are our recommendations to help ensure that renewable resources are treated as finite and precious, rather than abundant and disposable.
Strategic direction is vital - The transition must be driven by an effective strategic planning process to ensure efficient and timely delivery, with consistent direction, clear investment signals, appropriate incentives, and active skills development.
The scale of the challenge is huge - We are not facing an organic process requiring incremental movements, but a real step change in planning, investment, engagement and action.
Technology exists for an energy efficient and low carbon future - Technology choices must properly integrate the human dimensions and provide the services that both current and future customers will value.
There must be a real focus on energy efficiency - Whatever the source, whatever the application, reducing the need for energy, and hence the scale of delivery assets, must be a real priority.
Decarbonisation can help energy independence - The drive to decarbonise our energy system by 2050 offers the nation an opportunity to move from fuel-based solutions and become more energy independent.
To provide feedback on this paper, please contact us at policy@theiet.org.

<!—Lead forensics script -->