Start of main content
A brief history of the IEE Wiring Regulations
A new emerging technology - electricity


The Wiring Regulations have changed inconceivably since the First Edition was published on 11 May 1882. It's important to remember, at that time, most houses were illuminated by candle or gaslight and were heated with coal fires. 
However, it wasn't long before experiments led to the development of practical uses for this magical power called electricity. Humphry Davy, a British Chemist, developed an arc lamp in the early 19th Century, with the first demonstrations occurring between 1802 and 1809. The early versions used carbon rods to create white heat, but were impractical due to the blinding light, high currents and heat produced rendering them costly and inefficient. they were better suited to larger areas such as factories and railway stations. The design was refined over the years and several different patents were filed.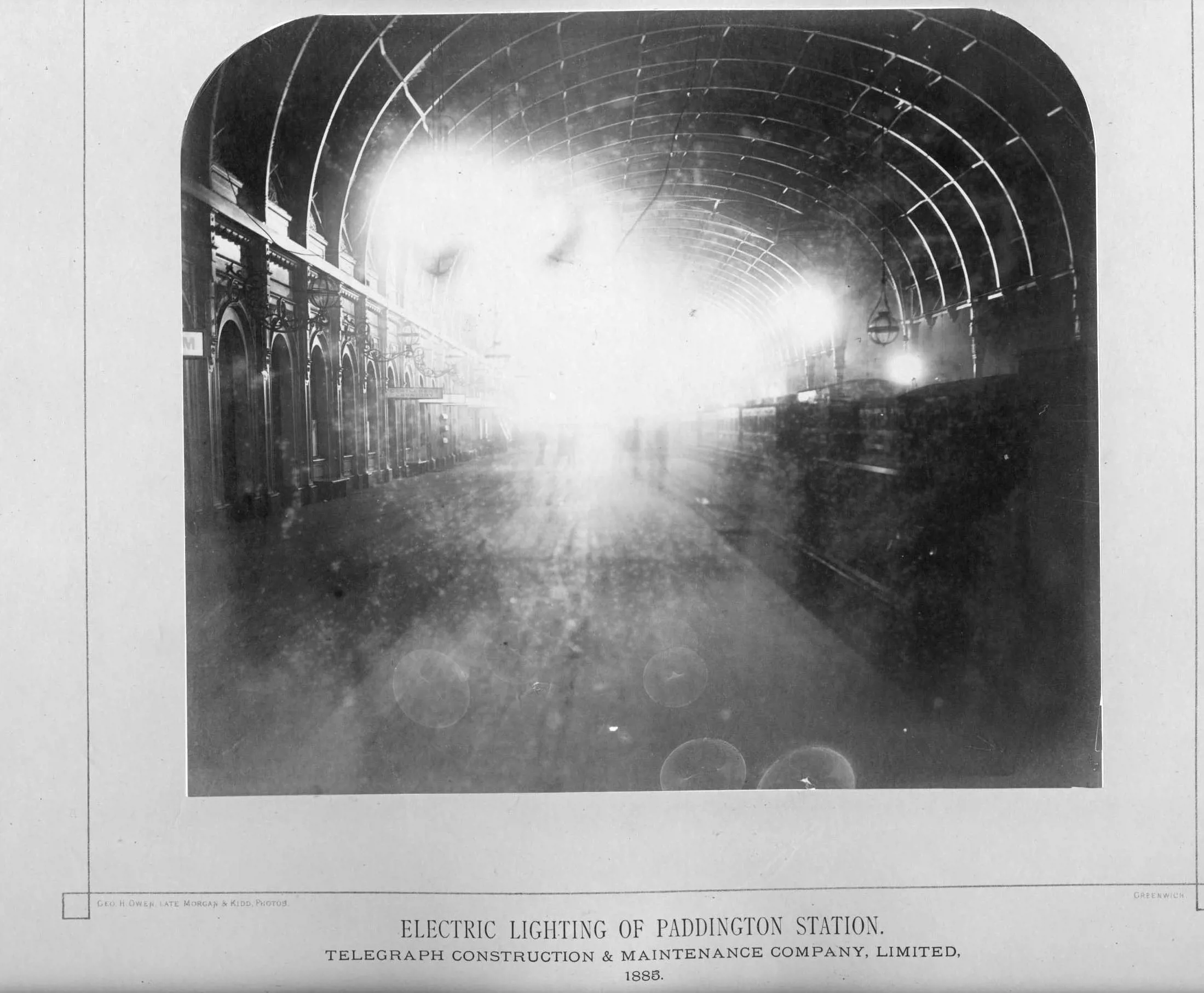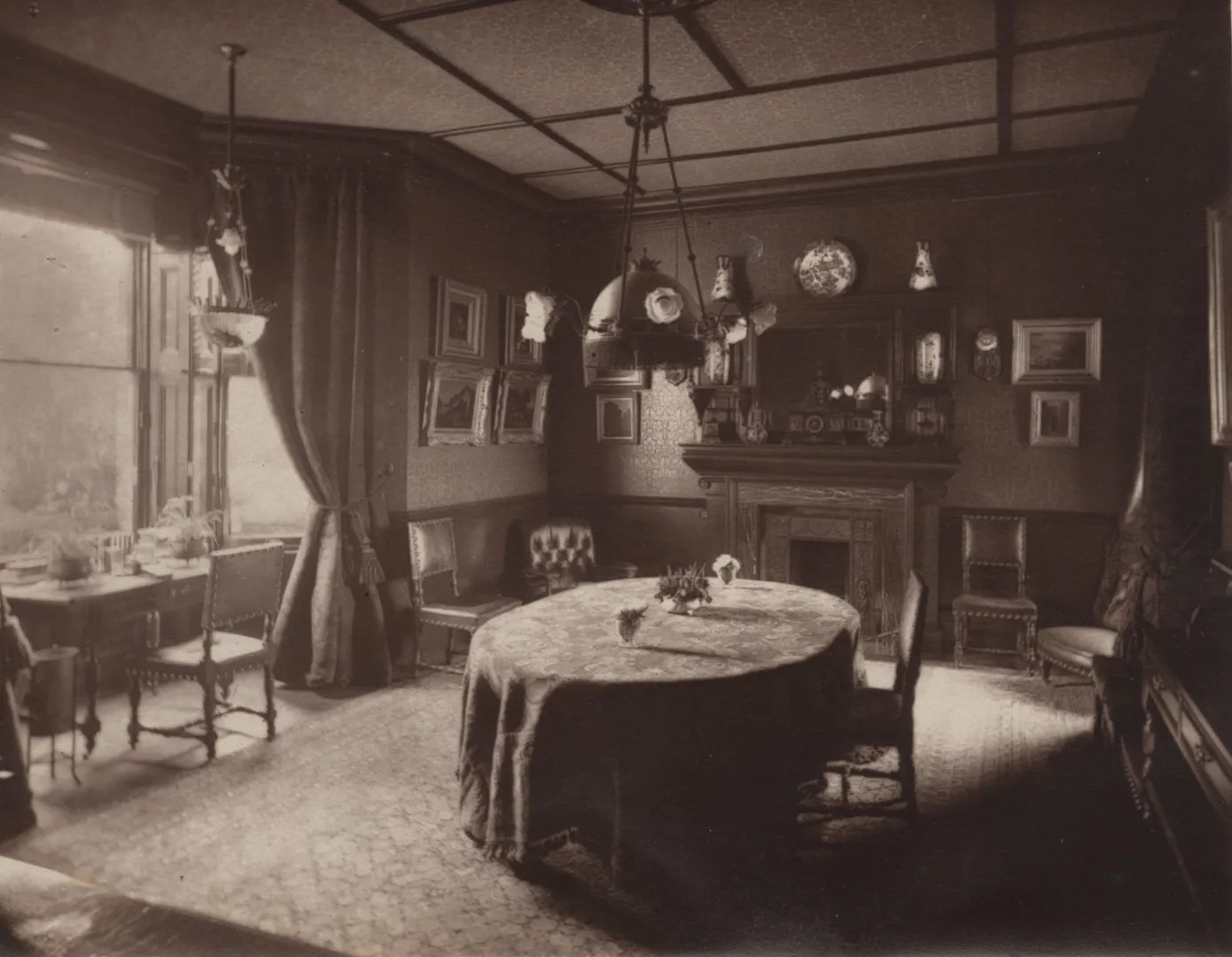 The need for regulations

Following several accidents involving industrial and domestic electrical installations, the late 1800s saw the introduction of several wiring standards.
In response to this, the IEE Wiring Regulations were borne out of a committee appointed by the Council of the Society of Telegraph Engineers (a predecessor of the IEE and the IET) in May 1882. The committee was charged to investigate fires arising from poor electrical lighting installations and to devise some preventative rules to be adopted by the electrical engineering industry at large.
The newly outlined rules were presented to the Council in June 1882, following just six weeks of investigation, and were universally adopted by the Society, being published in the STE's journal.
There were 19 rules in total in the first edition, five of which were concerned with dynamo machines, nine with wiring, two with lamps and the final three with 'Danger to Person'.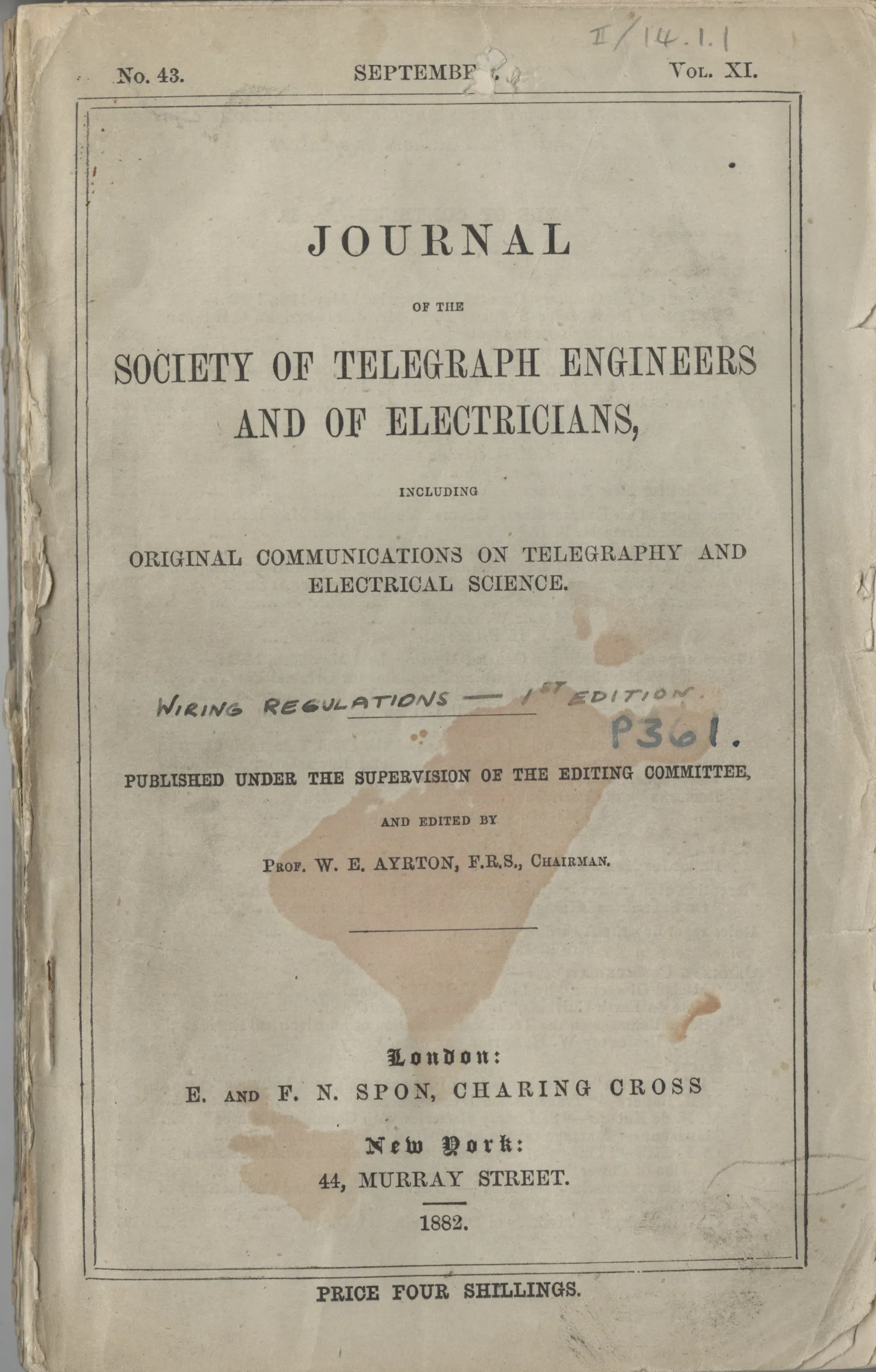 Today a set of rules, enforced by law, for the safety of electrical installation sounds absolutely necessary, in the late 1800s they were not embraced by the electrical engineering community. Fire insurance offices and consulting engineers preferred their own set of rules. By 1899 there were at least 26 sets of rules in existence.
Phoenix Fire Office published a report in February 1882 by Musgrave Heaphy which included the first set of rules for electric wiring included as an appendix. Musgrave Heaphy was elected a member of the STE in 1886.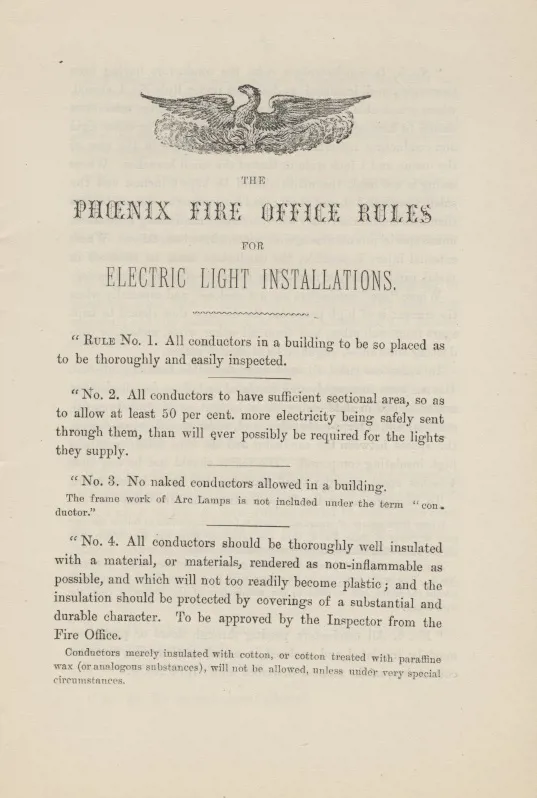 The need for uniformity

Before the third edition was published in 1897 the IEE tried to gain acceptance from the insurers but with little success. Electrical contractors complained about the variety of rules they had to work with – for example when wiring a house the contractor needed to know about the supply undertaking and their set of rules plus the householder's insurance company and their set of rules! The main problem was that insurance companies did not recognise the authority of the IEE. In 1897 the IEE's third edition was published with the title changed to 'General Rules recommended for Wiring for the Supply of Electrical Energy'.
In 1904 the fourth edition was published.
In 1906 a letter was sent from the Public Health Department to insurance companies and electric lighting companies highlighting fire risks arising from electric circuits and apparatus, if not properly constructed and maintained, and requesting them to 'give the matter their closest attention.'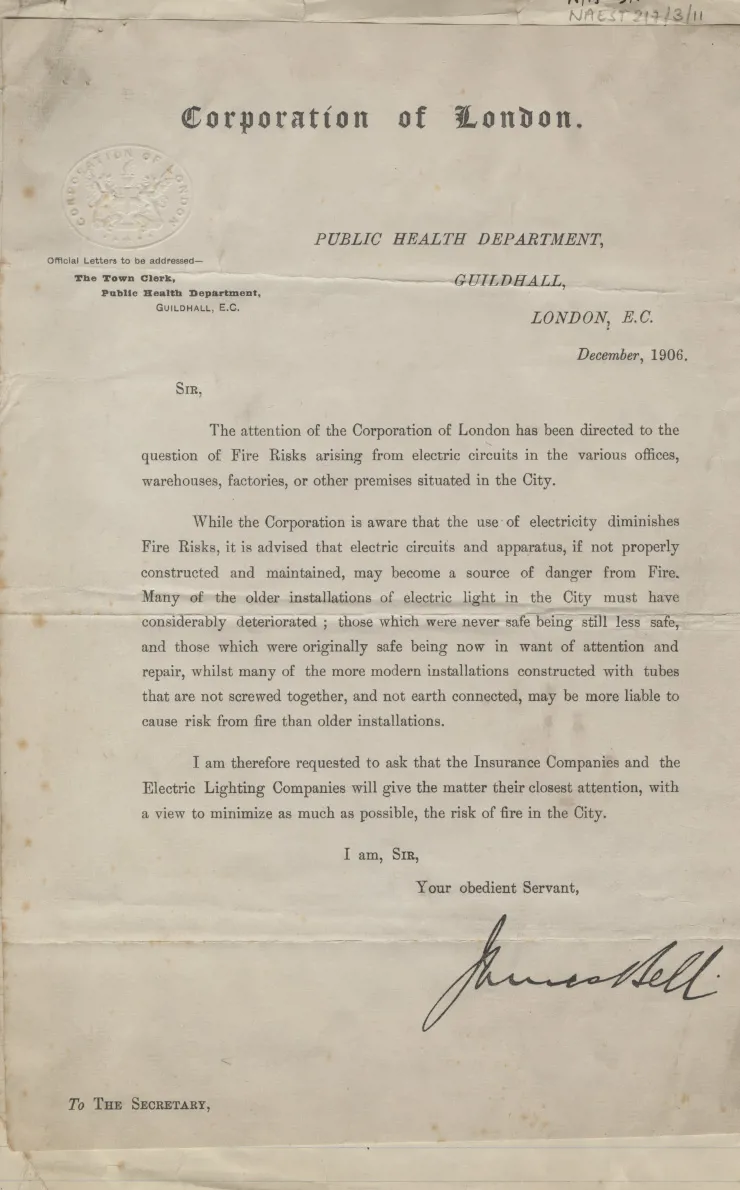 1907 Fifth Edition was issued, entitled 'Wiring Rules'
In the years before the First World War, however, the Institution grew in stature and attitudes gradually changed. By the time of the 7th edition of the IEE Wiring Regulations (as the rules had then become known) published in 1916, over 50 insurers had adopted the regulations as standard.
1924 the IEE's Eighth Edition was issued, entitled 'Regulations for the Electrical Equipment of Buildings'.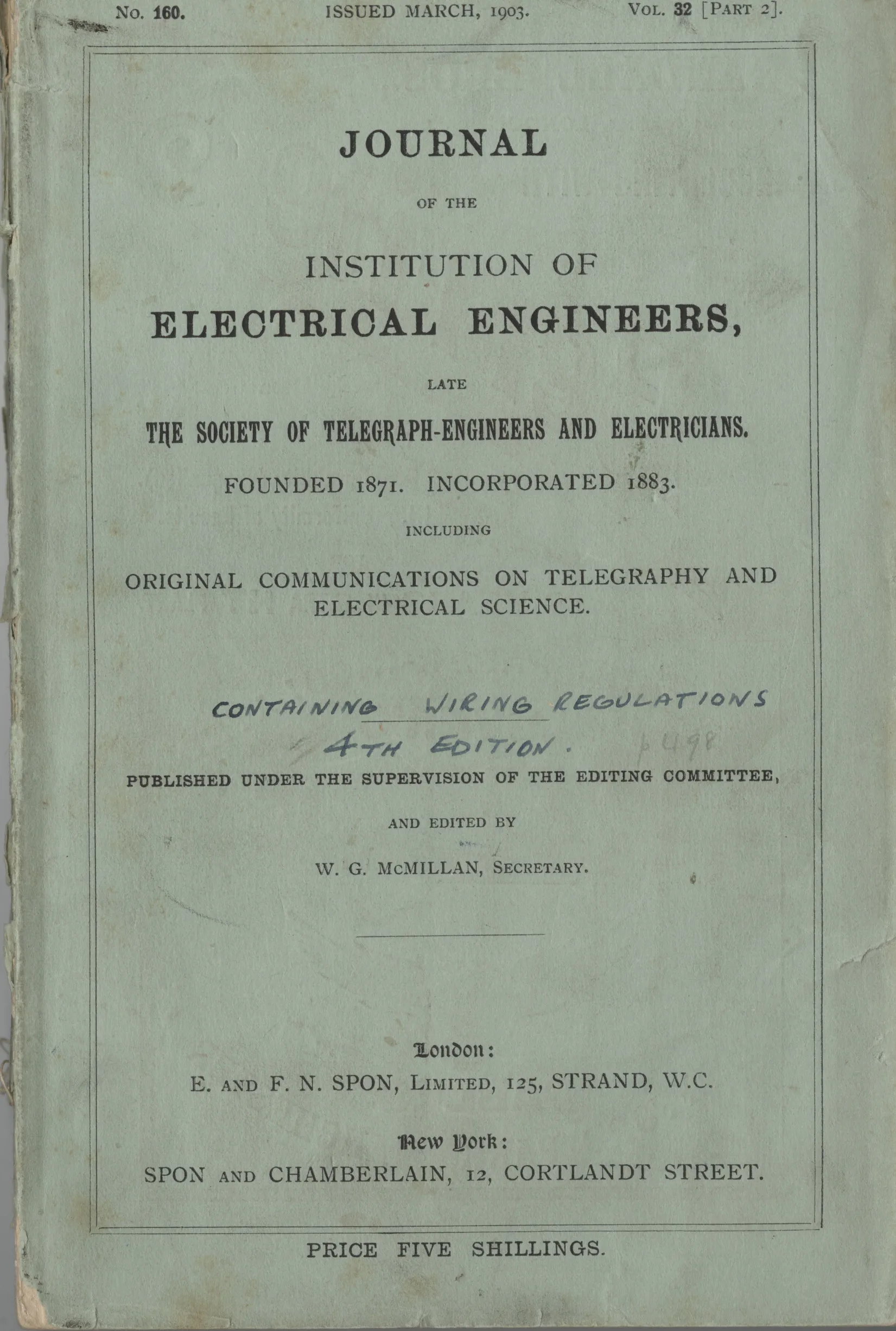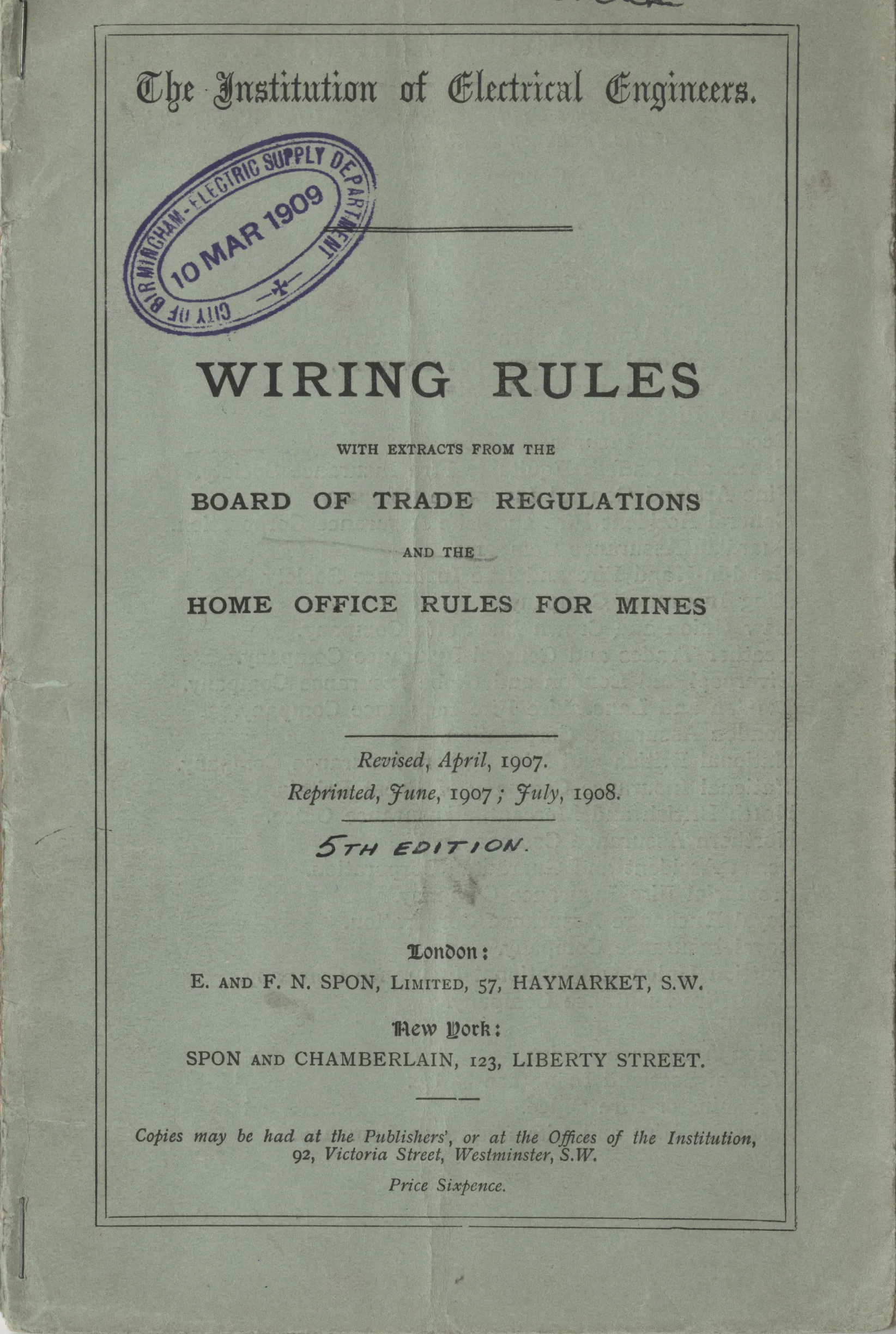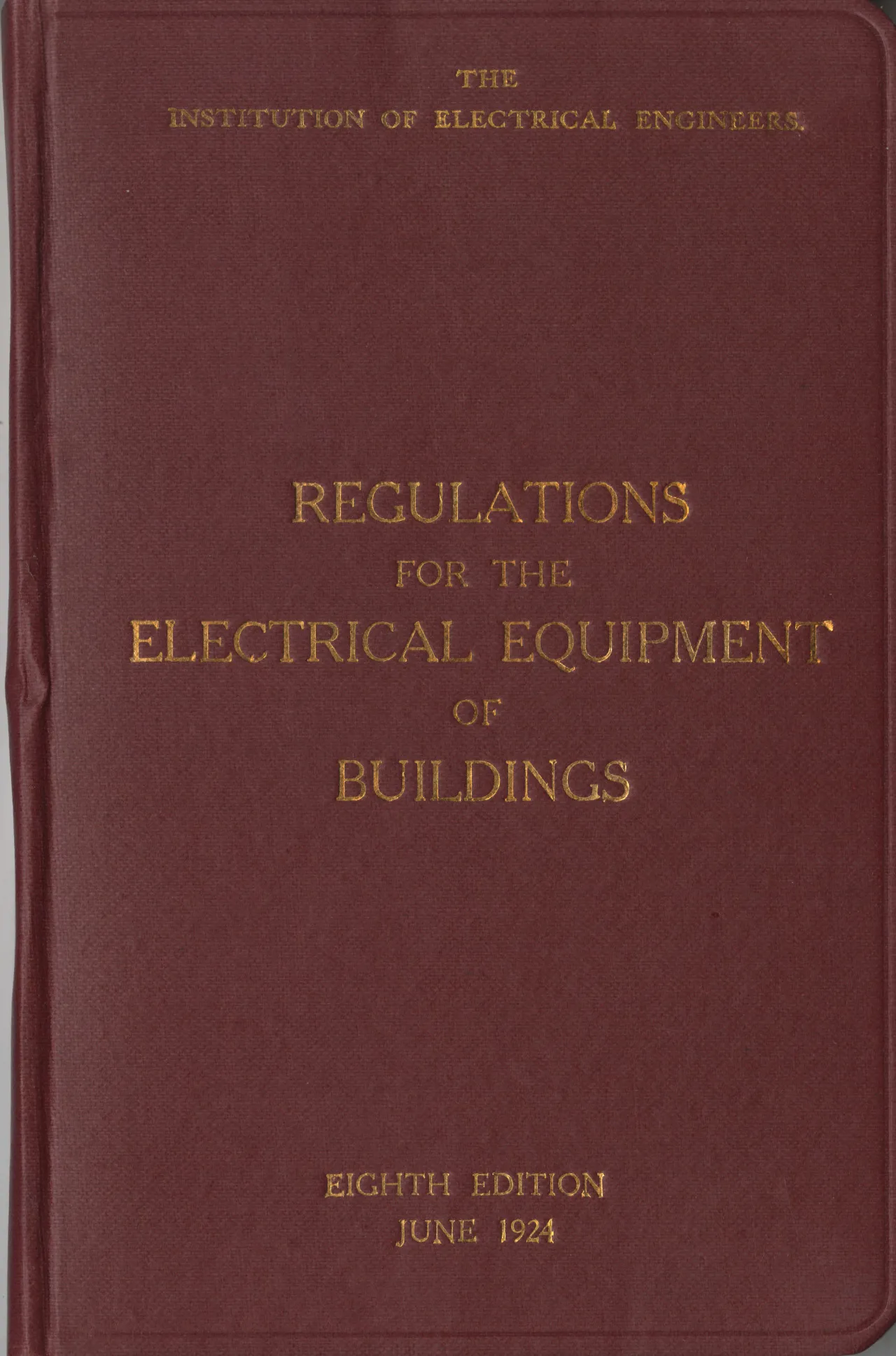 Later editions
Interestingly it was always believed that the second edition was published in 1888. However, an enquiry back in 1964 revealed an edition was published in 1883 that was different from the first edition of 1882, yet it was not recorded as a "second edition" in the Council Minutes. The 1883 version was printed in the Journal of that year and was created as a separate pamphlet to be sent to principal newspapers and technical journals and electric lighting companies, but it was never acknowledged by the Council. Therefore, it looks as though we may have an extra second edition but as its discovery was much later in 1964 the original numbering was retained.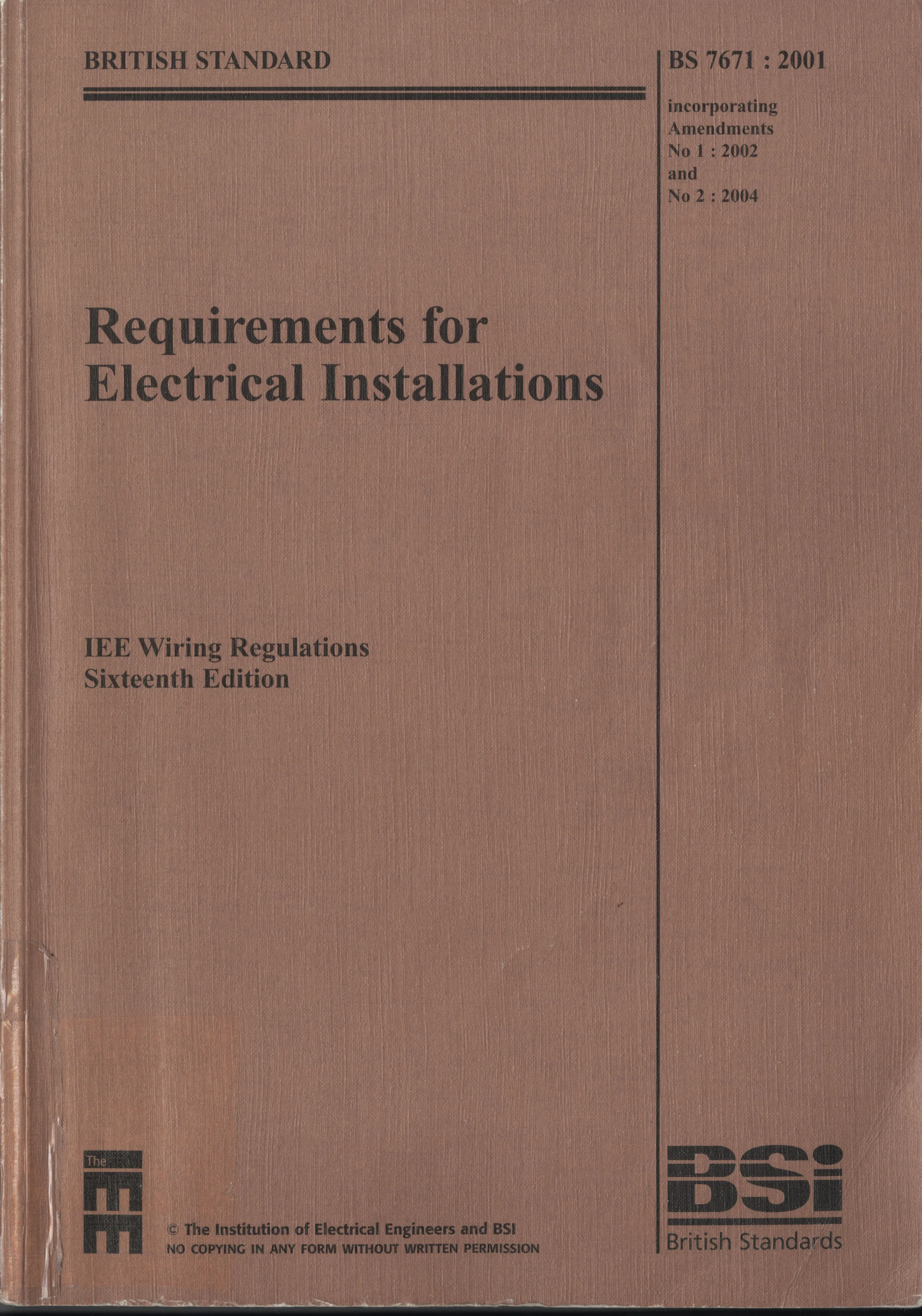 The need to adapt

Over the years the Regulations evolved to incorporate new developments in electrical installations and fittings such as the introduction of the fused 13A plug in the 12th edition (1950). In October 1992 The British Standards Institution (BSI) and the IEE signed an agreement which made the 16th edition of the IEE Wiring Regulations into British Standard 7671 (BS 7671: 1992 'Requirements for electrical installations'). Since 1992 the IEE (and now the IET) have worked together with the BSI to produce further editions of the Regulations, under the joint technical committee JPEL/64.
The latest editions and how they adapt with change
The voltage used throughout Europe has been harmonised during a period from 1989 through to 2008 (2003 in UK) at a nominal 230 V 50 Hz, this was formerly 240 V in the UK. In reality the target voltage hasn't changed. However, the permitted tolerance changed from a nominal 240 V ± 6% (225.6 V – 254.4 V) to a nominal 230V -6% +10% (216.2 V – 253.0 V)
2004
In 2004, BS 7671 was amended to incorporate the requirements of CENELEC Standard HD 384.5.514: Identification of conductors. This meant that the traditional colour identification for conductors changed in the UK.
2005
In 2005 the Government introduced Part P of the Building Regulations entitled 'Design and installation of electrical installations'.
Part P states that anyone responsible for electrical design or installation work in a home, must make reasonable provisions to protect the persons operating, maintaining or altering the installation from fire or injury.
Part P included the following:
The start of the introduction of requirements for protective measures against voltage disturbances
Additional protection by means of an RCD with a rated residual operating current not exceeding 30 mA, for socket-outlets up to 20 A, and mobile equipment for use outdoors up to 32 A, is required for all installations. However, an exception is permitted for a specific labelled socket-outlets up to 20 A, other than a dwelling, a documented risk assessment is required to determine that RCD protection is not necessary
A requirement was introduced for cables concealed in a wall or partition at a depth of 50 mm or less, to be provided with additional protection by means of an RCD with a rated residual operating current not exceeding 30 mA for all installations, unless other protection, such as mechanical protection was afforded
Minimum values of insulation resisted were amended to 0.5 M ohm for SELV and PELV circuits when tested at 250 V, and 1 M Ohms for systems up to and including 500 V.
2011
In 2011 the 17th Edition included the following new requirements:
Maximum earth fault loop impedance values were revised to account of the change in nominal voltage, from 240 V to 230 V.
2015
In 2015 the 17th edition of BS 7671 saw some major changes from previous editions, which included:
Maximum earth fault loop impedance values were revised to take account of the introduction of a new correction factor of 0.95 known as Cmin, which is a factor to take account of the minimum supply voltage
A new Regulation requiring consumer units and similar switchgear within domestic premises to be made from non-combustible material, which saw the deprecation of plastic consumer units
The reference to ordinary persons was deleted with respect to utilisation classification of external influences
The introduction of particular requirements for electric vehicle charging installations as a special installation.
2018

The IET Wiring Regulations Eighteenth Edition BS 7671:2018 was published on 1 July 2018. Some of the major changes included:
It was specifically stated that 'metallic pipes entering the building having an insulating section at their point of entry need not be connected to the protective equipotential bonding'. The primary reason for this was to encourage installers/designers to assess installations with respect to extraneous conductive parts as with the use of polyurethane pipes those parts that had previously assumed to be extraneous may no longer be extraneous. The wording was modified to suit BS 7671 users
The maximum disconnection times were revised to apply to final circuits up to 63 A with one or more socket-outlets and final circuits rated up to 32 A supplying only fixed connected current-using equipment
The requirement for additional protection by RCD for socket-outlets was increased to cover 32 A. There is an exception, where other than for a dwelling, a documented risk assessment determines that RCD protection is not necessary
A new Regulation requires that, within domestic (household) premises, additional protection by an RCD with a rated residual operating current not exceeding 30 mA shall be provided for AC final circuits supplying luminaires
It has to be said that the introduction of surge protection, probably made the biggest noise for the Eighteenth Edition. It was no longer possible to ignore it because it was a dwelling and most installations would require it
Arc Fault Detection Devices (AFDD) got a mixed reception when they were introduced as a recommendation for buildings with increased fire risk
Changes to Section 722 for Electric Vehicle Charging Installations recognised the issues with a PME earthing system. The previous exception which stated it was only applicable if it was reasonably practicable was removed
Only minor modifications were made to the model forms
Appendix 17 was introduced to provide recommendations for design and erection of electrical installations having local production and storage of energy, for optimising the overall efficient use for electricity.
2020

In January 2020, Amendment 1 to BS 7671:2018 was published. It contained amendments to Section 722 for electric vehicle charging only.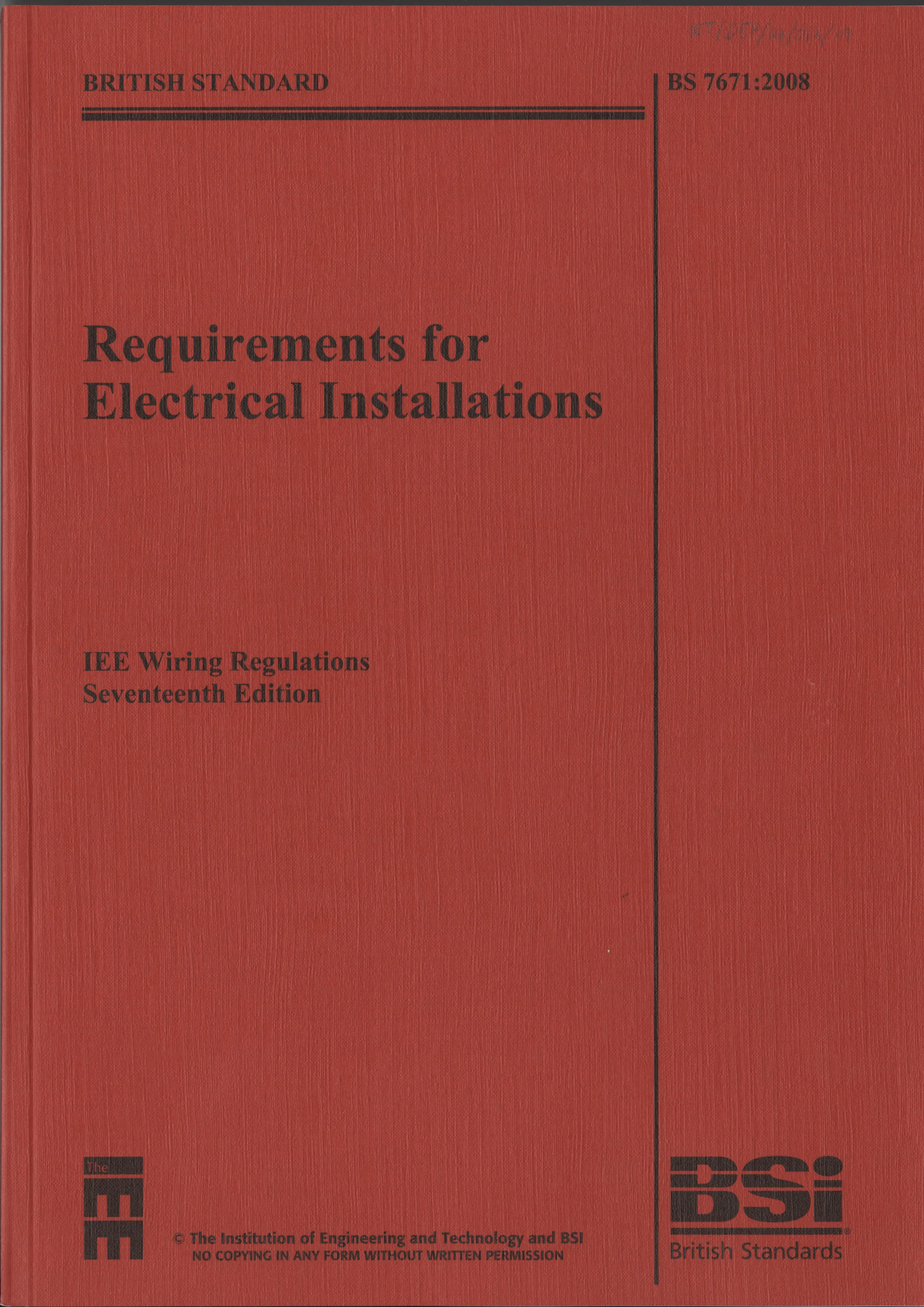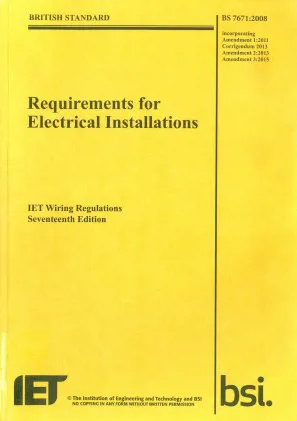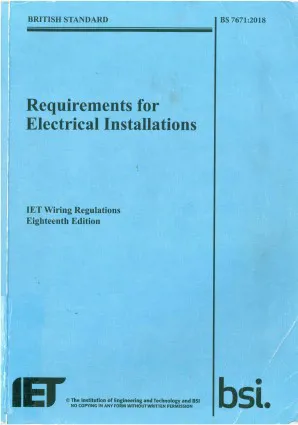 <!—Lead forensics script -->