Start of main content
Young engineers from Cheshire school triumph in national engineering challenge final
Published: Fri 30 Jun 2023
The top five school teams from the season league table attended the IET Faraday® National Final on Thursday 29 June 2023 at the Digital Aviation Research and Technology Centre (DARTeC) at Cranfield University. The teams were Sandringham School from Hertfordshire, Fallibroome Academy from Cheshire, Thomas Alleyne Academy from Hertfordshire, The Gilberd School from Essex and The Corbet School from Shropshire.
This year's challenge was in association with UKRI's Future Flight Challenge and tasked teams to design a prototype that could support UKRI's Future Flight Challenge with regards to accessibility and ease of use, safety and impact on the environment.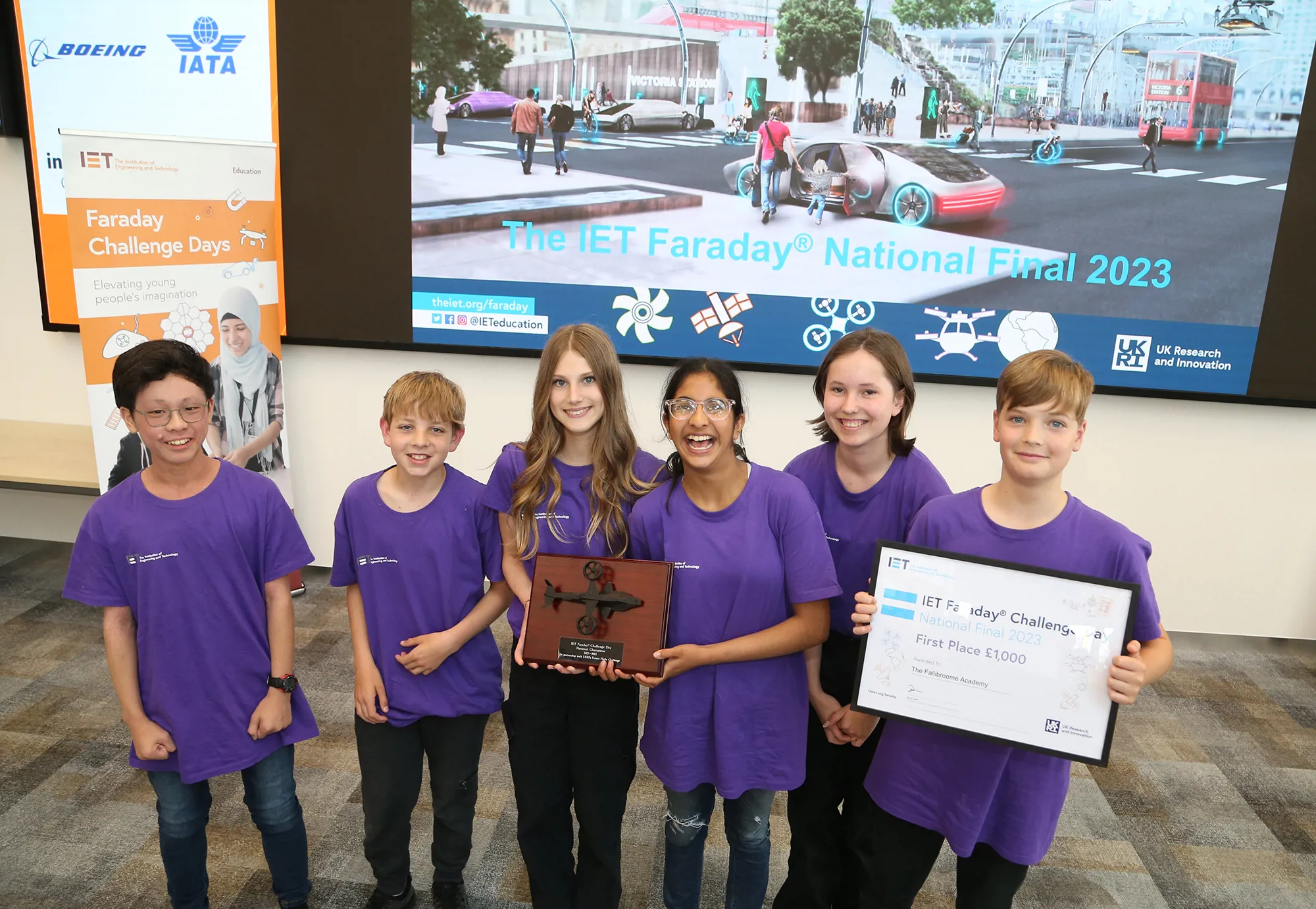 The winning team designed a prototype receiver box with pressure pad for drone deliveries at hospitals. On winning, the team said: "This has been an amazing day. We've done so much, and we got to fly a drone!"
A total of 176 events took place across the UK to host the 2022-2023 IET Faraday® Challenge Days. Up to six teams of local school students competed at each event to find the best solution to the engineering-related challenge. The final was judged by Michelle Richmond, Director of Membership and Professional Development at the IET, Ama Frimpong, IET Young Woman Engineer of the Year 2022, Vicki Murdie, Innovation Lead at UKRI's Future Flight Challenge, Amy Camp, Innovation Lead at UKRI's Future Flight Challenge, and Adrian Cole, Programme Manager at DARTeC.
The events aim to encourage more young people to study and consider exciting and rewarding careers in science, technology, engineering and maths (STEM) by using creativity, innovation and problem-solving skills.
Natalie Moat, IET Faraday® Education Manager, said: "Students who took part in the IET Faraday® Challenge Days this year have experienced working as an engineer through hands-on and practical engagement with real-life challenges relating to UKRI's Future Flight Challenge. The quality of the students' work throughout has been fantastic and it was an extremely close final – I'd like to congratulate Fallibroome Academy on winning!
"There is huge demand for new engineers and technicians and we're confident that this challenge has helped to change young people's perceptions of engineers and inspire the next generation. It's given students an insight into the life of a real engineer, the variety a career in engineering can offer and just how exciting and creative engineering really is."
Vicki Murdie, Innovation Lead at UKRI's Future Flight Challenge said: "It has been a fantastic opportunity for the UKRI Future Flight Challenge to partner with the IET this year for the IET Faraday® Challenge. The energy and engagement at the events has been inspirational. We have seen how much the students enjoyed the chance to complete hands on engineering design and build work, and really thinking about how to develop solutions that support uses of future flight technologies. We are sure that through these events, the schools and students will have seen the world of possibilities that a career in engineering offers and the benefits that future forms of flight will bring to society."
Professor Graham Braithwaite, Director of Transport Systems at Cranfield University, said: "It was fantastic to welcome these enthusiastic and talented students to Cranfield University. Engineering is a fascinating and exciting career option, and we hope that many of them will be inspired to follow this path. We warmly congratulate them and perhaps we will see some of them studying here at Cranfield in the future!"
The IET Faraday® Challenge Days are part of a wider Education programme, made up of a whole host of teaching resources and activities to inspire and attract the engineers of tomorrow. 
About the IET
We inspire, inform and influence the global engineering community to engineer a better world.
We are a diverse home for engineering and technology intelligence throughout the world. This breadth and depth means we are uniquely placed to help the sector progress society.
We want to build the profile of engineering and technology to change outdated perceptions and tackle the skills gap. This includes encouraging more women to become engineers and growing the number of engineering apprentices.
Interview opportunities are available with our spokespeople from a range of engineering and technology disciplines including cyber-security, energy, engineering skills, innovation, manufacturing, technology, transport and diversity in engineering.
For more information, visit theiet.org
Media enquiries to
Rebecca Gillick
External Communications Manager
rgillick@theiet.org

Sophie Lockyer
Senior Communications Executive
slockyer@theiet.org

<!—Lead forensics script -->