Start of main content
Bristol Braille Technology to provide FIRST® LEGO® League programming for partially sighted and blind children
Published: Thu 27 Apr 2023
BBT specialises in technology for the partially sighted and blind, and their pilot project has developed braille kits to enable students to code and participate in the FIRST® LEGO® League program. The kits consist of a computer console that will allow partially sighted and blind students to work together to participate in the global program.
David Lakin, IET Head of Education, Safeguarding and Education Policy, says: "This has never been done before so we're really excited about its potential opportunities to open up FIRST® LEGO® League to more children.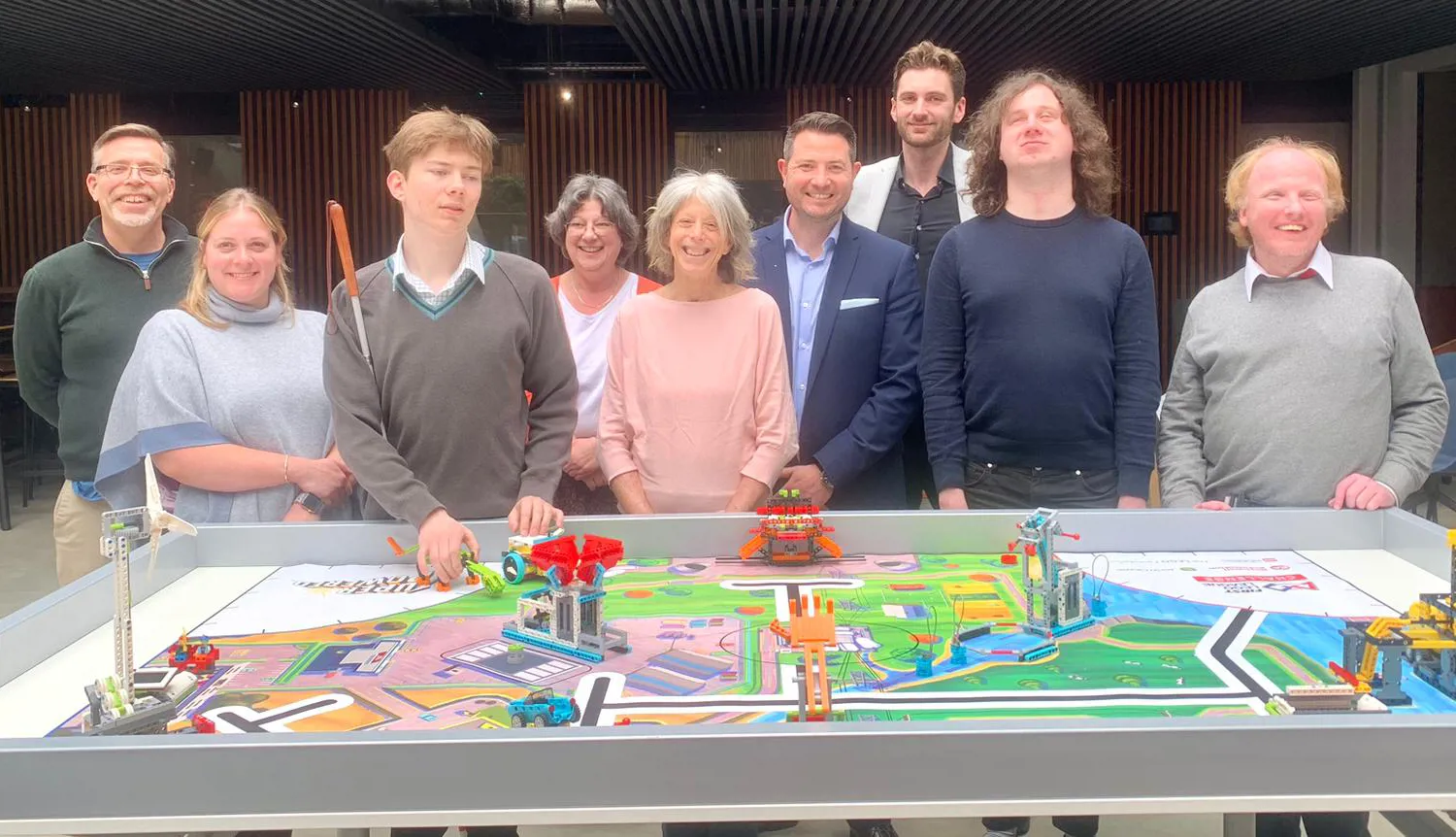 "Equality, diversity and inclusion across all of our education programmes is very important to us, and we're proud to be leading the way in making STEM education more accessible to disadvantaged young people."
Ed Rogers, BBT Managing Director, says: "We're pleased to announce the success of the first pilot of Canute Braille technology in the FIRST® LEGO® League Challenge. As a result of the work we've been doing, our testers were able to program, control and get spacial tactile feedback from LEGO® robots by using our unique multiline Braille workstation, the Canute Console.

"We're really excited to see how this can open up new fields within engineering for blind people. FIRST® and the IET really get the life changing difference access to computer science and engineering can have for young blind people."
Kim Wierman, FIRST® LEGO® League Senior Director, says: "We're thrilled to partner with the Institution of Engineering and Technology and Bristol Braille Technology to bring the excitement and inspiration of FIRST® LEGO® League to more students.
"Bringing our unique and enriching program experiences to underrepresented students, such as the partially sighted and blind community, is part of our commitment to equity, diversity, and inclusion at FIRST®. This partnership is a critical step to improving robot programming access, collaboration, and workforce readiness skills for all through the life-changing experience of FIRST®."
A showcase took place on Wednesday 26 April at IET Stevenage: Futures Place and saw students using the new and innovative technology and putting it to work.
FIRST® LEGO® League introduces Science, Technology, Engineering and Mathematics (STEM) to children ages 4-16 through fun, exciting hands-on learning. FIRST® LEGO® League participants gain real-world problem-solving experiences through a guided, global robotics program, helping today's students and teachers build a better future together. In FIRST® LEGO® League, students engage in hands-on STEM experiences, building confidence, growing their knowledge, and developing habits of learning. FIRST® LEGO® League's three divisions inspire youth to experiment and grow their critical thinking, coding and design skills through hands-on STEM learning and robotics.
The IET is proud to be the FIRST® LEGO® League's Great Britain and Ireland Program Delivery Partner. Supporting the competition is part of the IET's commitment to show young people the benefits of careers within STEM.
About the IET
We inspire, inform and influence the global engineering community to engineer a better world.
We are a diverse home for engineering and technology intelligence throughout the world. This breadth and depth means we are uniquely placed to help the sector progress society.
We want to build the profile of engineering and technology to change outdated perceptions and tackle the skills gap. This includes encouraging more women to become engineers and growing the number of engineering apprentices.
Interview opportunities are available with our spokespeople from a range of engineering and technology disciplines including cyber-security, energy, engineering skills, innovation, manufacturing, technology, transport and diversity in engineering.
For more information, visit theiet.org
Media enquiries to
Sophie Lockyer
Senior Communications Executive
slockyer@theiet.org

<!—Lead forensics script -->