Start of main content
Imran is a lecturer (assistant professor) of Electrical Engineering at the University of Glasgow, UK.
His volunteering relationship with the IET began in February 2007, when he was a Computer Engineering undergraduate at King Fahd University of Petroleum and Minerals in Dhahran, Saudi Arabia.
"A faculty member approached me in the corridor and floated the idea of establishing a student branch under the IET banner," said Imran.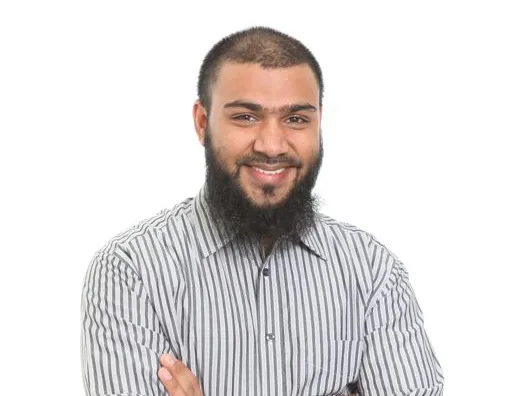 "Although back then I had no knowledge of the IET, I was excited at the prospect of volunteering for engineering.
I was given the freedom to get on with setting up the university's IET Young Professionals Society, which is now a thriving On Campus group and part of the IET Saudi Arabia Local Network.
"I was the Society's first Chair and held the role for two years. Starting from scratch was a big challenge: I had to establish the team, build a calendar of informative, relevant events and create a succession plan. I developed my leadership skills and learned to collaborate effectively with my fellow volunteers."
Taking the lead
In 2010 Imran joined IET Communities Committee for Europe, the Middle East and Africa (CC-EMEA). He was also the Financial Lead. He was a CC-EMEA member from 2010 to 2013 and from 2015 to 2018.
"I helped to expand IET volunteering activities within the sub-regions via the networks," he said. "I'm really proud to have played a part in setting up the IET Kazakhstan Local Network and helping it develop and grow.
It used to be funded on an event-by-event basis but is now a deserving annual budget-holder."
In 2018 Imran took on a three-year executive role on the Young Professionals Committee (YPC), which seeks to raise the profile and awareness of Young Professionals (YPs) throughout the engineering community.
He learned how to use a range of advanced tools to facilitate productive meetings and put this skill into practice as Chair (2019-2020).
That year he also joined the IET Satellites Technical Network (TN). Imran helped to organise many satellite-themed educational and networking events. He promoted the TN across the IET regions and age groups – and encouraged his fellow YPC members to spread the word too.
Bringing fresh ideas to the table
In October 2021 he was appointed to Council and the Volunteer Engagement Board (VEB) to fill a casual vacancy for one year. "These two prestigious roles have strengthened my sense of belonging to the IET Family," he said.
Imran's previous IET volunteer roles provided the ideal training ground for his new, board-level responsibilities:
"I gained a wealth of experience in dealing with and understanding the concerns, issues and perceptions of volunteers from around the world," he said.
"I learned to handle budgetary processes across EMEA, one of the IET's largest and most complex regions. And I was able to envision and implement innovative solutions, to support young IET members and volunteers."
As usual, his approach to his latest volunteer roles is rooted in positivity and enthusiasm.
At Council meetings Imran has contributed to discussions about the value proposition for IET members and how to market it more effectively, to maximise their engagement and attract new members.
The VEB is responsible for drafting, running, analysing and improving the annual IET Volunteer Survey. In previous committee roles, Imran contributed to development of the IET's volunteer engagement strategy.
Now that he's on the VEB, he can really influence change and help to determine the best ways to implement the IET's vision.
He said: "I have contributed by sharing my perception of the benefits I gained from my IET membership at various stages of my engineering journey, including undergraduate, graduate researcher, post-doctoral scientist and early-career academic faculty member.
I also prepared the introduction for the December 2021 issue of the Volunteer Update e-newsletter."
Imran has played a key role in strengthening the YPC's position within the IET governance structure. The YPC now reports to the VEB. He said:
"Developing a new strategy and structure for the YPC, evolving it and advancing it in governance terms – that's my biggest achievement as an IET volunteer."
He is very keen to devise a mechanism to attract teenage minds from around the world to engineering: "I want to help teenagers identify their innovation potential and understand how they can maximise it through a career in engineering and technology.
I also want to influence IET governance so that everyone appreciates the vital importance of making this happen. It is a critical way forward for the IET."
Inspiring the engineering community
Imran's road to governance has been a steep one and he has learned a huge amount along the way. He has served as an outstanding role model to IET volunteers of all ages, by maintaining his integrity and demonstrating excellence in all his roles and tasks, while also working as a highly supportive team member.

So what's his secret? "I use my personal experience at all levels – from student to graduate, associate and early-career professional – to relate to the audience," he said.

"I talk about my career to date and include aspects of volunteering that I didn't personally opt for, by showcasing relatable examples from fellow volunteers.

"I also discuss how volunteering has affected my personal and professional life. I explain that I'm quite adaptable in how I work: I prioritise my personal and family life, as well as my professional work, but am always able to squeeze in a few hours each week for IET volunteering.

"I always encourage people to keep learning and networking. What I love most about IET volunteering is the opportunity to share knowledge and experience within the engineering community and beyond, and to motivate young blood for the IET."

Here's Imran's advice on how to derive maximum satisfaction from an IET volunteering role: "Set realistic and relatable volunteering targets and tasks; strive to fulfill them steadily, and be proactive in seeking assistance from wonderful and vibrant IET staff members."

<!—Lead forensics script --> <!—Site improve script -->