Start of main content
IET Postgraduate Scholarship for an outstanding researcher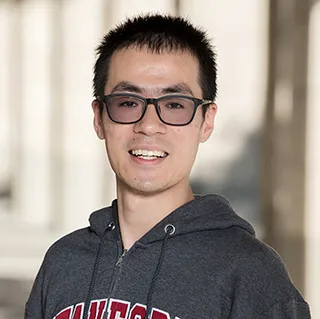 Xianghao Zhan
Xianghao Zhan is a PhD candidate in the Department of Bioengineering, Stanford University, USA. Xianghao comes from China with a BEng in Control Science and Engineering and a BA in English Language and Literature from Zhejiang University. 
Xianghao focuses on the optimisation of computational modelling of traumatic brain injury. His research enables a better understanding of the brain deformation mechanism and how the biomechanical loading results in BBB disruption. He develops a fast, accurate and generalisable computational model that significantly reduces the time expenditure on the TBI research. The computational models will assist in researchers' calculation of brain deformation from measured kinematics. His work will enable clinicians to monitor TBI risks in a real-time manner. With a combination of sensor signal recordings and processing in wearable devices, the risk of a head impact can be evaluated.
Xianghao has published 15 journal and conference articles as a first/co-first author on NPJ Digital Medicine, IEEE Transactions on Biomedical Engineering. He was one of three international grand finalists of the IET PresentIn10 contest 2021. He said this award served as the motivation for him to start another journey on his research work. With this motivation and encouragement, he will dedicate himself to delve into the missing link between the brain deformation and the TBI pathologies and try his best to model the relationship for the benefit in the prevention of TBI.
Hudswell International Research Scholarship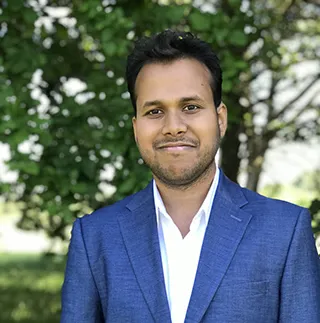 Krishanu Dey
Krishanu Dey is a Cambridge India Ramanujan PhD scholar in Physics at the Cavendish Laboratory, University of Cambridge and is a member of Churchill College.
Belonging to a remote border town in the state of Assam in India, Krishanu was always fascinated by light-electricity or photon-electron interactions that have revolutionised many modern-day electronic inventions. Solar photovoltaic research really appealed to him and he had experience of working on solar-driven water splitting and a variety of photovoltaic material technologies. These included III-V tandem solar cells, CIGS solar cells and perovskite solar cells.
In his PhD, Krishanu is using a host of optical spectroscopy and electrical methods to unravel various fundamental optoelectronic properties of mixed lead-tin halide perovskite materials which are key components of the next generation all-perovskite tandem solar cells. He also uses many of the insights obtained from such fundamental studies to fabricate lab-scale high efficiency mixed lead-tin perovskite solar cells with minimised loss channels.
The Hudswell International Research Scholarship will help him to explore halide perovskite materials for the reverse process of light emission by developing several internal and external collaborations. The scholarship will support him in disseminating his work at major international scientific conferences in the coming year.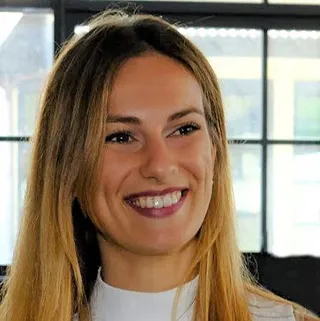 Valeria Raffuzzi
Valeria Raffuzzi is a PhD student in Nuclear Engineering at the University of Cambridge.
Her research focuses on accelerating high-fidelity computational methods for neutron transport simulations via optimised representations of nuclear data. This work is crucial to support and accelerate the design phase of nuclear fission and future fusion reactors.
Valeria is also one of the lead developers of SCONE, the first high-performance Monte Carlo particle transport code written in the UK in 40 years. SCONE is also the UK's only open source reactor physics tool. After the end of her PhD, Valeria hopes to keep working on SCONE to broaden its scope to other fields, such as nuclear medicine and space applications.
The IET Postgraduate Prize will help Valeria to promote her research and pursue a career in the international nuclear industry.
Saylee Jangam
Saylee is a PhD student in Bioengineering at Imperial College London. Her research focuses on the development of wearable microneedle biosensors for infection monitoring, to detect early warning signs of sepsis and optimise antimicrobial drug dosing.
Prior to her PhD, Saylee was a Research Assistant at the Indian Institute of Science where she co-developed SPECTRA-tube, a novel clinical specimen collection and transportation device to provide remote diagnosis of tuberculosis for patients in rural India.
As the former Vice President of GapSummit, a bio-entrepreneurship conference addressing the biggest gaps in biotechnology, she co-led the organisation on the first virtual GapSummit during the pandemic. This brought together 100 Leaders of Tomorrow from more than 40 countries.
The IET Postgraduate Prize will allow Saylee to further her research in biosensors and present her work at international conferences.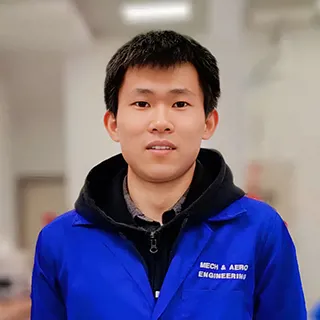 Jia Ge
Jia Ge is from China and is a PhD student at the School of Mechanical and Aerospace Engineering, Queen's University Belfast.
His research interest is advanced manufacturing of aircraft carbon fibre reinforced thermoplastic composite.
After graduating from Northwestern Polytechnical University, Xi'an, China, Jia started his PhD in Aerospace Engineering, where he is the recipient of an EPSRC fully-funded PhD studentship. His research focuses on advanced manufacturing of aerostructures consisting of novel sustainable thermoplastic composites. His research addresses the urgent needs of decarbonising the aerospace industry through enhanced manufacturing efficiency and use of sustainable materials.
The IET Postgraduate Prize will help Jia to further his research objectives and sign up for training courses to expand his expertise and skill set. This award can also fund his travel to conferences to disseminate his research. Jia aims to pursue a post-doctoral research role in the field of manufacturing of sustainable aerostructures to contribute to the net zero target.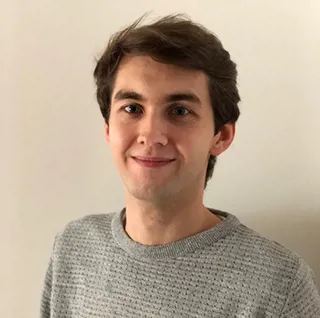 Ronnie Smith
Ronnie Smith is a PhD student at the Edinburgh Centre for Robotics, as part of the EPSRC Centre for Doctoral Training in Robotics & Autonomous Systems at Heriot-Watt University and the University of Edinburgh. His research focuses on enabling pro-active robotic assistance for people who need support during activities of daily life at home.
Ronnie's research brings together a number of topics to bring humans 'in-the-loop' and give them ownership over their own assistive technology. This includes applying active learning to activity recognition, using a novel conversational interface. This reduces the need for supervised learning and helps to deal with long-term changes in user behaviour or environment. Currently, Ronnie is focusing on using the conversational agent to allow the user to ask the robot for help during activities, in order to intelligently provide pro-active assistance when that activity is detected in the future.
Recognition of his work through the IET Postgraduate Prize will help Ronnie in promoting his work and stimulating engagement with industry stakeholders in the care sector. The prize will also support him in disseminating the results of his work. Ronnie hopes to continue his work on assistive robotics through post-doctoral research.
Interested in applying?
Find out more about applying for one of our Postgrad Research Awards.

<!—Lead forensics script -->