Start of main content
Realising the untapped potentials of the terahertz spectrum
Radar systems operating in this range significantly enhance the surveillance resolution on small aperture sizes required for mobile applications like self-driving cars and drone avionics.
Signal carriers can enable high-data-rate communication at high-frequency bands and the rotational and vibrational frequencies in this range allow for remote identification of chemicals.
The terahertz regime contains 98% of all photons existing in the universe, displaying phenomena like the formation of stars, planetary systems, and galaxy evolution as well as the dynamics of planets and comets that happen in dust cloud regions.
Another benefit of a terahertz frequency range is that opaque materials become much more transparent meaning there is a great potential for quality control across various industries as the visual inaccessibility is removed.
For example, opaque materials provide high image contrasts in healthcare, assisting with distinguishing between benign/malignant tissue, inflammation, and blood vessels without posing a health risk to humans.
Although the unique potential of the terahertz frequency range has been known for a long time, the low performance, high-cost and bulky nature of conventional terahertz systems delay their deployment in many applications.
To address the performance limitations of terahertz devices, Professor Jarrahi and her team have developed a hybrid optoelectronic design methodology and introduced a plasmonic optoelectronics concept, which is transforming the capabilities for high-power generation, high-sensitivity detection, and spectral/spatial manipulation of terahertz signals.
We have witnessed the revolution of integrated circuit technology being transformed from enormous power-hungry computers to high-performing microprocessors in our homes and cars, phones, and health monitoring systems.
The A F Harvey Prize will help Professor Jarrahi to enable a similar revolution in the terahertz field; developing a monolithically integrated terahertz optoelectronics platform to transform terahertz systems from bulky and expensive to compact and low-cost microchips used in our everyday lives.
Professor Mona Jarrahi
Professor Mona Jarrahi is awarded The IET A F Harvey Engineering Research Prize in recognition of her outstanding contributions to research in the field of radar and microwave engineering, specifically pioneering research on optoelectronics-enhanced microwave and terahertz devices for remote sensing, imaging, and communication at the under-utilized parts of the electromagnetic spectrum.
Mona Jarrahi received her BSc degree in Electrical Engineering from Sharif University of Technology in 2000 and her MSc and PhD degrees in Electrical Engineering from Stanford University in 2003 and 2007.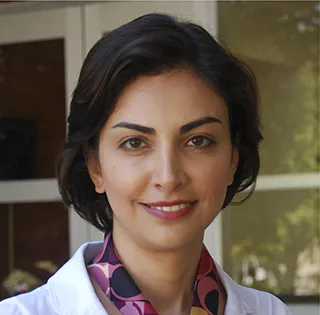 She served as a Postdoctoral Scholar at the University of California Berkeley from 2007 to 2008.

After serving as an Assistant Professor at the University of Michigan Ann Arbor, she joined the University of California Los Angeles in 2013 where she is currently a Professor of Electrical Engineering and the Director of the Terahertz Electronics Laboratory.

Professor Jarrahi has made significant contributions to the development of ultrafast electronic and optoelectronic devices and integrated systems for microwave, millimeter-wave, and terahertz sensing, imaging, computing, and communication systems by utilizing novel materials, nanostructures, and quantum well structures as well as innovative plasmonic and optical concepts.

The outcomes of her research have appeared in 250 publications and 200 keynote/plenary/invited talks and have received significant attention from scientific news outlets including the Huffington Post, Popular Mechanics, EE Times, and IEEE Spectrum.

She has received numerous prestigious honours for her work, including an inaugural Moore Inventor Fellowship from the Gordon & Betty Moore Foundation in 2016 and a Presidential Early Career Award for Scientists and Engineers in 2014.

She is a frequent collaborator with researchers at UCLA, other institutions, and industry.

Professor Jarrahi is a Fellow of the IEEE, OSA, SPIE, and IOP societies and has served as a distinguished lecturer of the IEEE, traveling lecturer of OSA, and visiting lecturer of the SPIE.

<!—Lead forensics script -->