Start of main content
Being an Engineering Technician helped in my job interview
Frida is now a Repair Capability Manufacturing Engineer at Rolls-Royce Engine Overhaul Services, based in Derby. Her working day is spent developing and implementing ways to repair jet engine components.
"The main thing I enjoy is the fact that I can go into work and see various jet engines being stripped and assembled ready to dispatch to the customer; this is just mind blowing," she says.
Frida's typical day involves the technical and interpersonal aspects of undertaking a repair, and she admits she loves the combination.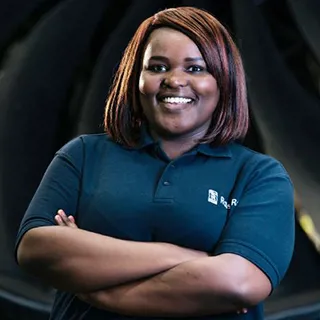 "What excites me about my job is being able to identify a problem or an improvement idea, and having the support from the team and stakeholders to resolve it in a timely manner," she says.
"I enjoy the fact that the team I am in feels like a small family because we always have each other's best interests in mind and help wherever possible. Being an engineer in such an environment certainly does help you excel…"
Discovering EngTech
So how did Frida get to where she is today? She indicates it was her family and her Year 10 engineering teacher who encouraged her to pursue a career in engineering. More recently, applying for and achieving EngTech status has made a difference to her career.
 "When I was in university, I remember someone from the IET came to discuss the benefits of being professionally registered," she says. "And also many of my colleagues are Chartered Engineers. All of this encouraged me to work towards becoming professionally registered as an Engineering Technician."
Frida achieved EngTech at the end of 2017, went on to apply for her current role at Rolls-Royce and found that her professional status gave her an advantage.
"Being able to say I am EngTech really helped me when interviewing for my current job, as it shows my willingness to improve myself," she says. "It also shows the level of competency that I have reached and provides me with professional credibility."
Tackling the application
As for the application process for EngTech, Frida says it was made easier by having a mentor.
 "I would certainly advise anyone who is considering professional registration to get a mentor," she says. "Preferably a mentor who is in your company, who has been through the professional registration process and is able to guide you in the right direction and proof-read any write-ups. If you are still in education, I would recommend signing up for a mentor who is part of the professional body you want to be registered with."
Taking on new challenges
Now that Frida has EngTech to her name and has settled into her new role, she feels ready to take on new challenges.

"I recently joined the Association for Black and Minority Ethnic Engineers' Making Engineering Hot mentoring scheme," she says. "This was a challenge to myself to use all that I have accumulated over the years and advise younger students of the various career paths available to them."

Frida also has her sights set on new professional goals. "My future ambitions are to work my way up into a manufacturing executive role within Rolls-Royce," she says. "Also I plan to become a key leader in advocating for diversity and inclusion within the company."

Find out more about EngTech.

If you're already ready registered, why not encourage other applicants by sharing your experience and using #EngineeringRecognition.

<!—Lead forensics script -->