Start of main content
Meet Young Professional Ambassador, Vanessa Stanley MIET
Published: Mon 20 Jun 2022
Vanessa shares her journey from undergraduate to professional engineer to young professional ambassador – revealing how being brave enough to ask questions is key to her learning development.
My dad always loved technology
Vanessa's love for electronics started from an early age when she was at primary school when the technology around computers was developing at a rapid rate.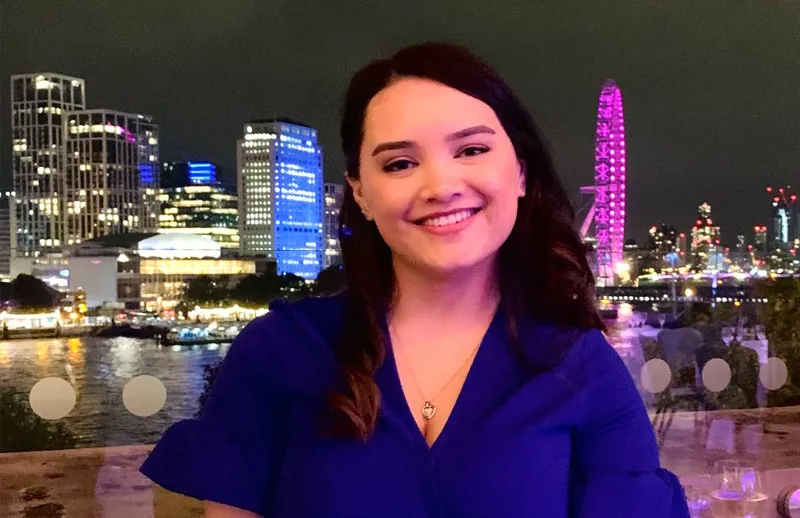 "My dad also always loved technology," Vanessa said. "One day he showed me what the motherboard of a PC looked like, and I could not believe how such tiny components could do so much, and I just found it fascinating.
"It was from that moment my love for electronics grew and very naturally flowed into my ambitions of becoming an engineer."
Being selected to receive the Best Student Prize was the cherry on top of the cake
Taking the traditional route, Vanessa chose electronics, maths and physics at school for her A-Levels before attending Coventry University to study electronic engineering.
"Between my second and third year of university, my course offered people the chance to apply for a year in industry – taking up the opportunity, I started an internship at Siemens," she said.
"Once this internship was complete, I wanted to keep in touch with Siemens so I asked if I could complete my final year project with them and they agreed to sponsor it; leading to the offer of a graduate role after I had finished university."
Graduating from university was something that Vanessa had dreamt of achieving since she was a child. "It felt so surreal to finally wear the cap and gown to walk down the aisle," she said.
"Being selected to receive the Best Student Prize was also the cherry on top of the cake, and something that I am so grateful to have been selected for!"
A year in industry and beyond
Vanessa is now a Design Engineer at Siemens, supporting the design and delivery of protection and control solutions for multiple rail projects.
"I am very lucky that my days are fairly varied since my work is project-based," Vanessa said. "Mainly I perform the calculations to produce settings for the relays that protect the railway overhead line equipment.
"This means that if there happens to be a short circuit somewhere on the line, the relay can clear the fault efficiently and ensure safe operation."
Vanessa says that her team of diverse and talented colleagues is what inspires her to work hard every day, "there is something in each person that I look up to whether it's their work ethic, level of technical expertise or what they are achieving outside of work.
"I am very lucky to have such a talented team that really invest their time and effort in me – helping to shape my career."
No question is silly, we all need help from time to time
"There have been projects where I am not sure where to start, or what information I need to even begin," said Vanessa. "That can be quite overwhelming when there is an expectation to perform well.
"If you are ever struggling, just speak up. It can feel embarrassing not knowing how to start something or knowing what to do, but this isn't a bad thing! It is a learning opportunity, especially as an early career professional.
"Seize the chance to further your development, and remember, no question is silly, and we all need help from time to time."
Vanessa understands that we can all feel overwhelmed, no matter the stage in our career, especially those selecting their post-16 qualification courses, a degree or a job.
"It can be hard to know what you want, especially when having to decide at such an early age," said Vanessa.
"My main advice to any early career professional making decisions is to take a step back, breathe and think about what you're truly passionate about.
"Speaking and asking questions can often help you unpack your thoughts and provide you with some clarity and direction."
Not being afraid to ask for help has led Vanessa to opportunities that have enabled her to develop her engineering skills and work on brilliant projects at Siemens – leading to her proudest career moments.
"I created the first prototype for a user interface, which was particularly challenging as I had to learn to code in an unfamiliar language in order to create it.
"Now the project has developed so much further, and I feel so proud to have been a part of the team that kickstarted it. I never thought I would be able to achieve something like that during my internship, and I was incredibly happy that I was able to."
I have my university lecturer to thank
"I have Andrew, my university lecturer, to thank for introducing me to the IET," said Vanessa. "I then saw it as a wonderful chance to be involved with a professional institution and represent young professionals and students – like myself.
"I really wanted to give something back to a community that has provided me with some many incredible opportunities, and inspire others to do the same."
Vanessa's involvement with the IET started when she was invited by her lecturer to join the IET Young Professionals Coventry and Warwickshire committee. "I continued through university and was eventually lucky enough to be asked to Chair in my final year of studies," she said.
During her time as Chair, the committee invited her to attend the Coventry and Warwickshire Local Network meetings to represent the young professionals.
"Even since leaving university, I have stayed on the committee as their Publicity Officer, running their social media profiles – despite having moved away."
In 2020, Vanessa went to the Young Professionals Community Volunteer Conference, and it was here she became an IET Young Professional Ambassador. She said, "It tied in really nicely with the role I was doing for the Coventry and Warwickshire Young Professionals, and being able to be one of the faces and voices of young professionals at the IET and the public is such a unique privilege."
Now based in York, Vanessa has joined the IET North Yorkshire Local Network as a committee member through her work.
"They have been very welcoming, and I am looking forward to getting involved in their activities in the future," she said.
I remember being so nervous for my first committee meeting, but it ended up being one of the best decisions I've made!
You may be thinking how do I find the time to volunteer or join a committee when I work, study and have a social life? The wonderful thing about volunteering at the IET is that you can do as much or as little as you'd like.
Vanessa said, "You really can get involved at any level, and as much as you'd like. I started out by attending regular committee meetings roughly once a month outside of university/work hours, and volunteering to run events when I was available.
"Remember that you can always take a step back if you feel it's too much and set boundaries for yourself and your time – your mental health and studies/career always come first."
Vanessa has never looked back and despite being nervous for her first committee meeting, she says it's the best decision she has ever made – personally and professionally.
"It's allowed me to expand my professional network, develop my soft skills and be involved in some great and unique opportunities," said Vanessa. "I think it's such a remarkable thing to do. Getting involved in the committees and volunteering can be incredibly rewarding and so much fun – plus you'll be a part of inspiring the next generation of engineers and technicians.
"Even if you are only able to complete one activity or attend a few meetings a year, it really can make such a difference in the community.
"No contribution is too small."
More than just a member 
"Being a part of the IET – member or otherwise – means so much to me on a lot of different levels," said Vanessa. "To me, the IET has always been a shining example of how wonderful the engineering and technology sector can be.

"I'd like to thank them all for the incredible opportunities that have been offered to me, and to all the wonderful people I have met through the institution who continue to inspire me every day."

So, what is next for Vanessa and her journey with the IET? "I wish to continue to develop my career and begin the process of Professional Registration with the IET," said Vanessa. "I will continue to be involved with the IET and committees as much as possible, as it's such a joy to be a part of."

<!—Lead forensics script -->