Start of main content
Introducing Isaac Jones EngTech TMIET
Published: Thu 21 Apr 2022
With this inquisitive mindset and a passion for creative projects, a career path into engineering appealed to Isaac the most.
"Being put forward for an Arkwright Scholarship by my D&T teacher at school really cemented my desire to choose a career in engineering," he said. "The scholarship's aim to 'identify, inspire and nurture future leaders in engineering' resonated with me and gave me the drive to work even harder in my early career."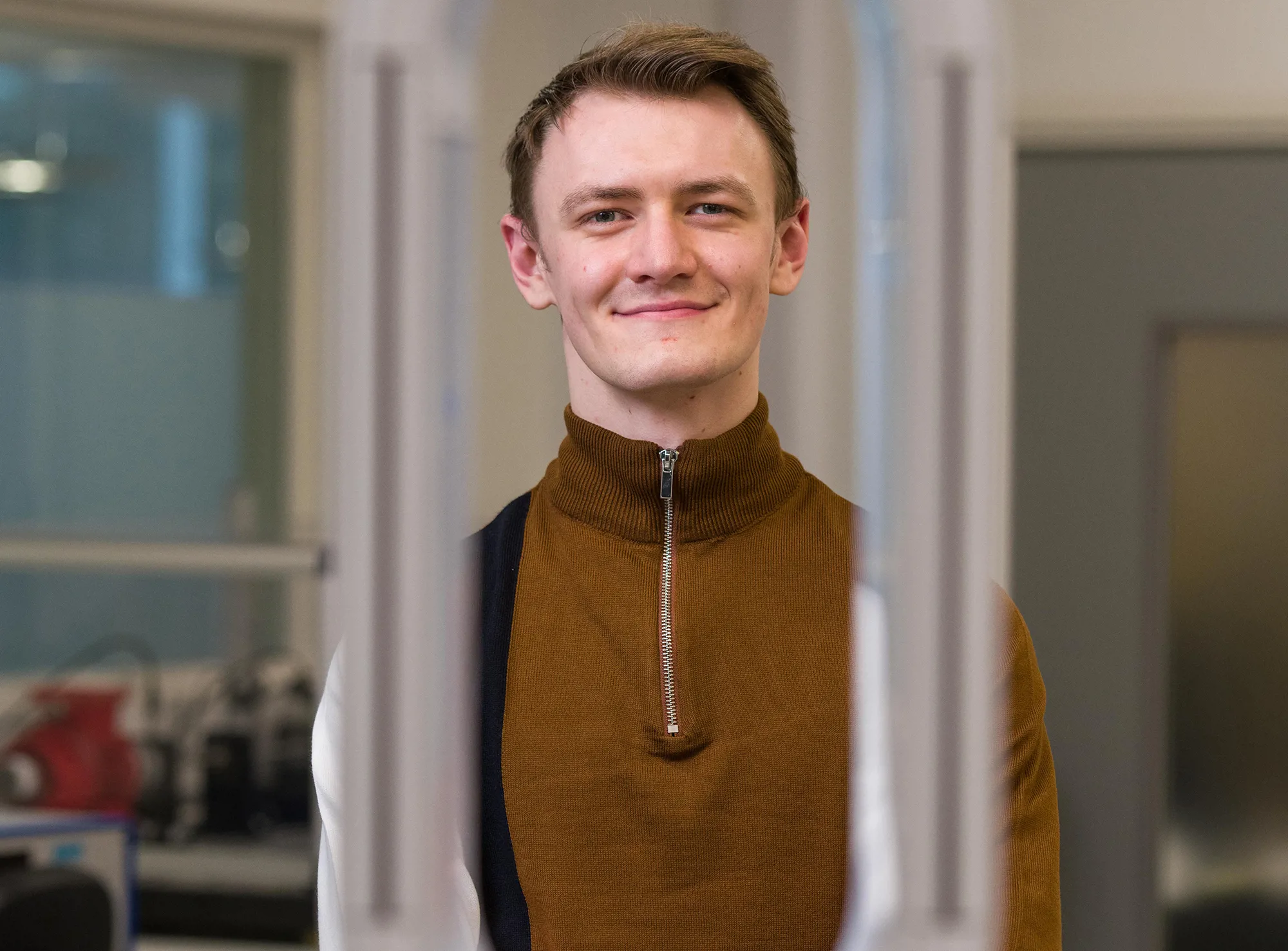 My career path has been a little different to a lot of people my age.
Isaac initially started out studying full-time at university but realised that a degree apprenticeship aligned better to his learning style.
"I went into university with an open mind and aimed to get the most out of it. One of the highlights during my time there was being awarded the IET Diamond Jubilee Scholarship, and then getting invited to attend the Annual Dinner in 2020," he said.
"Despite some really great opportunities I had at university, I decided to reapply for degree apprenticeships, and in September 2020 I joined the Dyson Institute's fourth cohort.
"This was the perfect way for me to not only get the workplace learning I desired, but also the academic side too. The whole package was too good an offer to turn down, as it's more than just an apprenticeship, but a whole community of undergraduates and staff, which really exceeded my expectations.
By combining workplace learning with my degree, I'm also completing a L6 Product Design & Development Engineer Apprenticeship Standard.
"The first two years of the academic side of the course is structured the same as the first two years of the workplace learning, where the goal is to achieve a multidisciplinary understanding and knowledge in engineering before specialising for years 3 and 4.
"The opportunities that have come from being at the Dyson Institute have been incredible – I would say compared to a year ago, I'm now a lot more ready to step out of my comfort zone, as I've been able to take part in everything; from a drawing course in London to being interviewed for a magazine and presenting to the Dyson Americas office!"
From IET Diamond Jubilee Scholar to Engineering Technician
"My job as an Undergraduate Engineer is extremely diverse, so every day is different to the next!" said Isaac. "From very early on we are involved in supporting live projects being completed at Dyson, which gives us the unique opportunity to contribute towards new research, development and technologies without necessarily having the most experience. 
"I've now achieved EngTech status, so my next major goal will be to successfully complete my application for Incorporated Engineer. I'm hoping to achieve at least a 2:1 in my BEng degree as this will open up the option to return to Dyson after I graduate in just under three years' time."
Until then, Isaac will continue to complete workplace rotations at Dyson until the end of the academic year
At which point he'll specialise in his BEng degree and join his permanent workplace team. "I'd really like to get involved in more promotion of STEM too," he said. "I'd love to potentially apply for the IET's Young Professional Committee.
"My biggest achievements at Dyson so far are probably successfully redesigning and commissioning a test rig with a significant efficiency improvement, as well as creating the resources to inform and educate colleagues on the benefits of Professional Registration."
More than just a member
"The IET offer a great deal of support to engineers from all backgrounds and disciplines, which has really helped me as someone who is currently not a specialist," said Isaac.
"I think the resources available to me as a member are some of the best available. In particular, the Career Manager tool and access to mentoring and a Professional Registration Advisor (PRA), really stands out.
"Connecting with a PRA and mentor was extremely helpful when I was completing my Professional Registration application. I wanted to achieve EngTech as a way of highlighting how much experience we gain on the course," he said.
"Nobody had previously completed Professional Registration on my course, so having the IET and Engineering Council recognise the work we do as undergraduates was an important goal too! As well as this, I feel like completing EngTech is the best way I can prepare to complete IEng and CEng later down the line."
As well as having access to our mentors and Professional Registration Assessors
Isaac was able to focus on his Continuing Professional Development early on and record everything using our Career Manager tool.

"Career Manager was a massive help for my EngTech application, plus it's also got me in the good habit of recording all my training and CPD as I complete it," he said.

"If I were to advise anyone else in my position who is thinking of applying for Professional Registration, I'd recommend not rushing it; I set myself a hard goal of when I wanted to achieve EngTech, and I wanted to prove it was possible even in the early stage of my career, so at times I was perhaps trying to take things too quickly.

"I think one of the biggest challenges to anyone's career is getting started. Being an IET member has been massively helpful, as it has provided me with resources, learning, funds and networking to allow me to kickstart my career."

<!—Lead forensics script -->