20-year-old asked by industry leaders to present at top AI summit!
IET Present Around The World (PATW) winner Padmanabhan Krishnamurthy introduced an audience of world-leading engineers and technology figures to Helen, an accessibility device for AI-based lip reading.
Taking centre stage at the PATW global final, Padmanabhan couldn't have imagined where he'd be presenting his innovation just a few months later.
For Padmanabhan, the goal was to design a device that can help the hearing impaired interact with the world more easily. Little did he know, presenting at PATW would give him a global platform to inspire the world and lead to invaluable connections that would kickstart his career.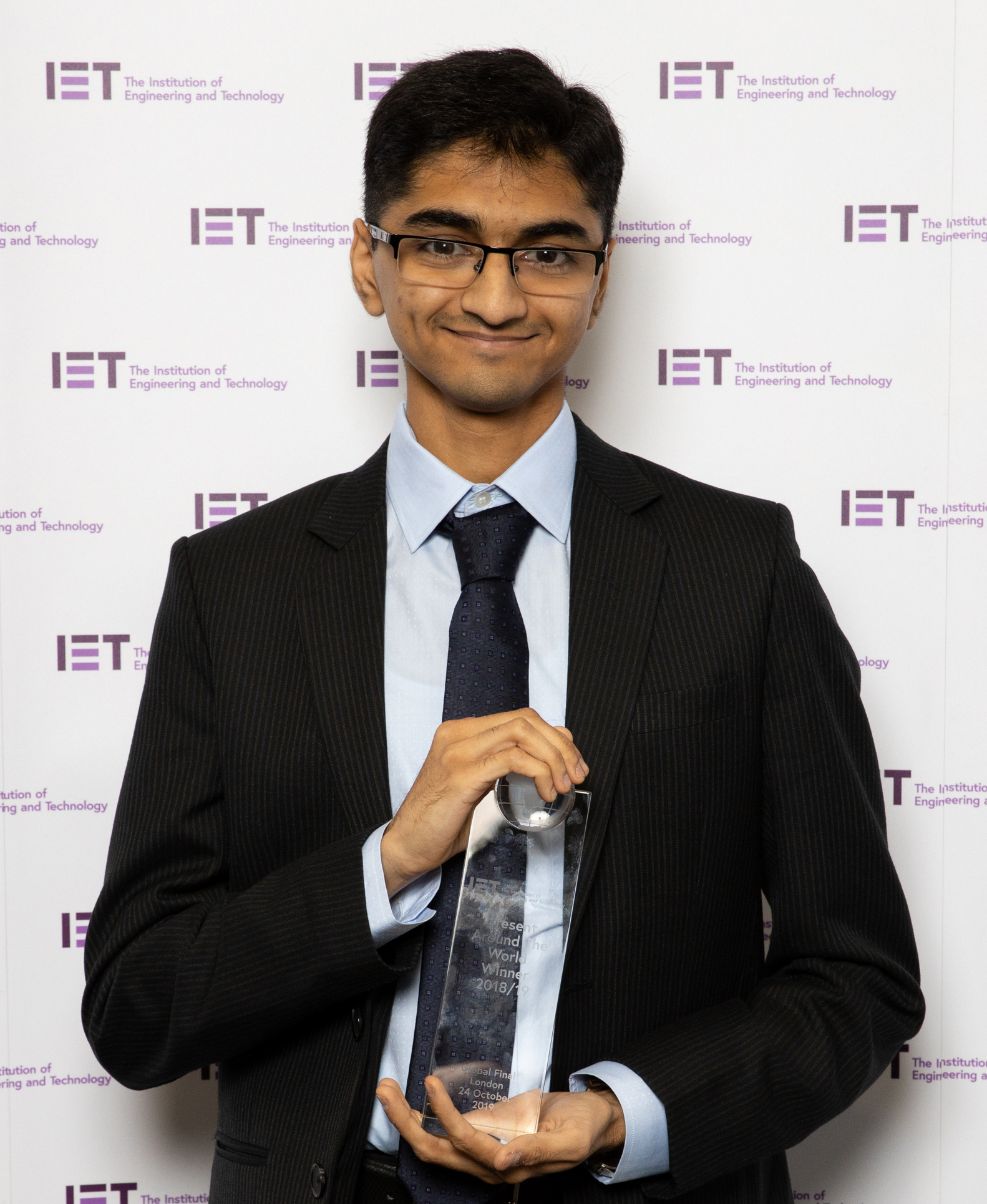 Following his top-prize win at our PATW competition, Padmanabhan was invited to attend IET President Dr Peter Bonfield's President's Address and Dinner, where he met former Microsoft data scientist, Anirudh Koul.
The chance to network with an influential figure in the world of AI-centric accessibility solutions provided Padmanabhan scope to take his innovative project to the next level, technologically and within the marketplace. Armed with advice and industry knowledge from Mr Koul, Padmanabhan was put in touch with Re-Work, organisers of a leading deep learning and AI applications summit held every year in San Francisco, CA.
"We shared our progress and ambitions regarding Helen with Re-Work and were honoured when we received an invitation from them to speak at this year's conference at the end of January," says Padmanabhan. "Presenting our work at Re-Work in the presence of industry leaders from OpenAI and Microsoft, and researchers from MIT and UC Berkeley is not something we could have ever envisioned a few months ago."
Competing at PATW (and winning) has not only provided the foundation for Padmanabhan to build his own industry network of contacts and expand his knowledge to new heights; it has also offered direction for his career. Speaking at a renowned AI summit in the heart of North America's technological hub forms another level of exposure for his project and broadens opportunities for future events, as well as contributing to his professional development by adding an impressive line of experience to his CV.
What is PATW?
Global competition for young professionals, graduates, apprentices and students aged 18-30 within engineering to develop and showcase their presentation skills, enhance their knowledge and make invaluable connections.
There's still time to enter the first round via your local network or online heat.
Register your interest in competing
Early career IET membership
The IET provides engineers in the early stages of their career, the platform to network with industry leaders and make new contacts to help them progress. Here are some other ways the IET can help: