Start of main content
What do employers know (that we don't)?
Published: Tue 7 Feb 2023
The Skills for a Digital Future survey report provides insight into the future skills the UK will need to ensure businesses can be agile and responsive to change.
The research found:
The need for digital skills is everywhere - eight in 10 (83%) employers say their staff regularly work with computers while two thirds (68%) report their employees work with handheld devices
A quarter say their staff use robotics and automated equipment (24%) and AI (23%), while 15% say virtual reality was used by staff in their day-to-day-work
Half of engineering employers report issues with skills in the external market of technical workers (54%) and their current engineering or technical workforce (47%)
For employers whose internal workforce is held back by the digital skills gap, nearly half (49%) say the consequence is reduced productivity. This is compounded by difficulty recruiting (36%) and barriers to innovation (35%)
31% of employers say their artificial intelligence/machine learning will be important to sector growth. However, half (50%) of employers say they don't have the necessary skills in this area
To ensure the right skills are in place to maximise the opportunities offered by future technologies, we included recommendations in the report across three areas: Government, Industry and Partnerships.
These include:
Government
Skills training in the technology sector requires sustained support, with training treated as a long-term investment in the future rather than a short-term fix. Support could be aimed at small and medium enterprises, who often face challenges in training employees. We're calling for government to make the apprenticeship levy more flexible.
Industry
Leadership in industry needs a broader understanding of the rewards a digital strategy can bring, regardless of sector.  Industry requires agile thinking skills to deliver on digital strategy.
Partnerships
Institutes of Technology (IoTs), amongst others, could be involved in partnerships to complement in-house training. Digital skills could be built up using micro-credentialing and professional registration.
The good news is that the bulk of engineering employers (87%) are proactive in equipping their staff with the skills they need. 
On-the-job training is offered by 70% of employers, while in-house development programmes, online learning and formal qualifications are promoted by half (51%) of employers.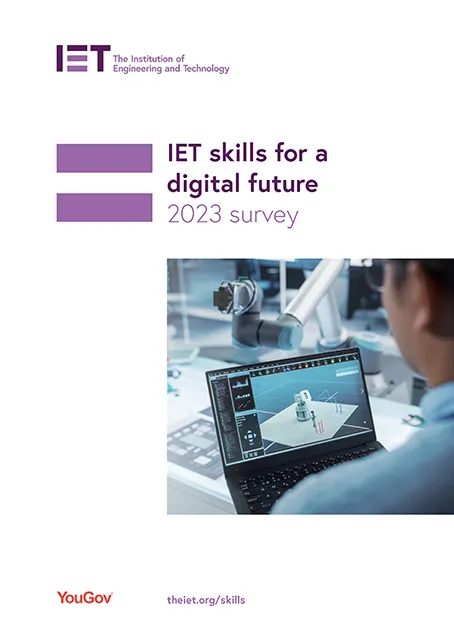 Skills for a digital future survey
The Institution of Engineering and Technology commissioned YouGov to run a survey assessing the UK's digital skills gap, its impact on employers, and potential solutions to the challenge. The results show that there is a digital skills gap in the technology sector, and that this is having a serious impact on business according to engineering employers. Fortunately, these employers believe their workforce is agile and offer solutions to the gaps.

<!—Lead forensics script -->