Start of main content
Budding young engineers crowned FIRST® LEGO® League Scotland Champions
Published: Thu 23 Jun 2022
The winning team – STEM Troopers – is made up of Cameron Harvey, Matthew Murray and Andrew Twigg (all aged 16).
They were crowned champions at the competition final in Dundee and will now have the opportunity to represent Scotland on the global stage at the Brazilian International Open in August, held in Rio.
The FIRST® LEGO® League is a science and technology challenge aimed at 9-16 year olds that tasks teams to build a robot to tackle a series of missions and create an innovative solution to a real world problem.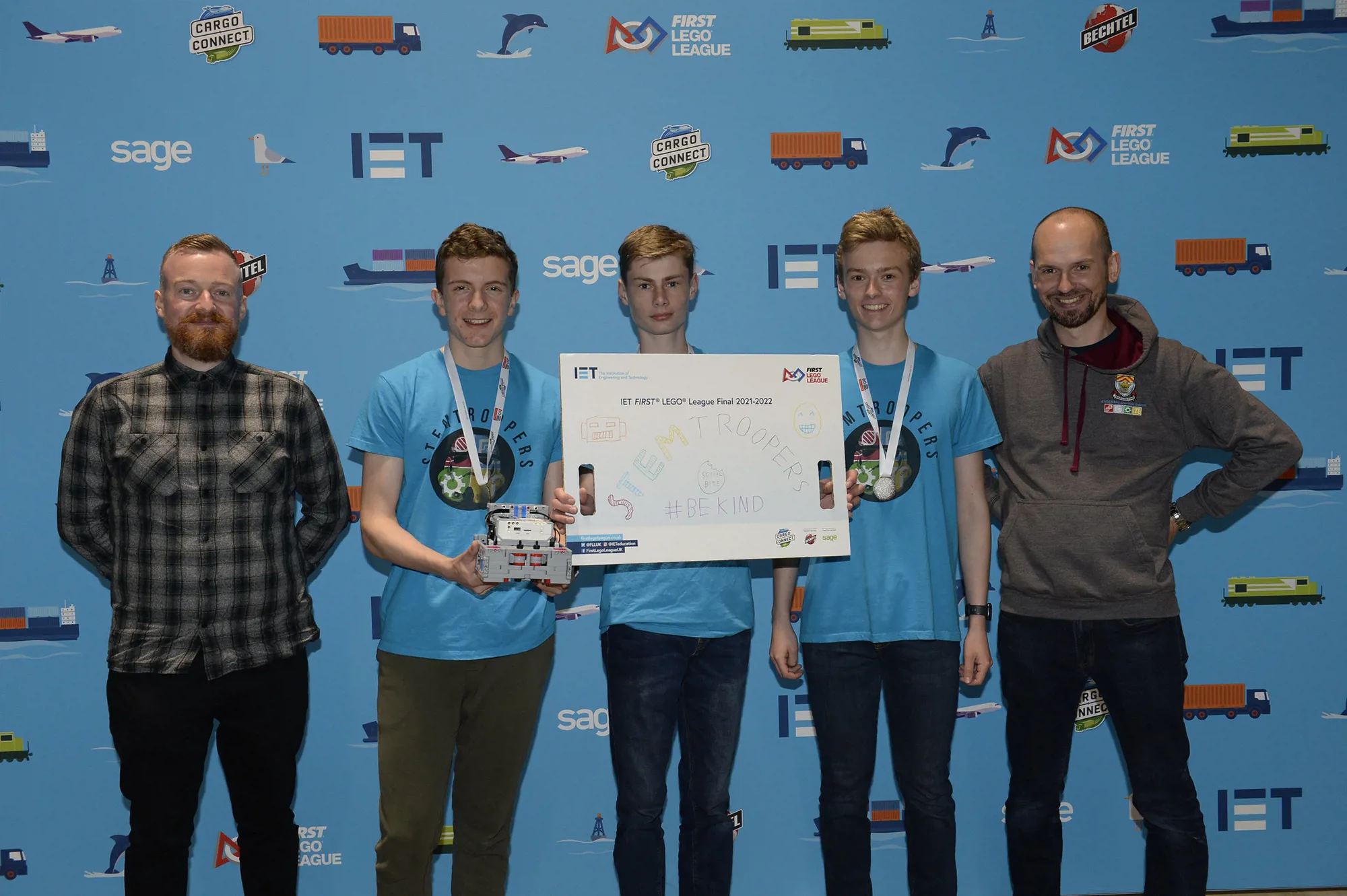 This year's competition is called CARGO CONNECT℠ and is all about exploring how cargo is transported to different destinations around the world. Teams were tasked with designing a solution to make transporting cargo more efficient while having lots of fun in the process.

Returning as an in-person event for the first time in two years following the Covid-19 pandemic, the FIRST® LEGO® League Scotland final saw hundreds of young people, spectators and team coaches attending, who were all keen to demonstrate their skills in robotics, computer programming, teamwork, research, problem solving and communication.

STEM Trooper's winning solution is an innovative idea of transporting parcels between points using existing journeys, such as an Uber for parcel delivery. Customers would use an app to bid to pick up and deliver parcels on routes that they're travelling anyway, therefore lowering the cost for consumers and minimising the environmental impact of parcel delivery.

STEM Troopers team member Andrew said: "The whole team has worked so hard this year but it's been really great to be back at in-person events.  The excitement and energy of everyone at the event was so nice to see and it was clear that everyone there had also worked really hard, so we were over the moon to have won.

"This is our final year of FIRST® LEGO® League so it feels amazing to finally get a chance to travel to an international event!"

Lucy Owen, IET FIRST® LEGO® League Education Manager, said: "FIRST® LEGO® League allows young people to experience engineering in action. As well as bringing excitement to STEM subjects, the students get hands-on experience with robotics and designing innovative solutions to real world problems.

"There is a great need for young people with STEM skills to fill the next generation of engineering roles and I know first-hand that there are bright young engineering minds in FIRST® LEGO® League. I'd like to congratulate our winners and all the finalists."

We're proud to be the FIRST® LEGO® League's UK and Ireland operational partner. Supporting the competition is part of our commitment to show young people the benefits of careers within STEM.

<!—Lead forensics script -->