Tune in to our exciting 150 Show!
Published: Tue 4 May 2021
Our hosts IET President, Professor Danielle George, and Bobby Seagull will be joined by incredible guests for a fun-filled week of shows.
To celebrate our 150th anniversary from 17 May we'll be broadcasting a one-hour magazine programme each day of our anniversary week, called The 150 Show.
Each episode will lightly touch on a different theme, and explore topics such as vaccinations and new medicines, sustainability in fashion, women in STEM, extended reality and much more.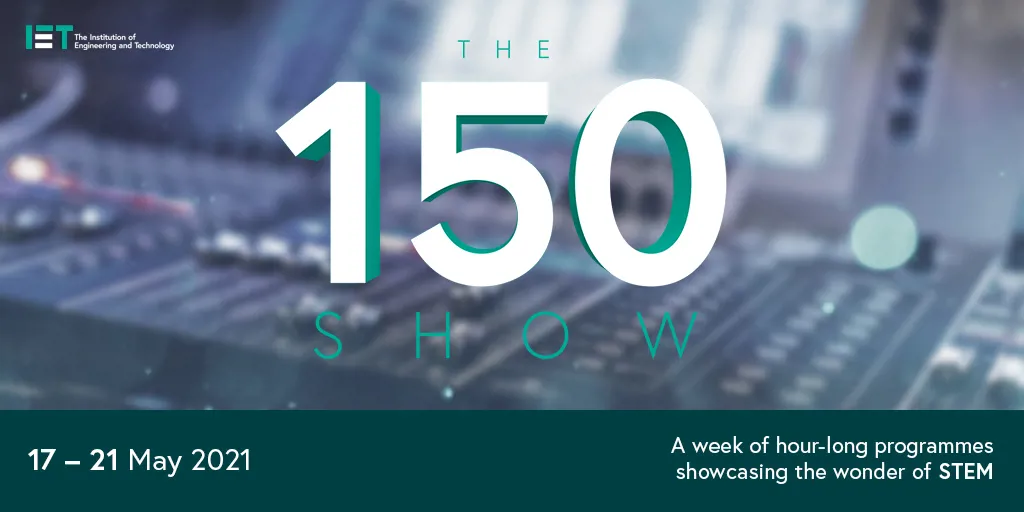 We have loads of amazing guests, from professors and engineers, to inspiring CEOs and TV personalities such as Carol Vorderman and Konnie Huq.
You can also join in with exciting experiments you can do at home, brought to you by Callum Daniel - Youth STEM Personality of the Year winner.
As well as a bakineering segment hosted by Great British Bake Off finalist and engineer - Andrew Smyth.
We'll also be chatting to inspirational engineers who are making a positive impact on our world, as well as Engineering Excellence Honorary Fellows, STEM Personality of the Year winners, rising stars and IET experts!
Head over to our social channels where we're announcing The 150 Show line up!
Don't forget to tune in every week day from 17 May until 21 May at 1pm (BST).
All the videos will be streamed via YouTube. Add it to your diary now to be sure you don't miss out!
Please note: all videos will be available to watch on-demand via our IET@150 page.