Start of main content
IET launches Green Preferences Survey 2020 Report
Published: Fri 20 Nov 2020
The public survey revealed that UK adults only place 16% of the responsibility to make changes to prevent climate change from getting worse on individuals and place around a quarter of total responsibility to fight climate change (23%) with their national Government.
Nine in 10 (87%) of UK adults think that the climate is changing, with human activity being solely or partly responsible.
The research showed that just over half of the population (57%) think we can avoid the worst effects of climate change, but only by making radical changes to the way we live, compared with 76% of members.
Only 18%  of the public, however, feel it will be their generation that will be the first to experience real noticeable change to their day-to-day life because of climate change, compared with 38% of the members surveyed.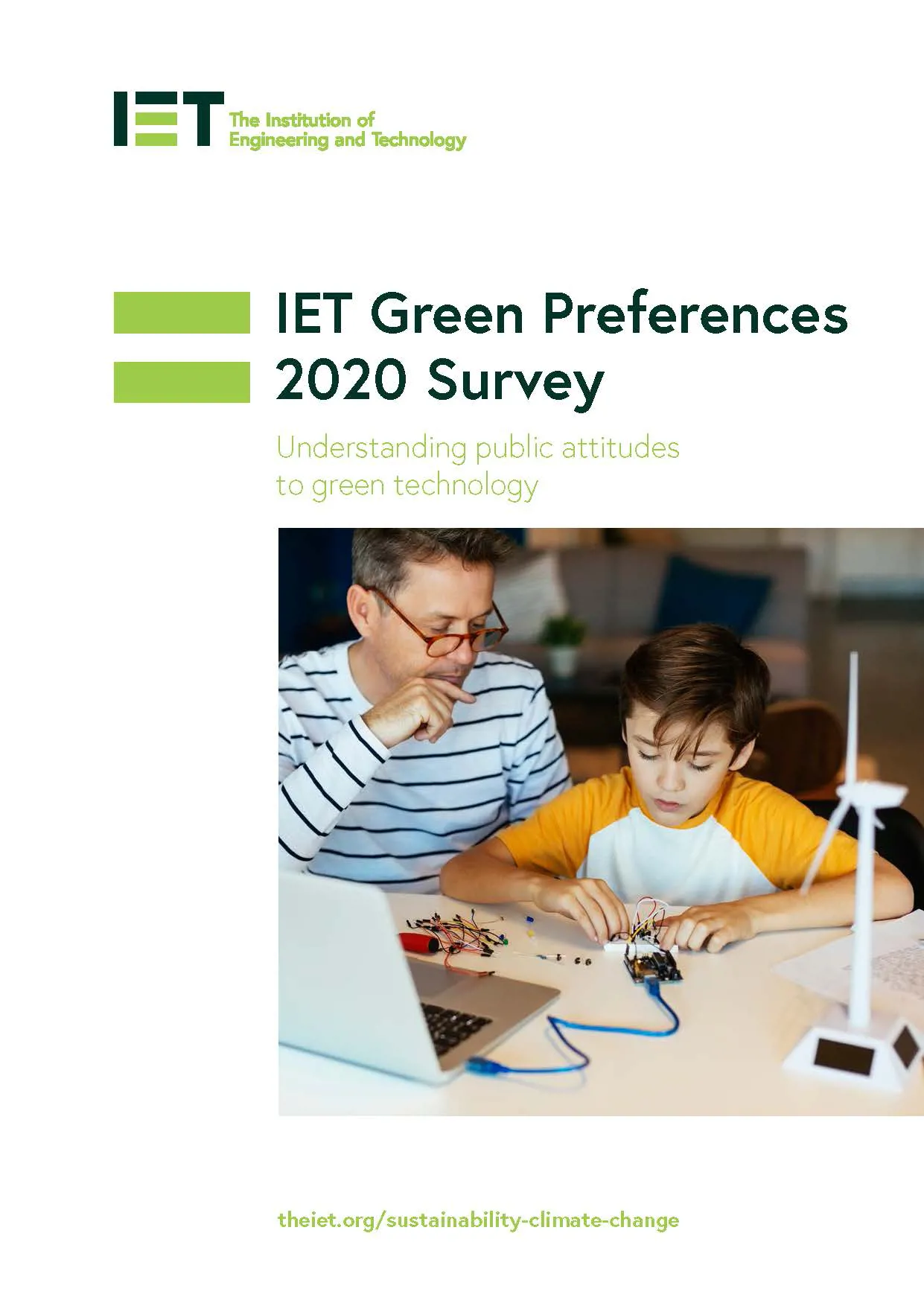 The research also indicated that the wider public may have a better understanding of how smart technology and heat pumps can help reduce energy use than members may believe.
IET members who don't currently have various green technology installed in their homes are typically much more likely to consider having it installed (in particular solar panels and battery storage) than those participants in the wider public survey, typically because they want to reduce their carbon footprint.
James Robottom, Sustainability and Climate Change Lead at the IET, said: "Climate change is the biggest engineering challenge of our lifetime and the one that we must be the most successful at tackling. That only comes from everyone playing their role and working together to achieve our net-zero target.
"It's encouraging to see that just over half of the population knows that radical action is needed and people are willing to adapt their lives to take positive steps to addressing climate change.  However more needs to be done; cost and awareness are two of the biggest barriers affecting the active adoption of green technology and solutions – short-term financial gains are always attractive, but long-term investment must be the goal.
"Two of the biggest challenges we face – decarbonising heat and transport – will require changes to be made to our everyday lives. It is essential that people are engaged in the process and can see the benefits of green solutions so that we don't leave anyone behind."
Based on the results of the survey, the report outlines seven key recommendations:
Practical guidance regarding the UK's climate change ambitions as well as putting them into context with the urgency and scientific reality of climate change.
Improve installation support and advice for the uptake of green solutions.
Ensure excellent standards of professionalism to build and maintain public trust. Green technology must be reliable, timely and prove its value in both the short and long term.
Support technology innovation in order to provide improvements in efficiency and drive down costs.
Think in the long term – it is essential that the longer-term impact of any new technologies and innovations are considered.
Actively identify opportunities for incentivised behaviour change.
Promote a green post-Covid-19 recovery.
The IET's Green Preferences Survey surveyed adults across the UK, Australia, China, Germany, India, the Middle East, and the USA. It reveals public perceptions around making changes and trade-offs to reduce emissions, as well as understanding where the public believes responsibilities lie and what our greatest barriers are to achieving net-zero and being more sustainable.

The IET Green Preferences supplementary questions targeted IET members based in the UK.

To read the report in full, please visit: theiet.org/Green-Preferences-Survey.

For more details about sustainability and climate change, please visit: theiet.org/sustainability-climate-change

<!—Lead forensics script -->