Spotlight on IET President, Danielle George MBE CEng FIET
Published: Fri 16 Oct 2020
Who influenced you as a child?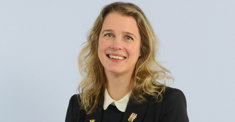 "For as long as I can remember I was always interested in science – from playing with my chemistry set as a child to studying things under a microscope. My passion soon branched out into astronomy after watching a lunar eclipse with my family.
"My parents were always supportive of me and if they didn't know the answer to any of my constant 'Why?' questions, we'd find out the answers together. I still have the old encyclopaedia we used to refer to, and my Mum would often take me to the library to fuel my curiosity. I distinctly remember her taking me to a book signing with astronomer, Heather Couper, after hours at a local bookshop in Newcastle, which I thought was great and this memory has stayed with me.
"As well as maths, science and physics, I've always been interested in music and having a creative side has been equally important in my career. I started learning to play the violin, which turned into learning the viola and piano. There's definitely a correlation between music and STEM as I'm drawn to patterns, sequencing and programming."
How did you first get into engineering?
"My interest in engineering actually came to me quite late on. In fact, it wasn't until my MSc that I got my first real taste of engineering. After talking to engineers when I was based at Jodrell Bank Observatory, I realised that I wanted to explore the more practical aspects of astrophysics and engineering, so I asked to change my dissertation to study radio frequency interference on telescopes"
Tell us about your career journey…
"Astronomy and astrophysics have always been at the forefront of my work – from my very early work experience giving guided tours at a planetarium, to becoming a Junior Engineer working on an unmanned spacecraft called the Planck. The day I handed in my thesis for my PhD at the University of Manchester Institute of Science and Technology (UMIST) I landed an interview to become a lecturer at the School of Electrical and Electronic Engineering at the University of Manchester."
You've also done a lot of public engagement, reaching audiences outside the engineering bubble
"As a science communicator, I've enjoyed going into schools and giving talks to audiences of varying sizes. Plus, other media opportunities have stemmed from the Christmas lecture I was asked to audition for by The Royal Institution. I didn't really believe it when the request first came through. I was heavily pregnant at the time of filming but the Royal Institution and BBC were very supportive. I was in hospital having a baby when the programme was aired. I really enjoy presenting BBC TV programmes and podcasts that can highlight the creativity of engineers and technicians."
The IET is approaching its 150th anniversary. What do you hope our celebratory year will achieve?
"For me, it's not just the legacy aspect, it's about telling the stories of the incredible difference makers around the world and inspiring the next generation into solving engineering challenges. It's also about showing people 'outside the engineering bubble' the wonderful opportunities out there and the great things engineers are doing to improve lives. As engineers and technicians, I think it's all of our duty to talk about your passion."

<!—Lead forensics script -->