Join our IET India Digital Conversation on Tuesday 11 August
Published: Fri 7 Aug 2020
The IET India Digital Conversation will discuss the importance of digitalisation and the role it plays in India's growth in terms of both speed and scale. The COVID-19 pandemic has brought global economic activities into an unprecedented spiral. As a result, businesses are taking the virtual route to get back on track and have created a significant spike in the demand for long-term digital solutions. This discussion focuses on the importance of digital transformation to develop a better tomorrow.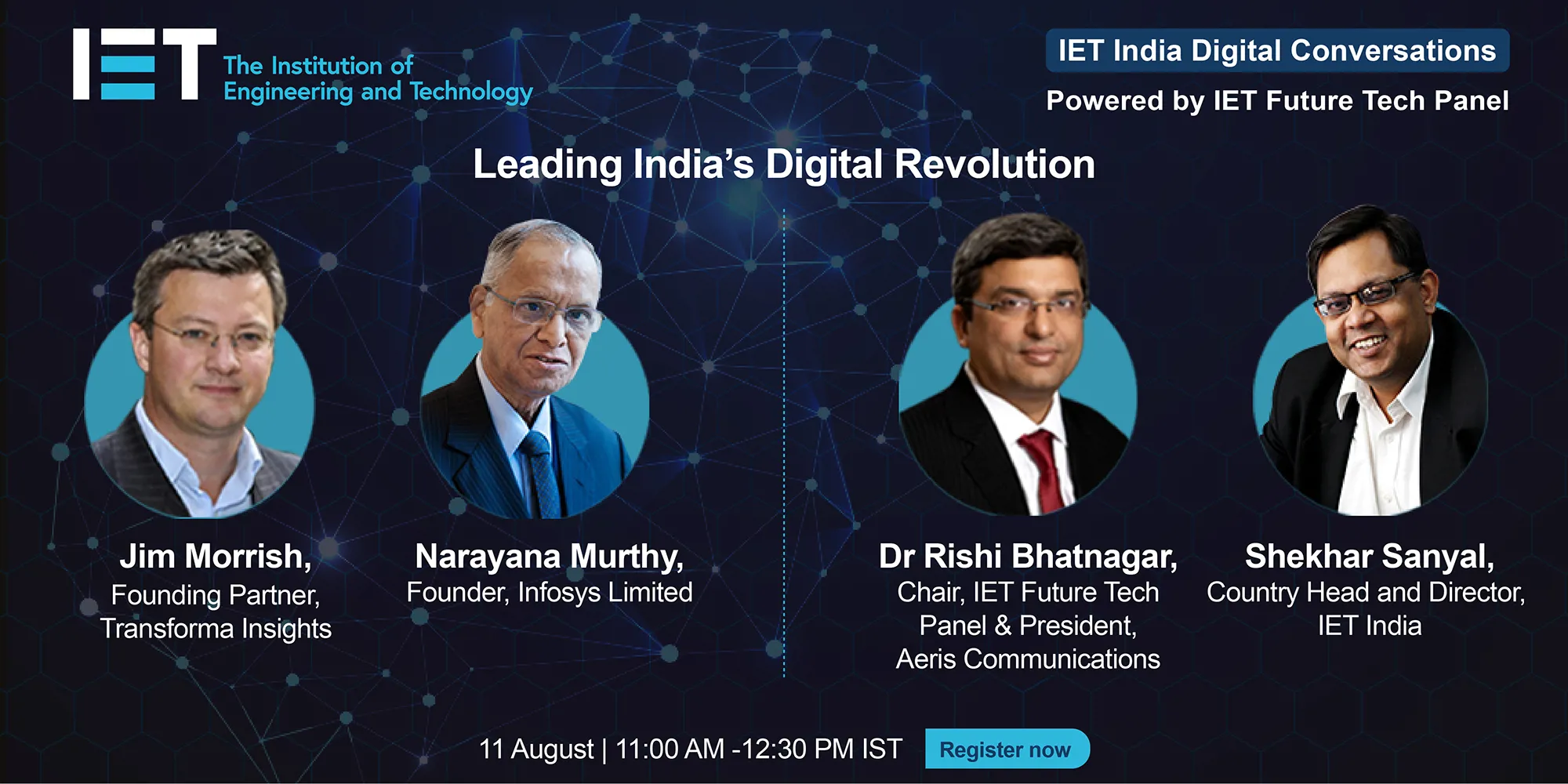 Value cannot be null. Parameter name: source
Our event 'Leading India's Digital Revolution' will see key speaker N R Narayana Murthy, founder of Infosys Limited, share perspectives on how the pandemic has catalysed essential change in the Indian economy and pushed organisations to adapt technology for business continuity and future growth. Also, Jim Morrish, Founding Partner of Transforma Insights, will share insights on which technologies will see a spike in adoption as well as advice for start-ups and large corporations in the face of the pandemic. Dr Rishi Mohan Bhatnagar, Chair of IET Future Tech Panel and President of Aeris Communications, and Shekhar Sanyal, IET India Country Head and Director, will join the discussion on India's leadership role in the digital revolution.
Shekhar Sanyal, Country Head and Director of IET India, said "We are immensely excited to welcome N R Narayana Murthy, IET Honorary Fellow, to the sixteenth episode of IET India Digital Conversations. As part of our 150-year-old legacy, the IET as an organisation has always created relevant conversations and platforms in working to engineer a better world. Be it our IET Future Tech Panel, Digital Conversations or our constant release of white papers and advisory notes, we have always led the path to help our stakeholders be at the cusp of technological changes."
11 August, 11am IST (6.30am BST).