Young Woman Engineer of the Year Award Winners
Published: Fri 6 Dec 2019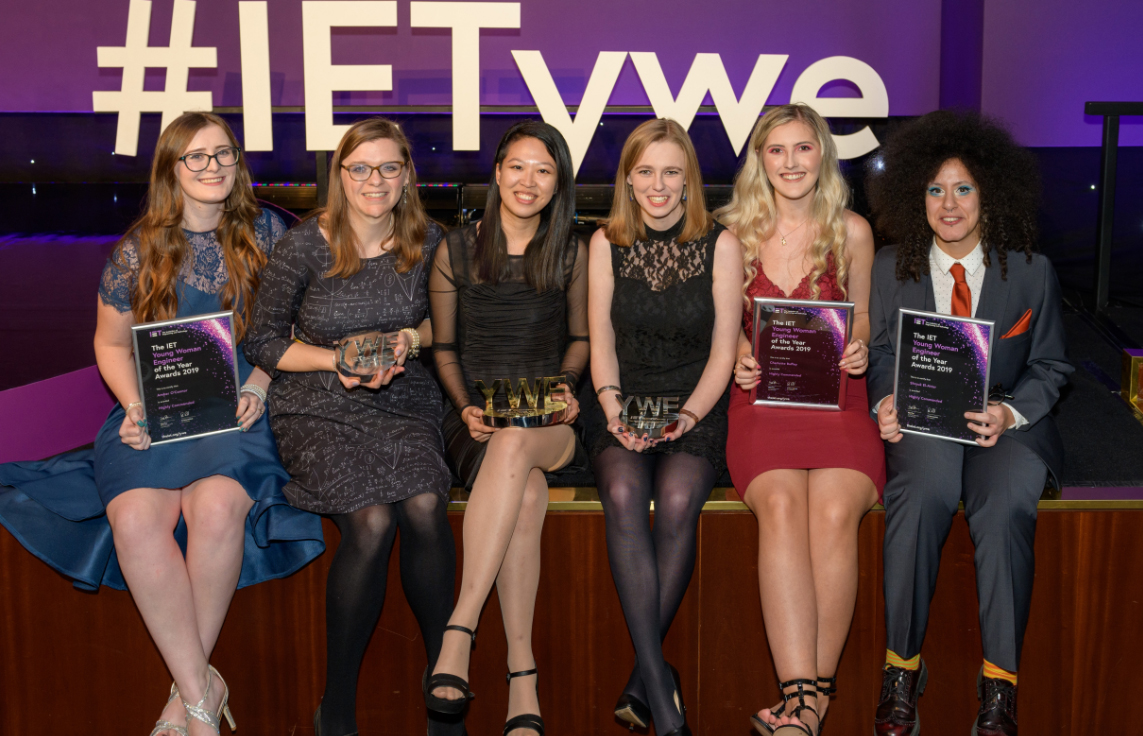 The awards set out to recognise the talent of young female engineers and their commitment to changing the perception of the industry.
Three Young Woman in Engineer (YWE) awards were presented to exceptional examples of young female talent. 
IET Young Woman Engineer of the Year
Our IET Young Woman Engineer of the Year was awarded to Ying Wan Loh.
Ying has an MPhil in Industrial Systems, Manufacture and Management at the University of Cambridge. She co-founded a technology start-up that developed rapidly within a year and won the CSSA UK High-Tech Entrepreneurship Bronze Award.
As a keen STEM ambassador, Ying aspires to combine her passion in arts and engineering to engage and inspire the next generation of engineers. She is an excellent example of a leader with the passion instil change in engineering by showing girls that they have the power to change the world.
On winning, she said: "I am so honoured to receive this award. I have a great team and support system behind me, and this is an amazing feeling.
"This award isn't just about me, it's about all the outstanding women changing the world through engineering. The IET gives female engineers a voice to be heard and I want to use this platform to raise the profile of women in STEM and capture the imagination of young girls everywhere, showing them that they too can be an engineer."
Women's Engineering Society (WES) Award
The Women's Engineering Society (WES) Award winner was Dr Claire Lucas.
Claire is an Associate Professor of Systems and Information Engineering at the University of Warwick. She is Director of Studies for Systems and Information Engineering, where she is responsible for teaching activity in Systems, Biomedical and General Engineering.
She was recognised for her dedication to inspiring the future generation of female engineers. She said on winning:
 "It feels amazing to have won this prize but it's a complete shock. I came here this evening knowing the incredible talent of my fellow finalists, just to be among them is incredible so to have won is a fantastic feeling.
"It is my passion that no girl will ever be the only girl in a science or maths class or have their voice ignored, it's why I do what I do."
IET Mary George Memorial Prize for Apprentices
The IET Mary George Memorial Prize for Apprentices winner was Samantha Magowan.
Samantha is an Applications Engineer for Dale Power Solution. Her role involves working out customers exact requirements and putting together quotes and specifications. Twenty-one-year-old Samantha has all the attributes to become an outstanding leader in the future of engineering.
After winning the award, she said: "I'm speechless. It feels amazing to have won this award and have my work recognised on a national scale.
"Apprenticeships are a fantastic route to take and I want to thank my company, Dale Power Solutions, for the amazing opportunities they have given me."
Gender Diversity Ambassador Award
An additional fourth award was introduced this year. The Gender Diversity Ambassador Award recognises an individual who has gone above and beyond by giving a large proportion of their career to gender equality in engineering.
Wing Commander Glynis Dean became the first-ever recipient of this award for her outstanding contribution to the Royal Air Force Youth and Diversity Team.
Glynis was nominated by her RAF colleagues for being an inspiration and for making a significant contribution to the engineering gender diversity arena by attracting and retaining women in engineering.
On winning, she said: "I am honoured and delighted to be the first recipient of this award. Improving the gender balance in engineering is a marathon rather than a sprint, requiring commitment, drive and staying power.
"I have had the privilege of working with amazing and like-minded individuals within the RAF and with colleagues in industry, academia and professional bodies. I see this award as very much a team effort. Thank you, IET."
Congratulations to all the winners and our highly commended finalists Amber O'Connor, Charlotte Buffey and Shrouk El-Attar!