The IET celebrates Member Brian Heathcote's 40 years of volunteering
Published: Thu 3 Oct 2019
How did you get into engineering?
My initial interest started in 1955, at the age of 15, when I was fortunate enough to do a summer work placement at a local steelworks. It was a large company with over 10,000 employees.
At that time, the company was embarking on a massive modernisation and expansion period and recruited at least 30 technical apprentices every year providing young people the opportunity to learn new skills.
I was taught the ins and outs of various engineering roles, and it was here that I discovered I had a natural talent for technical drawing. This encouraged me to go back to the same company and apply for a mechanical engineering apprenticeship – I was successful and became an apprentice draughtsman.
I learnt how to produce detail and assembly drawings for large machinery and mechanical devices; I progressed to the design and specification of heavy steelworks plant and structures, eventually project managing major multi-disciplinary developments. I stayed within the steel industry for 45 years, until I retired.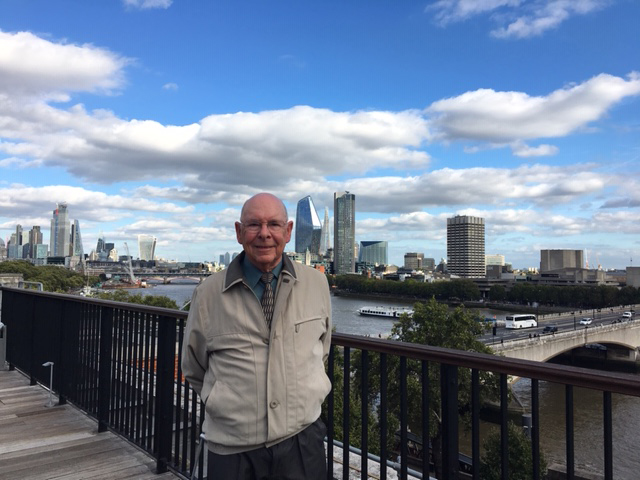 What have you enjoyed most about being an engineer?
I feel extremely fortunate to have worked with so many great people. I have had the privilege of working with people from around the world. I have visited every Steelworks in the UK and almost all of them across Europe and Scandinavia. Whilst travelling, I found a real sense of comradeship; in those days the steel industry was like a brotherhood that welcomed me regardless of who I was visiting or where I had travelled.
This is the memory of working life that has stayed with me and shows just how important the people that you meet along the way are. The people I have met have been invaluable and irreplaceable with many of them influencing my career.
What has been your favourite event throughout your time as a volunteer?
I went to an awards event held at the Cutlers' Hall (Sheffield) in the 1990's celebrating young engineers. Helen Sharman, the first UK astronaut, was a guest speaker at the event. She was a very inspiring woman and her words will stay with me forever. She thanked all of us, saying: "Without the skills and hard work of engineers, I couldn't have done what I've done." This was a great moment for me; Helen's recognition of our profession highlighted just how important engineers are.
What made you commit to volunteering for so long?
I started volunteering in 1979 when the Institution of Technician Engineers in Mechanical Engineering (ITEME) was created. I helped build the Yorkshire network by joining the committee as secretary. I soon started carrying out Professional Interviews, which is a role that I have remained committed to throughout my volunteering career. After becoming an incorporate engineer in the 1980's I went on to mentor graduate trainees at British Steel. I really enjoyed being an industry mentor and helping develop the next generation of engineers.
The opportunities and connections which volunteering has allowed me to forge, even after retirement, are invaluable. It allows me to maintain contact with industry and keeps me active. Volunteering is an opportunity to give back to a profession that has supported me so much throughout my life.
What has been your highlight from your career?
After I retired, I set myself up in consultancy. From the comfort of my own home, I produced mechanical designs for a major development by China Steel in Malaysia. The enormity of the project really hit home due to the many countries involved. It took 18 months and involved people from China, Malaysia, Poland, Mexico and various parts of the UK. This really highlighted just how important it is to network with people surrounding you. Achieving a global project without leaving Yorkshire could not have been achieved without the wonders of modern technology (the internet and CAD) and proves that you're never too old to learn and the engineering community really is a home for life.
Another highlight for me on a personal level was the term I spent on the IET Awards and Prizes Committee. During this time, we introduced the Local Network Achievement Award. In 2012, I had the honour of presenting the inaugural South Yorkshire award to a very deserving recipient on his 90th birthday. He was a former World War 2 Bomber Command pilot who was recognised for his outstanding skills, dedication and sacrifice. It was a wonderful moment that bought a tear to his and my eye – I'll never forget it.
Why join the IET?
Throughout my career, I have experienced the many changes of the institution. I joined in 1979 when the ITEME was created. I am lucky enough to have worked with a variety of engineers throughout my career in various job roles. This taught me the importance of being multidisciplinary. When the IET first formed, this is how they positioned themselves. It appealed to me that the IET were aiming to be a home for life for everyone.
I was encouraged to join an institution from a young age. Being a part of the IET has offered me access to a network of people, events and resources that are not readily available elsewhere. The IET has the finances and influence to make a difference; through their volunteering committees, not just in the UK, but around the world.
 The IET brings people together to share their stories and experiences, helping others grow.
What advice would you give to young people starting out in the industry?
As someone who took a traditional apprentice route into engineering, I faced difficulties becoming a chartered engineer as I only held a Higher National Certificate in Mechanical Engineering. Finding the right institution is an important part of gaining practical experience and knowledge from people who have a whole host of backgrounds. Building a network of fellow industry professionals that can help you develop is essential in the early years - being a professional engineer is much more than just having a degree.
Why is volunteering important for institutions like the IET?
I would love to see more people getting involved with volunteering. The knowledge you have, regardless of how long you've been in industry, is invaluable in inspiring the next generation. Apprenticeships and practical experience are essential for industry moving forward and we should be championing STEM learning at an earlier age in schools. A better-defined connection between universities, industry and professional institutions, is essential to ensure that there is an adequate supply of engineers equipped to meet the challenges of the future. The engineering and technological world is ever-evolving. You are never too old to learn new skills and teach those around you.
John Lawrence, Chair of IET South Yorkshire Local Network, can't praise Brian enough for all the work he has done. "Brian is an exceptional member of our community, he is the reason I joined the network. He acts as an outstanding example of everything a volunteer should be. He is a considerate and caring member of the IET volunteering community who will continue to be extremely valued by us all".  
We would like to thank Brian Heathcote for his exemplary role as a volunteer in which he has helped to inspire, inform and influence the engineering community through his continued support of the IET's mission.
If Brian's story has inspired you, read more about the volunteering roles we have to offer here at the IET.