Present Around the World global winner revealed at IET Achievement Awards ceremony
Published: Fri 25 Oct 2019
The IET Present Around The World competition is organised through IET Local Networks and On-Campus groups across the world and is designed to encourage young engineers and technicians aged 18-35 to hone their presentation skills and talk about a topic they feel passionate about. Along with cash prizes, the heats offer competitors the opportunity to network with a wide range of professional engineers and academics. Participants compete in a series of local, national and regional heats, with the regional winners going on to deliver their presentations one last time at the Global Final in London in front of the IET Achievement Awards audience. There's also an online heat for those who would like to take part but aren't geographically close to a local competition.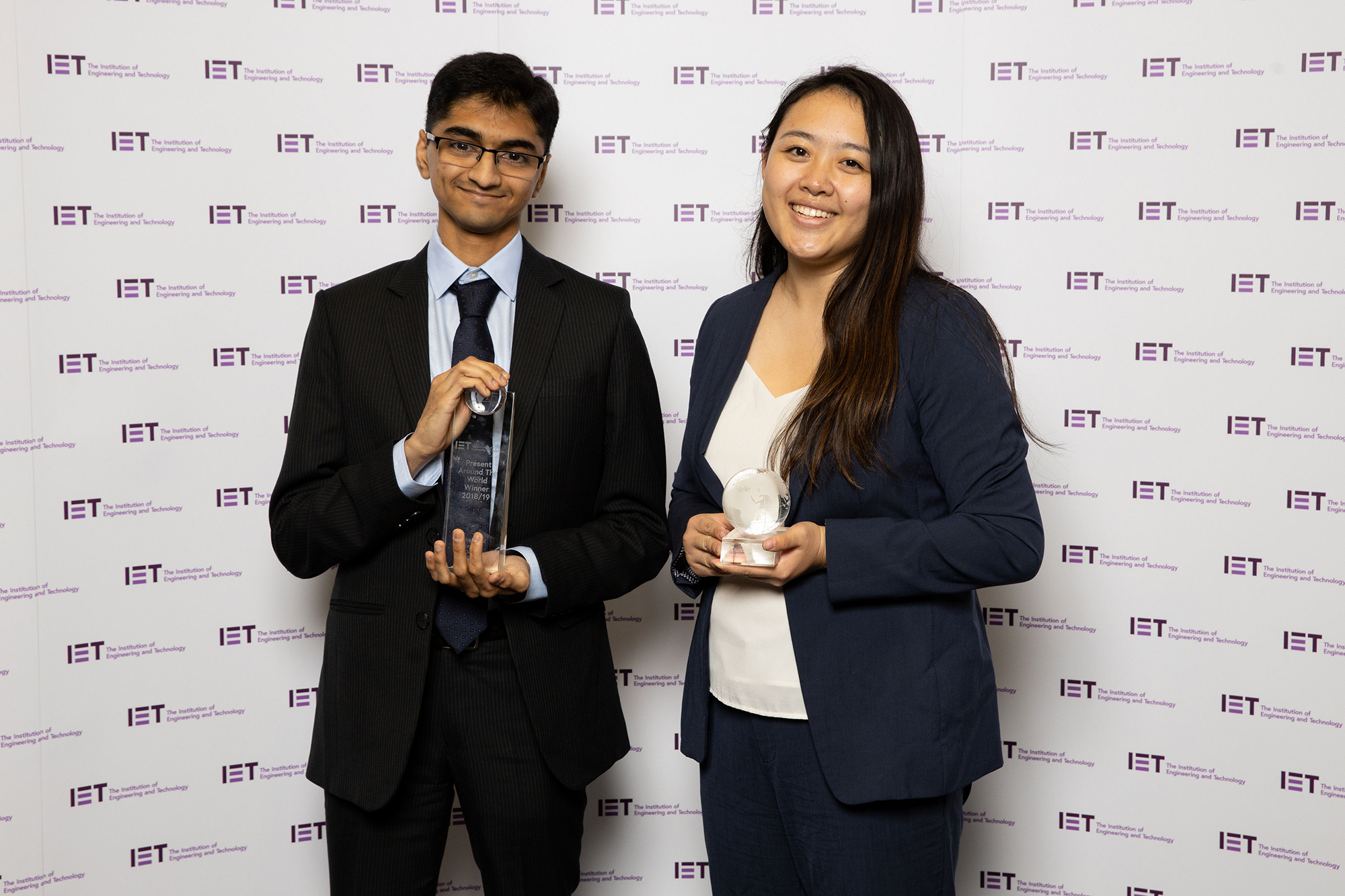 This year, the five regional finalists were Daniel Bonanno who travelled from Malta to represent the EMEA region, Likhita Chandrashekara from Bangalore who represented the South Asia region, Amy Chen from Calgary who won the Americas regional heat, Andreas Kaisaris from Gloucestershire representing the UK and Padmanabhan Krishnamurthy from Hong Kong who represented the Asia Pacific region.
All five finalists delivered interesting and thought-provoking presentations on subjects ranging from SAKHI, the Companion Chatbot and JPEG Lossy Image Compression to the James Webb Space Telescope.
On the night, Amy Chen was announced the runner up, as voted for by the audience and a panel of judges, for her intriguing presentation on 'astroplastics – from colon to colony.' However, it was Padmanaban Krishnamurthy who triumphed as the winner for his engaging presentation on 'Helen' – a device he co-created that converts lip-reading into text.
On winning the top prize of £1,000, Padmanabhan said: "It feels great to have won - it's a bit indescribable. My presentation was about a device that can help disabled people interact with the world more easily - and when that device is given recognition by organisations like the IET, you can't wish for anything more. I'd like to express my gratitude to my co-creator Amrut and my mentor Professor Brian Mak - without them, there would be no Helen."
Congratulations to Padmanabhan and everyone involved in this year's 140 Present Around The World heats. For more information about the competition, please visit our website.