IET celebrates Department for Transport partnership
Published: Wed 27 Nov 2019
The IET and DfT held an event on Monday 7 October to celebrate the signing of the agreement for our newly-formed official corporate partnership. This partnership brings our organisations together to develop networks of professionals from different engineering disciplines.
The successful event saw representatives from both organisations collaborating to grow the relationship between DfT and the IET. There were a high level of volunteers present at the event to highlight the worthwhile and rewarding work they carry out on behalf of the IET. The event also gave the IET a platform for members of the Transport Policy Panel to discuss the Advancing Autonomy in Transport report.
We have over 100 corporate partners who are dedicated to their employees' professional development. We are committed to engaging with all of these organisations to ensure engineers and technicians remain at the heart of our operations.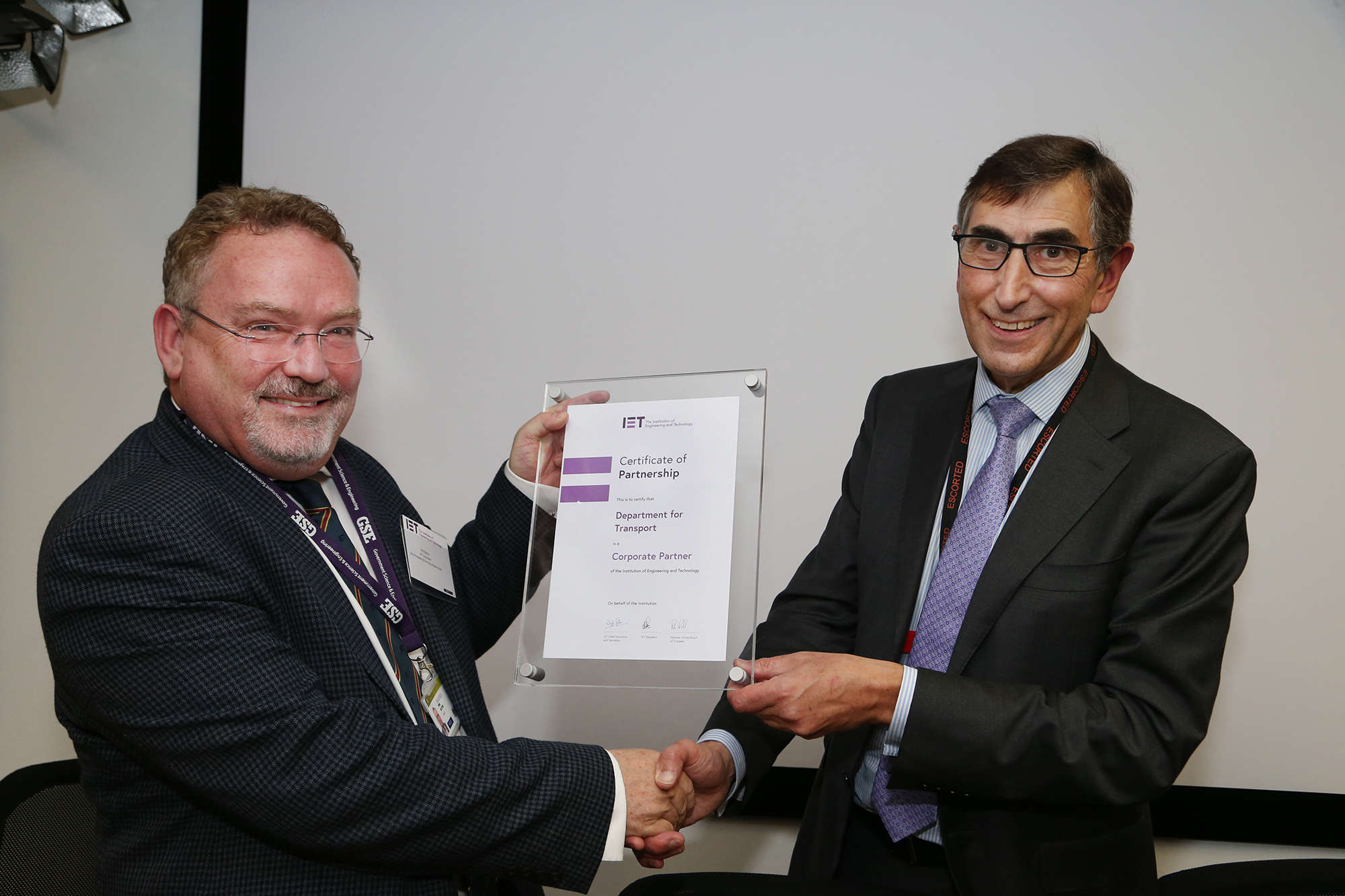 We've had a relationship with the Department for Transport for several years in which they have sponsored some of our codes of practice including Cyber Security in Ports and Cyber Security for Ships. They previously supported our Local Authority Guide to Emerging Transport Technology and we are currently working closely with the Transport Technology Forum, which is funded by the Department for Transport, to provide support to Local Authorities.
Through partnerships such as this, the IET remains committed to helping organisations develop their engineers and technicians into highly empowered and networked professionals helping us to continue to be at the forefront of our industry. We will be providing one-to-one support to DfT engineers through the IET's Company Based Registration Support Programme which is a structured pathway to achieving professional registration.              
We would also like to congratulate Phil Blythe, Chief Scientific Adviser (CSA) at the Department of Transport, for recently being appointed as a Vice-president of the IET. Prior to this, Phil Blythe was Chair of the IET Transport Policy Panel for almost 13 years and we would like to thank him for all his hard work on the panel and in forming the DfT and IET corporate partnership.
Phil Blythe, CSA at the Department of Transport and Vice President of the IET said:
"I'm delighted the DfT and IET have recently become Corporate Partners. This agreement presents an excellent opportunity to help support DfT staff through professional development and accreditation with the IET (e.g. Chartership) and provides the department with access to a range of IET activities and capabilities.
"This partnership is a very important step to help strengthen the relationship between DfT and the IET and also, the Science and Engineering Profession within the DfT. I am honoured to be a representative of both organisations. Both me and my team are looking forward to building meaningful relationships and look forward to the next steps".
If you're interested in becoming a Corporate Partner, email partnerships@theiet.org to get started.