2019 Santa Loves STEM video release
Published: Tue 12 Nov 2019
The IET has launched its annual Santa Loves STEM video today. The campaign sets to inspire the next generation into STEM (Science Technology Maths and Technology), learning about careers in engineering and technology. This year we teamed up with Steve Backshall, BBC TV's Deadly 60 presenter, as he narrates the poem about Santa's children.
As we dive into the animated book, Steve tells us how Santa's children saved Christmas as we are introduced to Santa's four children – Sammy Science, Tommy Technology, Evie Engineer and Mollie Mathematician. We are shown the STEM toys they were given as children and the influence this had on their hobbies and future careers growing up.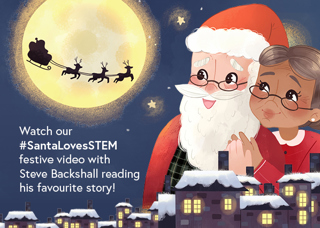 The poem aims to show young people and their influencers the importance of STEM throughout a variety of careers. It highlights how a hobby can lead to a job that you're truly passionate about. The video showcases the exciting careers available and aims to encourage children into STEM through this fun and festive video.
IET Head of Education, David Lakin, said: "More than 200,000 people with engineering skills are required each year to meet demand through to 2024, however, it's estimated that there will be an annual shortfall of 59,000 engineers and technicians to fill these roles, so IET campaigns like this are essential in breaking the stereotype and showing off the wonderful world of STEM."
In addition to the video, there is a second part of this campaign called #IETLookAtMeNow. This looks at the impact of generational influence, profiling STEM professionals and what their influences were as children, shaping them into the individuals they are today, or which subconsciously set them on the road to their future STEM career.
To watch this year's video and the Look at Me Now profiles visit the Santa Loves STEM website.
If you'd like to get involved with our Look at me now campaign, please contact ieteducation@theiet.org
Our 2018 Santa Loves STEM campaign has been nominated for a Charity Film Award. Voting is open to the public until 1 December. To vote and for more information about the Charity Film Awards, please visit their website.