Start of main content
IET competition winner sees her engineered clarinet sent into orbit!
Published: Thu 5 Sep 2019
Our Life on Mars competition asked six to 16-year-olds to re-design something they couldn't live without should they ever move to another planet. It formed part of this year's Engineer a Better World campaign and supported our mission to help inspire young people about the world of aerospace engineering and the range of modern roles that need STEM skills.
As part of the campaign, we sought young people's views on the future of our planet as well as how they feel about space exploration. The study found that nearly half of under 16s believe a human colony on Mars will be established in their lifetime, with a love for space being a key factor in their interest in science, technology, engineering and maths (STEM).
A third of UK children (36 per cent) say they would want to take their TV should they one day live there.
The number two and three items kids want to take to space are chocolate (35 per cent) and their bed (34 per cent), which are prized higher than pets (24 per cent) and photos of friends and family (23 per cent).
The comfort of their bed is the top thing UK adults would find hard to leave behind, with nearly a third (31 per cent) saying they would want to take it with them to space.
For 46 per cent of children the idea of one day visiting space is a key factor for their interest in science, technology, engineering and maths (STEM) subjects, while the idea of planet-hopping has led the next generation of engineers and technicians to start thinking of 'out of this world' ideas for how popular products will work in space and on other planets.
When thinking about what humans will need in order to live on Mars, children believe humans will need specialist clothes, food and technology and more than half (52 per cent) of kids say they would like to design products especially for a life on Mars.
The research was undertaken by the IET with the aim of inspiring children and young people to get into engineering and technology by demonstrating the huge number of jobs available to those with science, technology, engineering and maths (STEM) skills.
Elin said:  "I was so excited to hear I'd won the competition! I love everything about space and my dream job is to become an astrophysicist. I love playing my clarinet and would want to take it with me – but I realised I wouldn't be able to play it while wearing a space helmet. To make it work, I designed it to have an air supply tank which would blow air through the instrument, I also added an amplifier to make sure I can hear the instrument due to the change in air pressure and gravity.
 "It's amazing that my clarinet design is the first in space**! It was really inspiring to attend the launch and learn from the engineers on site."
IET Young Woman Engineer of the Year and aspiring astronaut Sophie Harker), said:
"As seen in the recent A-level exam results, science, technology, engineering and maths (STEM) subjects are becoming more popular which is great news for the future of our industry. That said, it's important that more is done to show young people the huge number of careers available in engineering and technology as jobs are created and humans continue to explore space.
"The Life on Mars competition was a fantastic way to inspire the next generation of engineers and highlight the fun, interesting and broad range of careers on offer within the sector. 
"Elin's design really captured the imagination of the judges and it was wonderful to see the intricate level of detail she'd considered to ensure the clarinet would work in space. It was an exhilarating experience to watch the clarinet head up above the clouds."
Watch Elin launch her space clarinet to the edge of the atmosphere where it reached a height of 35km and temperatures as low as -63°C before hurtling back to earth at speeds of over 150mph. The clarinet was launched in Ashbourne, Derbyshire and landed safely by parachute over 70 miles away near Scunthorpe, North Lincolnshire. She also features in the September issue of The Beano.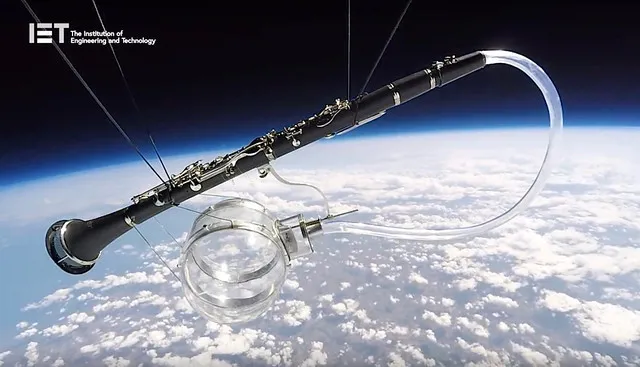 <!—Lead forensics script -->