The scholarship winner who's bringing new tech to your TV
Published: Mon 17 Jun 2019
She told us more about the project and how winning our scholarship has helped towards funding and promoting her research…
Tell us more about the project you're leading
We're testing a control, which sits alongside the volume control on screen, and is designed to make TV more accessible for people with hearing impairments.
One of the biggest problems that people with hearing impairments report, when they're watching TV, is struggling to separate out speech from background sounds.
We've developed a control that allows viewers to adjust how complex the audio mix is. At one end of the scale, there is the broadcast mix that would have gone out on TV and at the other end, there is more volume in the dialogue and other elements are quieter.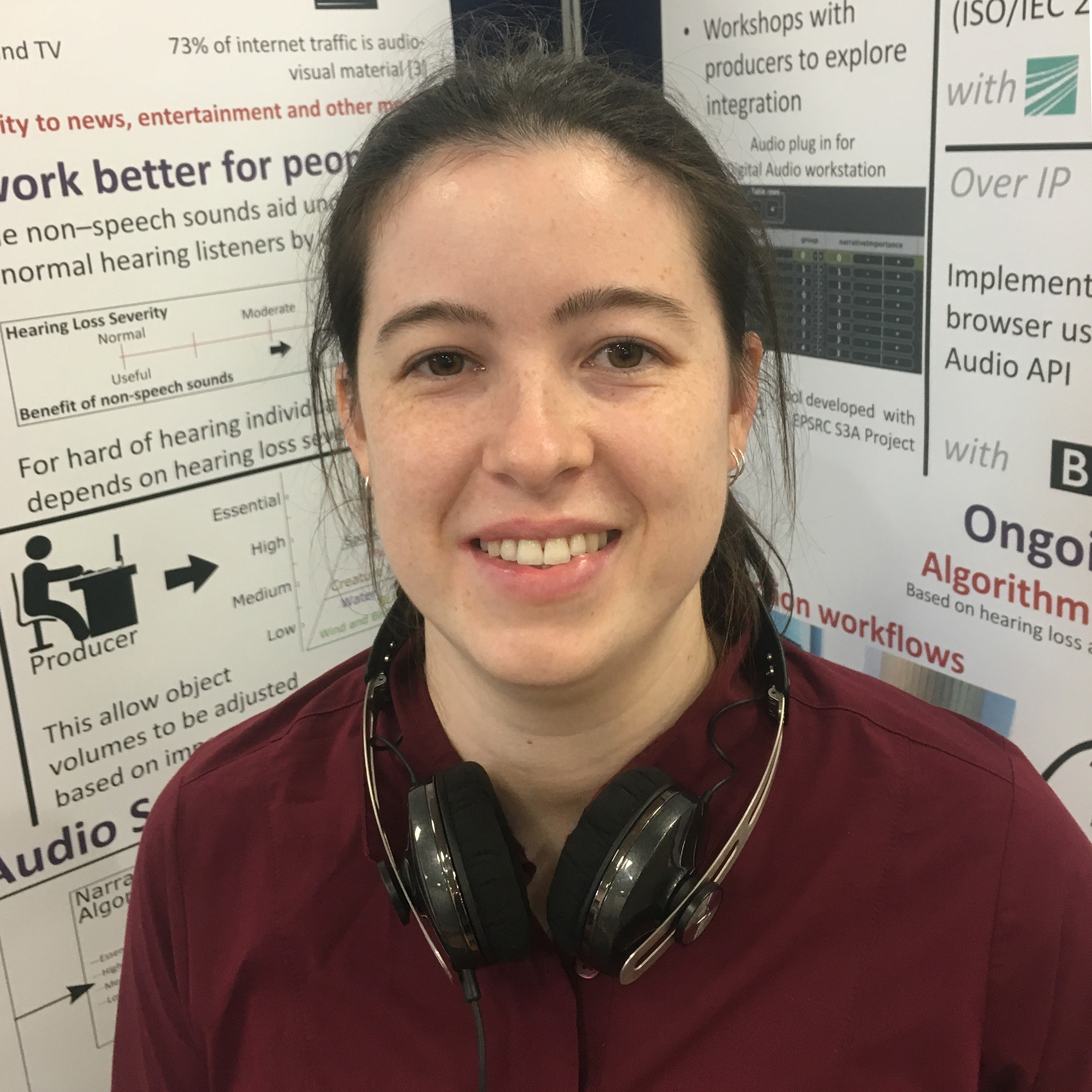 Who's involved?
The project is an output from the BBC R&D, Casualty and the University of Salford. The technology behind the project has been developed both as part of my PhD and in collaboration with a lot of other researchers through the EPSRC funded S3A project.
What is the technology behind this new control?
It's based on the next generation of audio for broadcasting, called object-based audio. 
Currently broadcasters transmit their programmes as a single pre-mixed stream. Once producers are happy with the audio mix, they bundle all the sounds together in one file and that's what's transmitted. If you want to change any part of the stream, it becomes very hard to do – you're stuck with a blind source separation problem.
With object-based audio, the different sound elements are transmitted separately with associated metadata. This means you're putting everything back together in the person's living room rather than in the studio. In addition to the metadata that's sent, the user can add in their own metadata through our control.
What impact is the project having?
People with hearing impairments and hearing aid users have told us that it's lessened their dependency on subtitles, which aren't always there or good quality.  
We've also found that the control is useful for people who are watching TV in noisy environments. If they're watching TV on a bus or train, for example, they can adjust the audio mix to understand it better.
How has winning an IET postgraduate scholarship helped you?
My PhD lasts for three and a half years and my funding was for three years, so the scholarship has helped cover that extra six months. I've been able to continue focusing on experiments, rather than rushing through the write-up.
Also, some great events and networking opportunities have come out of winning. At the end of last year, the IET invited me to a Communications Technology luncheon at the House of Lords. That was an awesome opportunity to network and share my research with everyone from Lords and MPs, through to colleagues I'd never crossed paths with.
What would you say to other researchers thinking of applying for an IET scholarship?
Do it! The extra money is always going to be useful, whether it gets you to a conference you might not have otherwise gone to or provides you with more security while you're writing up your thesis.
It's easy to be off in your own little world when you spend so much time immersed in your research. So it's nice to hear that other people think your work is important, valid and is going well.
You can help test the new audio control that Lauren's been working on, and provide feedback, on the BBC website. The control is being piloted until 8 July 2019.
If you're interested in gaining funding and increasing awareness of your research, find out more about applying for an IET postgraduate scholarship.