Start of main content
Joint Healthcare technology briefing covers key challenges at Holyrood
Published: Tue 19 Mar 2019
These events are designed to be politically neutral and to enable policy-makers to discuss key challenges with technical experts. This time around the chosen topic was the interface between health and social care, the title of the event being: Future-proofing society: how digital health and social care can empower and transform lives. The central aim was to explore how technology can facilitate health and social care improvements and to highlight the policy decisions which politicians need to make to enable this to happen.
Among the speakers were: Dr Paul Campbell, Clinical Director for eHealth at NHS Scotland, Chaloner Chute, Chief Technology Officer at the Digital Health Institute and Alistair Hann, Chief Technology Officer for the NHS Digital Service. Dr Peter Bannister, Chair of the IET's Healthcare Sector Executive Committee joined a panel session after the three presentations.
These presentations highlighted how health and wellbeing can be improved through better access to information, encouraging healthy behaviours and physical activity and moving the focus from hospital and care home care to the community. Technology such as using real-time data from wearable technology can facilitate self-management of a patient's condition, creating opportunities for detection, intervention or even prevention, and reducing unplanned hospital admissions.
While there is a commitment to deliver new forms of engagement for patients in both healthcare and social care, there are, however, barriers to overcome before the current system can be reformed. It is difficult to provide a coordinated approach amongst the many different professional disciplines which need to be involved in the process. There is also the central task of managing and sharing data which allows for consistency and decision-making in a way that doesn't infringe on patient privacy and data security. Other challenges include creating a system to support interoperability and user-centred design.
IET Healthcare Lead, Nury Moreira, said: "Scotland was the perfect choice for this debate as there are good exemplars of innovative uses of technology and an imaginative organisational framework. For instance, the recently built Grampian Fit Homes, have incorporated "fall prediction" technology which is useful for the infirm. The Scottish Digital Telecare Programme is also the only of its kind on this scale in the UK."
The Scottish Government has stated a desire to integrate social care and health as part of an ongoing multi-million-pound project involving the NHS and local government. A key part of the Digital Health and Care Strategy, which launched in 2018, is the development of a national digital platform with the aim of enabling relevant real-time data and information from health and care records, so that it is available to those "who need it, when they need it in a secure and safe way."
The event was chaired and sponsored by Miles Briggs MSP.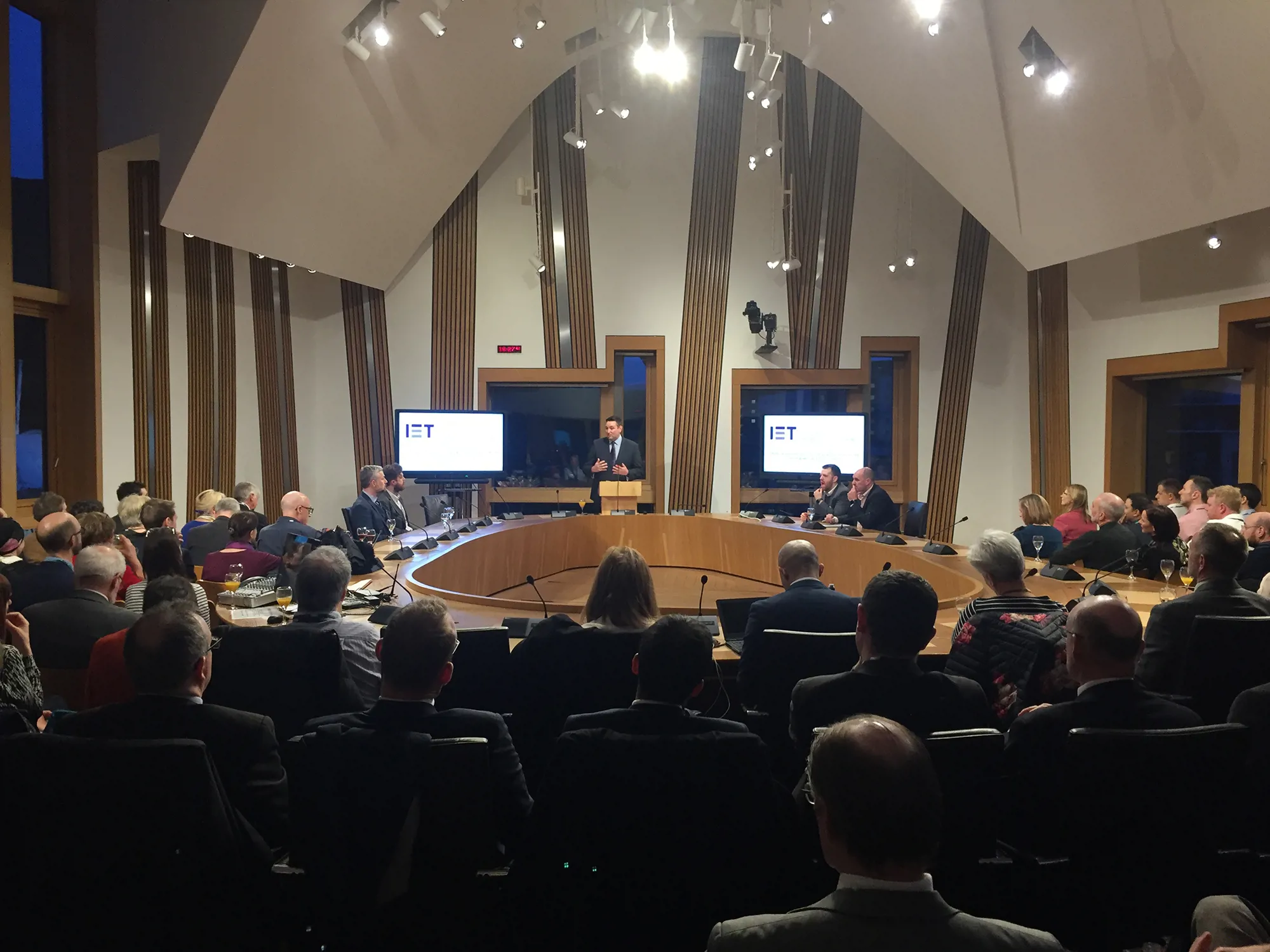 <!—Lead forensics script -->