Electrical Association for Women - History and Policy
The idea for a women's electrical association came from Mrs Matthews, a member of the Women's Engineering Society (WES), who offered it in a paper to the Institution of Electrical Engineers  when seeking an Associate Membership. 
Initially, the idea met resistance as it was considered not to be technical enough by the Institution, the British Electrical Development Association did not appreciate the applicability of the idea and Lady Parsons, founder of the WES had little faith in its vitality. 
However, Mrs Matthew's idea did attract the interest of the then WES Secretary, Dame Caroline Haslett who organised a meeting of the WES in 1924 at which Mrs Matthews presented her paper " The Development of Women's Interest in the Domestic Use of Electricity". 
The Women's Electrical Association (WEA) was formed and Dame Caroline Haslett was appointed director, a position she held until 1956. Early in 1925, the organisation was renamed the Electrical Association for Women (EAW).
The association grew rapidly, giving priority in its early years to the formation and guidance of new branches. Its first branch opened in Glasgow in 1925, quickly followed by others. The EAW spread overseas with the opening of EAW New Zealand in 1960 and EAW Trinidad and Tobago in 1961. It survived until 1986.
Adopting the slogan "Emancipation from Drudgery" the EAW encouraged women to be consumers of electricity aiming to give women in the home useful knowledge about electrical apparatus, and to provide a platform for the expression of the woman's point of view on all matters relating to electricity.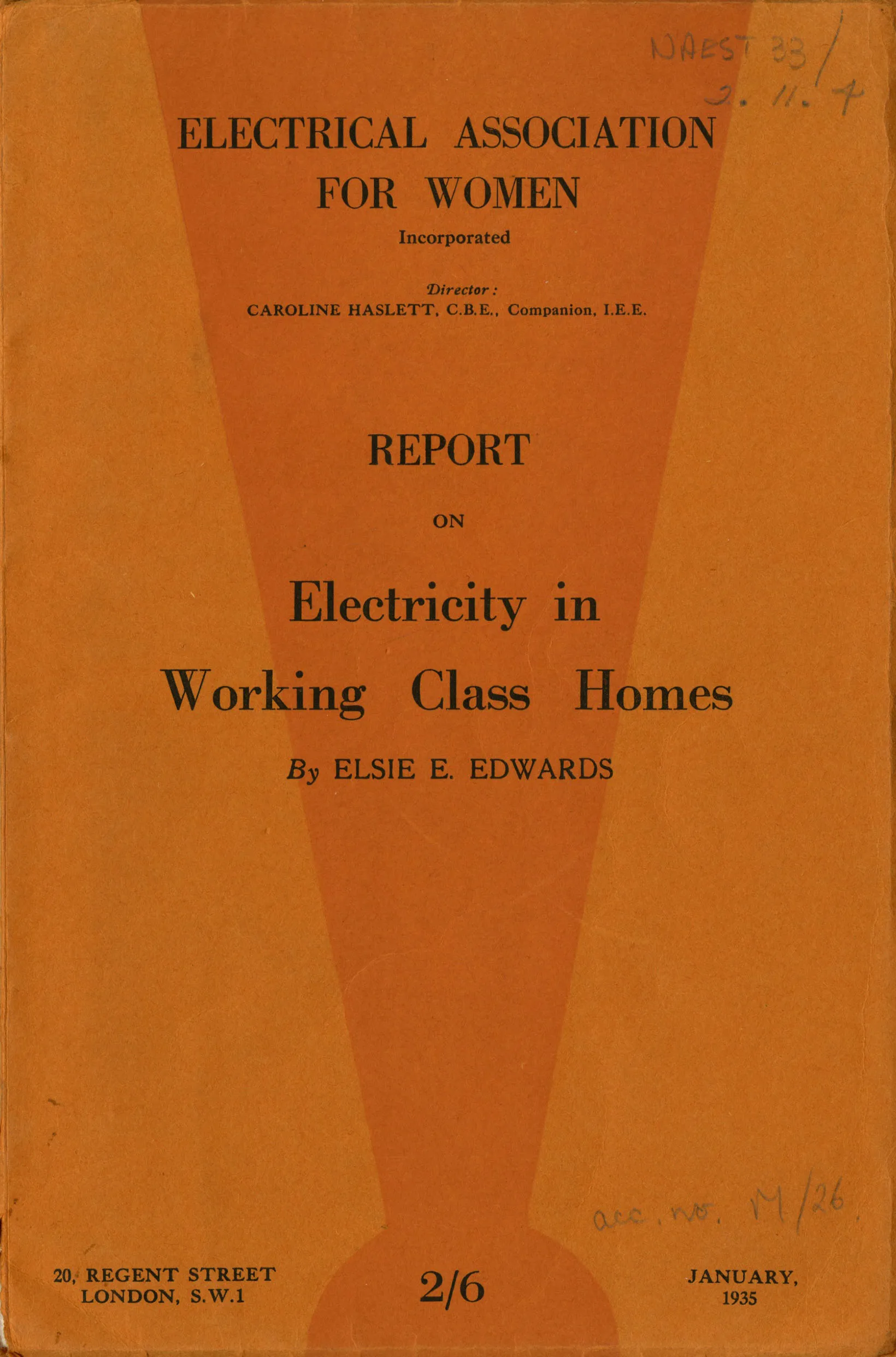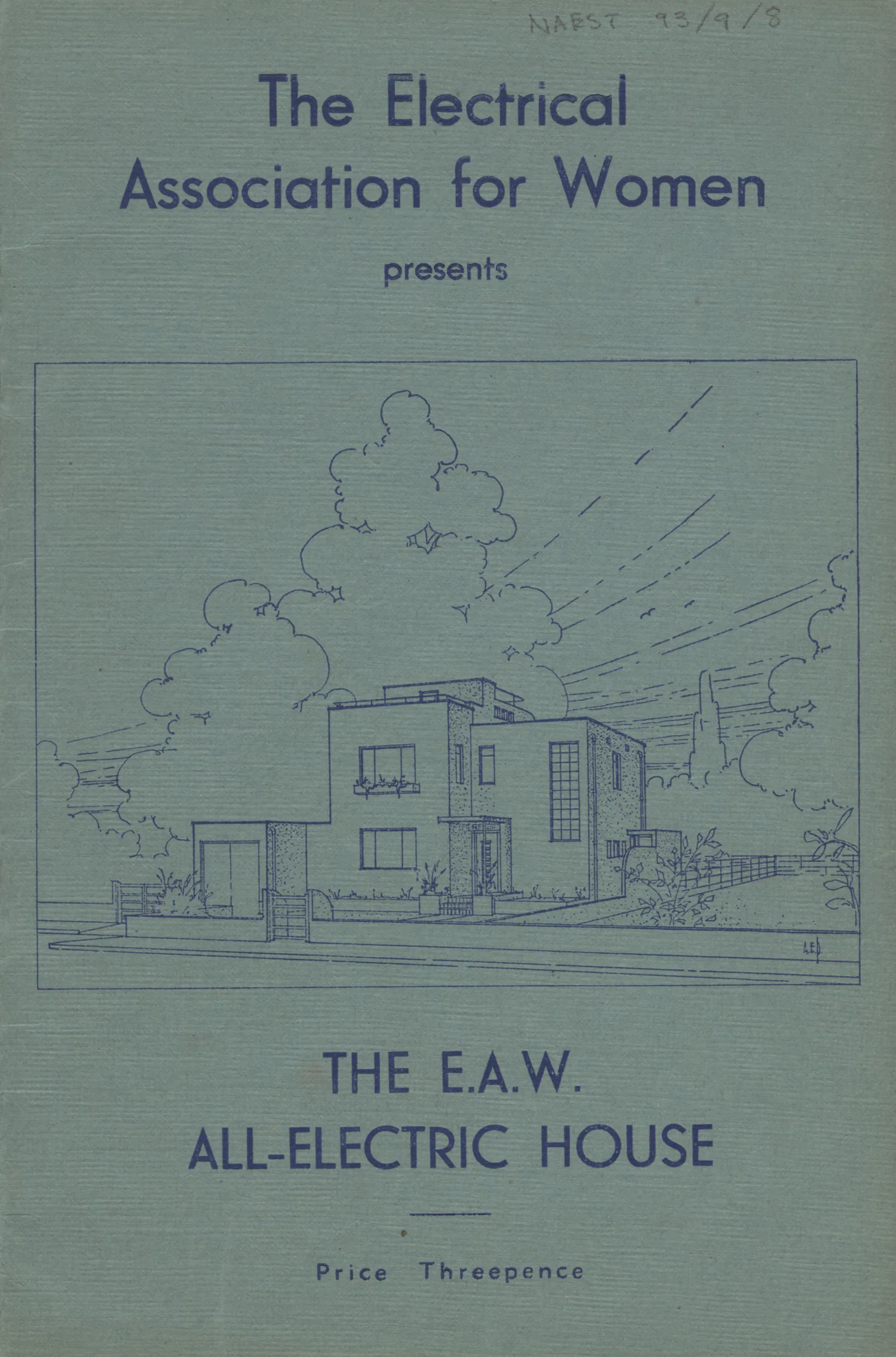 It acted as a vehicle for the education of lay women about electricity and as an advisory body to the industry on matters of policy, asserting the need for safe and practical appliances in the home to reduce the burden of women's domestic work. 
Essentially, it brought engineers and housewives together, acting as a liaison between engineers who did not understand what women wanted and housewives who could not follow the technical language. The EAW's own brochure "What is the EAW" is held in the Archives.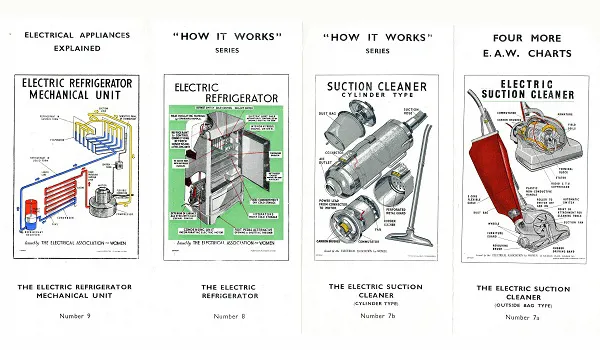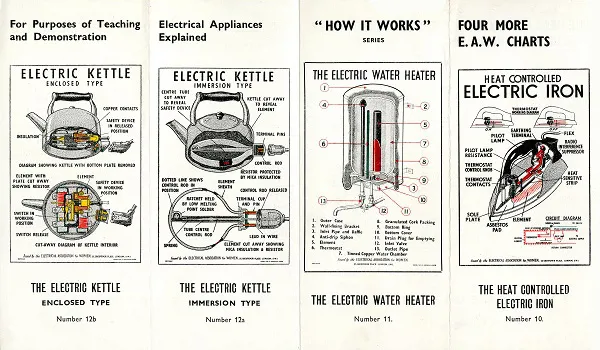 Campaigns, committees and consultancy
The EAW devised and carried out numerous campaigns, the first of which in 1928 aimed to provide more socket outlets in homes. Campaigns included the design and performance of domestic electrical equipment, post-war reconstruction, air pollution and home planning. 
In 1933 the EAW, together with prominent engineers, produced a report on "The Design and Performance of Domestic Electrical Appliances".
The EAW was represented on the committees of official bodies, such as the British Standards Institution, and at a local level on many electricity boards and Home Safety committees. In 1925, the EAW was invited to advise the Committee on Domestic Supplies and Methods of Charge, the first time a government committee consulted women on electrical matters. Their point of view was also sought in drafting the Electricity (Supply) Bill 1926.