Start of main content
IET Santa Loves STEM campaign challenges kids to help 'Save the North Pole'
Published: Tue 10 Nov 2020
Narrated by children's television presenter, Andy Day and featuring talent such as Richard Ridings (the voice of Daddy Pig in Peppa Pig), this year's short film takes viewers to the North Pole where Santa is on a mission to make it 'greener' - and not with extra Christmas trees!
Children are being invited to help Santa and his chief Engineering Elf (voiced by IET President, Danielle George MBE) invent a brand-new super sleigh, that's not only efficient in completing its annual flight around the world, but also helps the environment in the fight against climate change.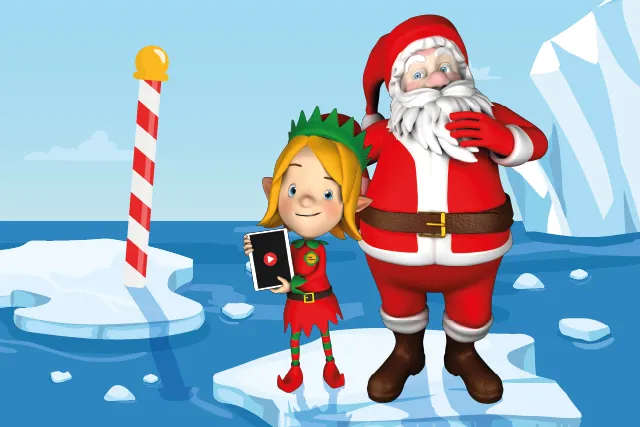 Help Santa Save the North Pole!
IET Head of Education, David Lakin, said: "Santa Loves STEM is an important campaign that aims to spark children's interest in STEM in a festive and heart-warming way.
"There continues to be a huge shortfall of young people taking up careers in engineering and technology and we believe one of the main barriers to this is not capturing the creative and curious minds of children from a young age.
"Climate change is one of the biggest challenges we are facing today. If we can share this important message through Santa Loves STEM, we hope children will not only join us and Santa in 'Saving the North Pole' but continue in their journey to become difference makers of the future."
Featuring in the film, children's television presenter, Andy Day, added: "I'm delighted to narrate and feature in this year's Santa Loves STEM. Capturing and exciting young minds through storytelling is a wonderful way to help children learn about otherwise difficult subjects such as climate change. It's an inspiring and fun festive film to be a part of, with an important message for us all."
As part of this year's Santa Loves STEM campaign, the IET has partnered with Kids Invent Stuff to launch an invention challenge to design a new feature for Santa's sleigh. The winning design will be built by real-life engineers and put to the test! Visit the challenge page here: theiet.org/kids-competition  
Visit the IET's education website to watch this year's Santa Loves STEM video and download free activities.
ENDS
Notes to Editors
About the IET
We inspire, inform and influence the global engineering community to engineer a better world.
We are a diverse home for engineering and technology intelligence throughout the world. This breadth and depth means we are uniquely placed to help the sector progress society.
We want to build the profile of engineering and technology to change outdated perceptions and tackle the skills gap. This includes encouraging more women to become engineers and growing the number of engineering apprentices.
Interview opportunities are available with our spokespeople from a range of engineering and technology disciplines including cyber-security, energy, engineering skills, innovation, manufacturing, technology, transport and diversity in engineering.
For more information, visit www.theiet.org
Media enquiries to
Hannah Kellett
External Communications Manager
E: hkellett@theiet.org

Sophie Lockhart
Senior Communications Executive
E: slockhart@theiet.org

<!—Lead forensics script -->