Start of main content
Lockdown is no Child's Play: Pandemic impairs skills needed to fuel innovation pipeline
Published: Wed 8 Jul 2020
A new report finds that one in five (22%) children rarely play or make things independently
Over a quarter (28%) of children struggle to cope without an electronic device
Four in five (79%) girls considered creative by their parents compared to just three in five (58%) boys
IET reveals the top ten innovations of the next 30 years to inspire children to harness the power of imagination, and #STEMintoSummer activity pack to inspire free play over the school holidays
The research, which was commissioned by the Institution of Engineering and Technology (IET) to better understand children's ability to free play in 2020, found that nearly one in ten (8%) 4-13-year-olds are spending less than 10 minutes a day engaging in unscheduled, independent play during the week – behaviour that could potentially stifle the growth of vital creative and problem-solving skills.  One in five (22%) of the parents questioned said their children rarely play or make things on their own, with 26% spending more time asking them to watch TV, rather than playing independently.
Proving the challenges of parenting during a pandemic, over a quarter (27%) of the respondents admitted their children do not like playing on their own and over a third (36%) have struggled to play independently without the help of a device or stimulation.  A quarter (24%) said their children's inability to play on their own has caused them stress during lockdown.
The research also reveals:
63% of parents cited electronic devices as the biggest barrier to their kids playing alone
Over one in five (22%) admitted there simply isn't enough time for unscheduled play
67% of parents consider their children to be creative – a skill that could help shape and inspire the next generation of big thinkers and problem solvers
Demonstrating the importance of women for the future innovation pipeline, four in five parents (79%) think their daughter is creative compared to just three in five parents of boys (58%)
One in three parents of boys (28%) also admitted their child rarely plays or makes things independently compared to just 15% of girls.
The findings form part of the Vision Report co-created by the IET and renowned futurist Brian David Johnson to champion and inspire children to use their imagination – and show the limitless possibilities when we think, and play, outside the box.  Demonstrating the importance of keeping the industry of innovation alive, the report also reveals some of the incredible inventions and technologies we can expect to see in the next 30 years.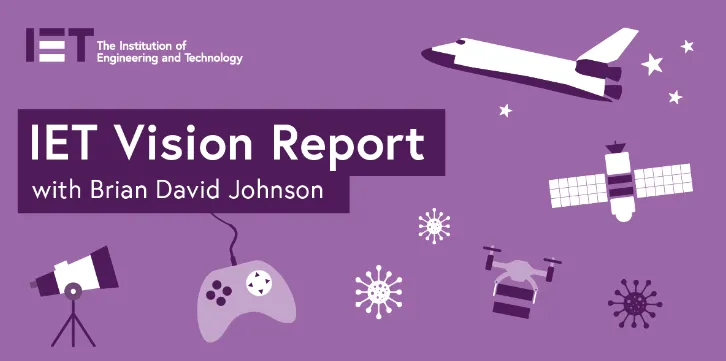 Top ten technologies and innovations that will shape the next 30 years:
Sentient homes
Social robots
Self-driving everything
Robotic clothing
Intelligent food
Connected contact lenses
Quantum computers
Programmable DNA
Cheap space flights
Home power plants
To help ensure this pipeline of talent, the IET is encouraging young people and their parents to #STEMintoSummer with a package of activities for children to use over the summer months, inspiring free play that will also help to develop Science, Technology, Engineering and Maths (STEM) skills.
Brian David Johnson, Professor of Practice at Arizona State University's School for the Future of Innovation in Society, and a Futurist said: "Seeing and speaking to family members on the other side of the world in real-time, driving a car 100 miles but producing zero emissions, these are some of the things that 30 years ago, we would never have dreamed possible. In the next 30 years, we could be looking at the privatisation of space, social robots and autonomy across land, sea, air and space – but we need to inspire our children to help shape this future.
"The first step is to embrace the power of the imagination. Nothing great was ever built by humans that wasn't imagined first. Prompting children to take part in free play – and encouraging them to use their imagination - will help nurture the STEM skills and passion needed to create the brilliant minds and change-makers of tomorrow."
Dr Peter Bonfield, President at the IET, said: "I've always felt very passionate about our role in inspiring the next generation of inventors. We want to help equip parents with STEM resources, to better support and encourage their children to take part in free play and making things this summer.
"Exciting young people about STEM and its endless possibilities will set them on a path that could lead to a fulfilling and rewarding career in engineering and technology, helping us engineer a better world for future grandchildren and their grandchildren."
-ENDS-
Notes to Editor.
About the IET
We inspire, inform and influence the global engineering community to engineer a better world.
We are a diverse home for engineering and technology intelligence throughout the world. This breadth and depth means we are uniquely placed to help the sector progress society.
We want to build the profile of engineering and technology to change outdated perceptions and tackle the skills gap. This includes encouraging more women to become engineers and growing the number of engineering apprentices.
Interview opportunities are available with our spokespeople from a range of engineering and technology disciplines including cyber-security, energy, engineering skills, innovation, manufacturing, technology, transport and diversity in engineering.
For more information, visit www.theiet.org
Media enquiries to:
Rebecca Gillick
External Communications Manager
T: +44 (0)7725 498 129
E: rgillick@theiet.org

Sophie Lockhart
Senior Communications Executive
T: +44 (0)7872 844 422
E: slockhart@theiet.org

<!—Lead forensics script -->