Start of main content
What is it?
In early 2019, ahead of his year as President of the IET, Dr Peter Bonfield hosted 4 roundtables at Savoy Place and Austin Court.
Joined by representatives from companies in our Corporate and Enterprise Partner community's, Dr Bonfield chaired a discussion around Recognising the Professionalism and Competence of Engineers.
The outcome of these discussions was that there was a need to bring coherence to the ways in which Engineer and Technician employees not only work but also how they are supported in doing so.
Therefore, a Concordat was introduced.
The IET Concordat is a signed agreement which reinforces your companies commitment to support your Engineer and Technician employees, to ensure their competency and underpinning ethics and accountabilities are aligned with good practice, and by doing so, better protecting your business against risk.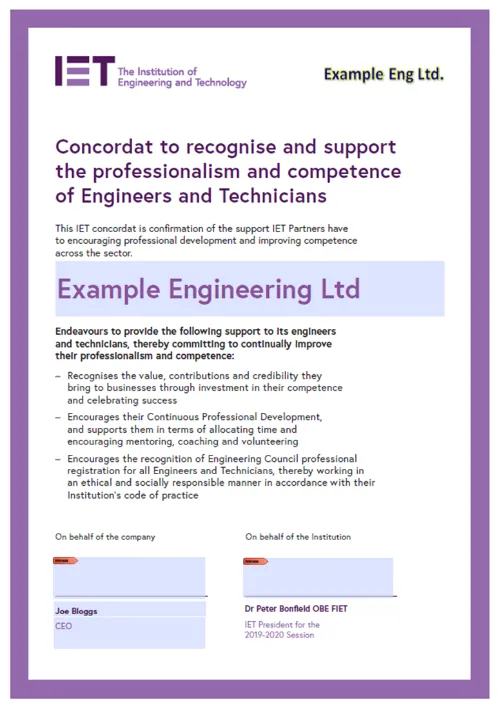 How does my company become a signatory?
If you choose to join us in signing the Concordat you will be affirming your commitment to helping raise industry standards and competence.
Send across the name and job title of the person within your business who will be signing to partnerships@theiet.org. Please also send over the correct company logo. We will then produce a bespoke Concordat that can be signed and counter-signed digitally.
If your company is not yet part of our Partner Community, an Account Manager will contact you to discuss partnering with us, prior to the signing of the Concordat.
Who needs to sign?
The Concordat is signed by the acting IET President and usually the CEO/Managing Director of your company. If you believe it should be signed by someone else in your business who will put the values of the Concordat into place, then that is okay.
How will the IET support the commitments made in the Concordat?
Your Partnership Account Manager will advise on the structure you can put in place to support the professional development of your employees and any products and services the IET can make available to assist with this.
What if my company does that already?
If your company already has a supportive structure around professional standards and ethics, then you can be confident that your company delivers on the commitments within the Concordat to a high level. Your Partnership Account Manager will advise on any areas that might be improved and how we can help.
Companies that have already signed the Concordat include the following:
4way Consulting

AAC Ltd
ADComms

AECOM 

AGH Engineering
Allan Webb

ALPHR Technology Ltd 

Altran

Arcadis

BAE Systems
BBC

BGEN

Blackburn Starling
BMT Group Ltd
Booth Welsh Automation
British Antarctic Survey
BT

Burns & McDonnell 

Cambridge Mechatronics Ltd
Cambridge Precision
Capula
Cavendish Nuclear
CEMA Ltd
CHG Electrical
Costain Group
Cundall
Diamond Light Source Ltd
Domino Printing UK

EnSilica 

ETA Projects
Exheat
Fairfield Control Systems Ltd.
Ferranti Technologies Ltd.

FHP EES 

Frazer-Nash Consultancy  Ltd
GES Group
GSH Group
Holovis International Ltd

Iconsys

Intellectual Property Office
IrvinGQ Ltd
ITDev Ltd
JN Bentley
Kent Group
Lintott Control Systems
Mace Group

Magway 

Megger Instruments Limited

Metropolitan Police 

MOD
Mott MacDonald Limited
Musk Process Services
National Grid
Network Rail
NIE
Nuvia
Open Energi
Oxford Computer Consultants
Park Air Systems Limited
Peacock Technology
Qinetiq
RAF
SA Group
SC Group
Schneider Electric UK
Sellafield
Services Design Solution Ltd

SEWS-E

Siemens

Silver Fox Ltd 

Sinewave Energy Solutions

SP Energy Networks

SSE
Thales
Trinity Fire and Security Systems
UK Atomic Energy Authority
Urenco UK
Urenco ChemPlant
Urenco Nuclear Stewardship
VVB Engineering
WSP
Z-Tech Control Systems
<!—Lead forensics script --> <!—Site improve script -->