Progressing women in STEM roles
To tackle this, the IET offers a series of awards and scholarships, including the Young Women Engineer of the Year awards to honour high-achieving female engineers who can also help to inspire the female engineers of the future. The IET also runs the UK's largest online career support network for female engineers – and works in hundreds of schools every year, reaching thousands of girls and young people generally, to promote STEM careers and subjects. In addition, the IET is working in collaboration with organisations to champion the progression of women in STEM.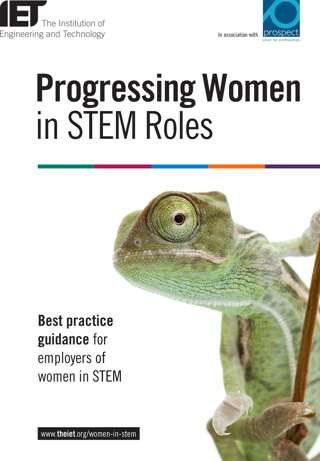 Working together for women in STEM
In early 2015, the IET and Prospect, the union for professionals, decided to work together to gain further insight into the recruitment, promotion and retention of women in STEM roles and to champion the career progression of women in STEM.
As part of an ongoing and phased programme of work between IET and Prospect, two documents have been released – 'Progressing women in STEM roles: A report following the joint IET/Prospect 'Progressing Women in STEM Roles' conference 2015' and 'Best practice guidance for employers of women in STEM'.
To download these documents and to register your interest in contributing to the recommendations of the IET / Prospect Report: Progressing Women in STEM Roles: Supporting a diverse, adaptable and talent-rich workforce, please complete the form below.
Please note that the information given below will only be used to contact you regarding further updates and invites to relevant themed discussions.