Start of main content
How do we make Smart Motorways safer?
Published: Fri 21 May 2021
Smart Motorways bring significant benefits, as they have been designed and implemented to address recurrent congestion on heavily used sections of motorways.
The use of technology and conversion of the hard shoulder to a running lane, either permanently or dynamically, provides additional capacity to reduce congestion levels without the significant cost and disruption of building an extra lane.
They are a cost-effective and rapid method of providing much-needed capacity.
Analysis of safety and performance data on implemented Smart Motorway schemes has shown overall improvements in safety.
Nevertheless, there is now a more frequent hazard of the stopped vehicle in a live lane, which has understandably attracted adverse publicity compared to the perceived "safety" of the hard shoulder.
Our view is that firstly, safety for this use case can be improved by reducing the number of times vehicles stop on motorways and then improving how they are detected, and other drivers then warned and instructed.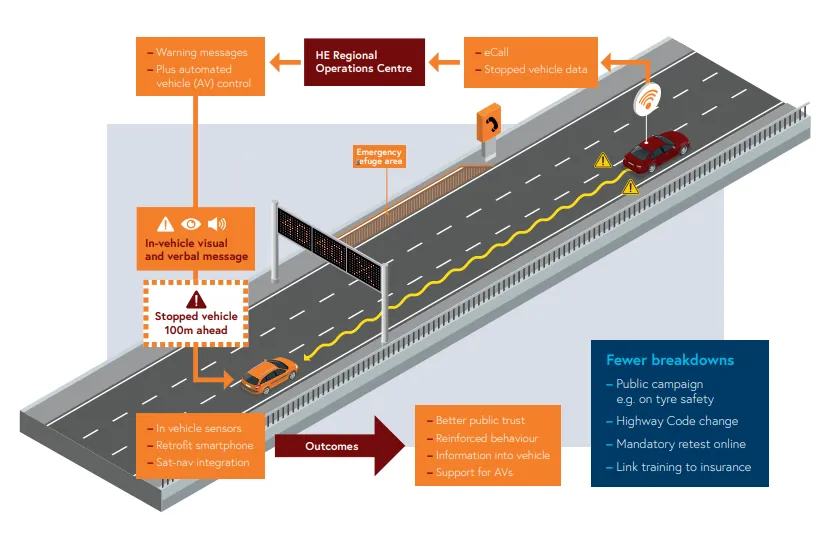 Download as a PDF
Vehicles themselves are now at a high state of reliability (hence the business case for removing the hard shoulder) but vehicles must be maintained. The majority of the causes of stopped vehicles on Smart Motorways are wheel and tyre failure rather than from collisions and vehicles running out of fuel. But there are even reports of vehicles stopping to swap drivers and exchange insurance details after a minor bump.
Electric vehicles (EVs) offer the additional challenge that they do not coast once the battery is flat and cannot be towed off a live line without additional equipment. However, the percentage of EVs running out of power only accounts for 4% of EV breakdowns in the UK.
To make Smart Motorways safer the number of breakdowns needs to be reduced and how the information about breakdowns is shared and acted upon must be improved. The number of breakdowns can be reduced by:
Providing fast automated tyre testing at every motorway service area.
A hard-hitting education programme advising on checking your vehicle before you set out.
Making it clear that vehicle safety has implications – it is not a cost but an obligation.
Most vehicles now have some form of connectivity – either fitted in the factory or through a smartphone used for navigation. These devices could receive information and warnings given similarly to directions – 'obstruction in left lane, move right'. Work on this is already underway. This messaging needs to be immediately shared in the event of a breakdown.
The above uses existing cellular communication but more could be offered in the future using emerging "V2V" communications that would enable messages from vehicle-to-vehicle.
A reason for the exposure of a stranded vehicle is the time it takes for Highways England Operators to verify and set full responses on signs, after sensors such as radar detects a stopped vehicle. All newly launched cars and light vans have since 2018 been fitted with a system called eCall, a mandatory system that rapidly delivers data on vehicle collisions and has a manual button to contact the emergency services. A study has showed that this could be of increasing value in reducing the time taken to validate stopped vehicles by using this direct data feed.
Companies such as INRIX and TomTom also produce real time data on unexpected queues and stopped vehicles taken direct from GPS devices and sat navs on-board vehicles. This could offer a further independent data source.
Currently the information provided by the Smart Motorway gantries is not updated quickly enough and is therefore not trusted by drivers. Information where there is an incident is shown promptly but it often is not removed promptly, so the user sees warnings but no hazard and loses faith in the information given and ignores it.
Equally, Highways England Operators need to be able to trust sensor technology more to reduce the time to verify an alert (and have fewer false alarms). Using data from systems like eCall and Waze, for example, would help them trust their own systems more and reduce time to set warnings. Where data is received from the vehicle directly (e.g. an airbag activated message from a Smart Motorway area) sign setting should be automatically set due to the quality of data (airbag activations would mean a disabled vehicle) with no manual lag.
Better training of Smart Motorway operators, quality control audits of sign setting, and better verification of emerging events would all improve the quality of signing.
In-vehicle systems delivering the same information as displayed on the gantries and at the same time will improve trust and therefore compliance. However, research has shown the initial messages such as "reports of" are hardly noticed by drivers. So work is needed to study, test and deploy more impactive signage and in-vehicles messages.
The users of Smart Motorways should be better educated in how to use them. This may be via a refresher test or as part of a discount offered in vehicle insurance renewals.
We see huge value in learning lessons from other modes of transport where changes in operational practices have been deployed and actually increased safety.
For example, rail has a safety culture that encourages recording of incidents and near misses so lessons can be learned without an accident happening. Accidents are investigated by an independent body to identify the root cause (as opposed to allocating blame). Railway safety is in a large part achieved by reliability of the system, competence of the users and the confidence they have in the system. If a driver is given a green signal, they are confident the track ahead is clear. If given a red signal, they know to stop.
In aviation we have seen increases in capacity through technology advances to allow aircraft separations to reduce as well as selection of the most optimal or fuel-efficient route without constraints imposed by keeping to a specific lane.
In summary there is no single "silver bullet" solution to improving the perceived and actual hazards on Smart Motorways. We believe that the Government should:
Think users: through more training and increasing vehicle roadworthiness.
Make use of what is there already: using sat nav for in-vehicle messaging and services such as Waze, to alert drivers.
Safeguard the future: through learning lessons from other transport modes.
There is a need for training and trust gained through consistent high quality signalling with impactive messaging, regulation and a focus on the core causes of breakdowns on motorways (e.g., tyre maintenance) and learning lessons from other transport modes. We believe the Government should be thinking more about the users of Smart Motorways and roll out mandatory training, vehicle roadworthiness requirements and better education programmes.

Through making the most of what we have already available and ensuring we are ready for future autonomy. There are many quick win opportunities already in place – using sat nav for in-vehicle messaging and services such as Waze, to alert drivers in any vehicle and the use of eCall to verify stopped vehicles.

As well as making the most of currently connected vehicles in order to utilise what we have now, the onset of electric, more highly connected and then automated vehicles means we need to learn lessons from other transport modes who are already highly automated.

<!—Lead forensics script -->