Picking up from where the Series left off in Leeds in relation to data, making sense of public attitudes towards it was a key part of the agenda at The Bradfield Centre, located within Cambridge Science Park.
After a welcome from IET Healthcare Panel Chair Dr Peter Bannister, the seminar began with a talk from Philippa Shelton of the organisation Understanding Patient Data. Shelton spoke about how utilising patient data could help save lives, but it must be kept safe and secure to protect privacy as well as transparent and clearly communicated, so people can easily find out how it's being used and also place their trust in the data controllers.
The next presentation from Edge Health CTO Christian Moroy focused on how the NHS invests heavily in new technology for treatment and yet still relies on out-of-date equipment for administrative and operational tasks. Moroy explained how AI and machine learning could help eliminate common problems such as unused operating theatres due to inefficient scheduling procedures.
'Creating patient-centered care services enabled by data from connected medical devices' was the title of the next talk from John Mulcahy, founder of Healthgenuity. Mulcahy outlined what elements are needed to provide the best possible patient-centred services, the importance of understanding patient motivation and behaviour in order for connected devices to be successful and why timely, align-able data is also needed.
Aamir Butt revealed how his company Lancor Scientific has been using blockchain to eliminate data ownership and security issues. Butt also talked about data ownership and the benefits of placing this in the hands of the individuals, but this is difficult in his particular field as cancer screening is expensive and the organisations involved often hold lots of fragmented health records that are not able to be shared in order to make this happen.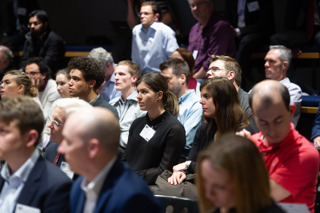 Philip Gafney, CEO of L2S2, the Cambridge Digital Health Accelerator, was the event's final speaker. Gafney described how the company's platform aims to allow medical device innovators to bring their ideas to market faster and more safely, while meeting modern security, regulatory and scalability demands.
Attendees were then invited to take part in a focused workshop session, which was followed by a drinks reception.
To see more from the event, take a look at our video from Cambridge, which features interviews with Christian Moroy and Aamir Butt.