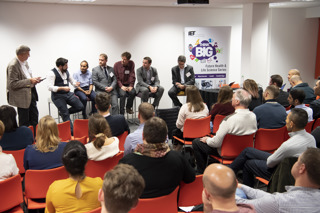 With healthcare data undergoing a massive transformation - creating numerous opportunities for data capture and analysis that will benefit both patients and clinicians – there was plenty to discuss. Advancements in this field could allow healthcare professionals to understand much more about patients earlier in life, as well as pick up warning signs of serious illnesses sooner to facilitate treatment.
However, healthcare systems are struggling to take advantage of the mass of data that's already being created, leading to concerns that the sector is not prepared for the influx of data that is expected to arrive in the near future.
A number of big discussion topics were raised on the day, including the importance of having proper data governance and infrastructure processes, how data can be utilised to improve patient outcomes and reduce costs and how the NHS makes use of massive quantities of data.
There were also presentations to explain why the healthcare system would benefit greatly from the decentralisation of data silos, making care services more patient-centred with technology helping to achieve this and ensuring databases and devices are secure.
Following an introduction from Rami Qahwaji, Professor of Visual Computing at the University of Bradford and member of the IET's Healthcare Panel, the first talk came from Tom Denwood, Executive Director Data, Insights and Statistics at NHS Digital.
Denwood offered an insight into how NHS Digital collects and processes data, what it hopes to achieve with the development of its new Data Services Platform (DSP) and how this transformation will enable the health service to operate more efficiently.
The second speaker was Dr Sean Clarkson, Programme Manager for the Yorkshire & Humber Academic Health Science Network (AHSN). Clarkson explained how the rise in healthcare data will create a need for more collaborative working across organisations and data sharing, as well as shared goals executed through Local Digital Roadmaps like the one in Leeds, which he used as a strong example.
Dr Mark Gooding, Chief Scientist at Mirada Medical then delivered a presentation on artificial intelligence in healthcare and the impact that the technology could potentially have in areas such as process, risk analysis and marketing.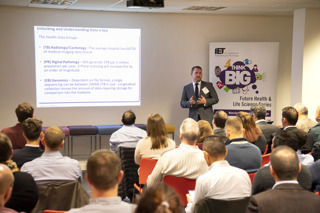 AI was also the focus of the talk from Dominic Kirkman, Business Development Manager at DesAcc EMEA. Kirkman described how AI and secondary uses of data will become a significant part of people's health and wellbeing and how the data we already hold will be crucial to get the process started, but much of it will need to be cleansed and/or migrated.
Dr Cemal Kavasogullari argued why in the future he would like to see what he called a Rosetta Stone for digital healthcare, held by the patient, which allows seamless communication between all different languages of healthcare, acting as an alternative to centralised data silos.
Dr Ilesh Dattani of Assentian picked 'Healthcare: Technology and the Cyber Imperative' as his chosen topic. Dattani outlined the scale at which IoT healthcare devices have exploded in popularity over recent years and the risks this presents to society when the healthcare sector – where some of the largest personal databases are held – is worryingly vulnerable to cyber-attacks.
Attendees were then invited to put questions to the speakers in a panel session, which was followed by a drinks reception. To hear more from the event's speakers, take a look at our video from Leeds, which features the above experts answering the question 'How is big data transforming healthcare?'