TeXchange 2020 Healthcare Innovation: Championing cutting-edge healthcare technologies
Published: Fri 28 Feb 2020
We were joined by representatives from senior UK leaders from companies such as Care UK, Walgreens Boots Alliance, AWS and AstraZeneca alongside the NHS's new digital unit NHSX, including its CEO Matthew Gould.
The aim of the evening event was to inspire, engage and promote an insightful discussion around healthcare technologies, whilst strengthening international relationships. An international delegation of healthcare start-ups ranging from Israel, Kenya, South Africa, India and Nigeria, making 14 companies in total, offering a range of solutions designed to empower patients and doctors. The companies pitched artificial intelligence, machine learning, wearables, predictive diagnosis, connected devices, sensors and telemedicine to government officials, executives, academics and entrepreneurs.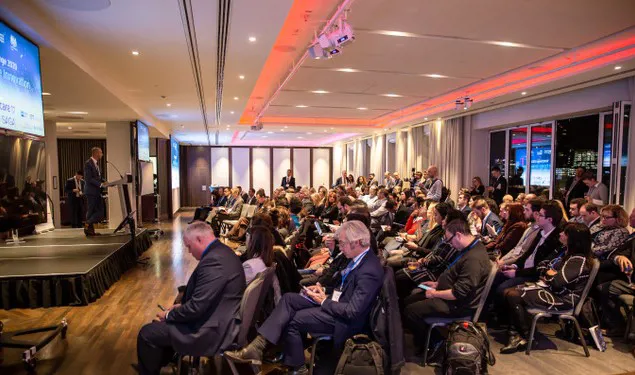 Gould's NHSX could be a big customer, given that the unit is responsible for the NHS's adoption of artificial intelligence, cyber security, data management system, digital and technology strategy, e-referrals and the NHS App.
Technological advances promise to save time, money and waste, and are a key part of the Government's ten-year plan for the NHS, which began last year, and includes a new £250 million Artificial Intelligence Lab.
Dr Peter Bannister, IET Fellow and IET Healthcare Chair said:
We were delighted to host and longer-term to support, the TechXchange launch event whose delegation reflects the IET's international focus and ongoing efforts to champion best practise for design and evidence including cutting-edge enabling technologies. This program fits with the Institution's broader remit to support the delivery of UK healthcare policy including the Life Sciences Industrial Strategy mission to use data, AI and innovation to transform the prevention, early diagnosis and treatment of chronic diseases by 2030 through initiatives such as the NHSX AI Lab.
IET Call for Healthcare Case Studies
We are looking to connect with the membership and local networks to gather global case studies showing engineering impact within healthcare, which we can highlight in our conversations with clinicians, healthcare providers, regulators and the wider public.

The case studies – covering a range of categories from manufacturing to pharmaceutical – will explain how a clinical need was identified and addressed, and how this is supported by the outputs and evidence.  

If you have been involved with a project that would make a great healthcare engineering case study, we would welcome your input. Case study details can be submitted by contacting healthcare@theiet.org

<!—Lead forensics script -->