Launch of SBRI Healthcare Competition 17
Published: Thu 9 Jul 2020
This Competition is supported by the following AHSNs: West Midlands and Greater Manchester. Applications are being accepted from any country in the European Union, including associated countries for EU Research and Innovation, although projects must show a clear health benefit to the UK. On 15 July, join the SBRI healthcare briefing webinar for more details about the competition and the clinical challenges in this area, and for an opportunity to ask potential applicant questions.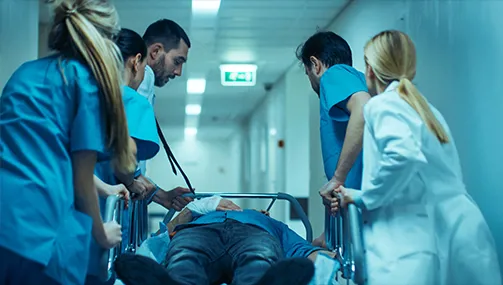 Companies and organisations are invited to bid for funding to develop solutions to challenges in Urgent and Emergency Care, including the following sub-categories:
Reducing demand

Recognising differences for adults vs children and young people
Recognising that respiratory conditions in all ages account for a rapidly growing proportion of attendances

Reducing the length of stay in the Emergency Department

By more efficient triage, streaming and treatment
By more efficient discharge or admission to the hospital
The deadline for applications is 27 August 2020 at 1 pm and details on the Competition and how to register for the briefing event will be available on the SBRI Healthcare website.
About SBRI
SBRI Healthcare is funded by NHS England to develop innovative products and services that address unmet health needs. Each year SBRI Healthcare provides funding to innovative new products and services with the potential to improve patient outcomes and delivery of health services within specific health challenges. Competitions are open to single companies or organisations from the private, public and third sectors, including charities. The SBRI scheme is particularly suited to small and medium-sized businesses, as the contracts are of relatively small value and operate on short timescales for Government departments. In addition, it is an opportunity for new companies to engage a public sector customer pre-procurement.
<!—Lead forensics script -->