Start of main content
The biggest hurdles in distributing digital health products within the NHS
Published: Tue 15 Sep 2020
In November 2019, the IET Healthcare sector organised the inaugural Think Big Future Health & Life Science event. During the event, we took the opportunity to speak to Dr Guy Gross, Consultant at LaingBusion, about the process of implementing digital health products within the NHS.
Guy began by sharing an example of an app that impacts a large number of people and allows those who might not engage with a physical service to engage remotely and do things from their home. Despite the technology saving money and adding value, it hard a hard time breaking into the system.
What are the biggest hurdles in distributing digital health products within the NHS?
One of the main reasons being because the original sale of this device and technology was around replacing part of a system. Which meant dealing with hospitals to buy your product, which is going to compete with your hospital service and paid by a commission group, the CCG's, who are the payers that commission the service. There is therefore a massive conflict. If you are going to be going into a certain route and you are going to be competing for part of that pathway, you need to find a way of being embraced within it.
In order to do this, you need to be talking the language of collaboration, co-designing how your product is going to fit, and obtain measures that allow you to show the benefits that you'll create in the context of the existing pathway. The more you try and change something, the harder it's going to be to get it embedded in the NHS.
There are also simple products that are very easy to get into the NHS because of the natural structure. We have diagnostics and various tools that are very simple. You ask for a test, the test is sent away, and the test comes back with a result – a very clear pathway that hundreds of providers will offer. And then there are the more complex ones around day to day management of patients and platforms which patients will use as a means of communication, self-managing or delivering information between clinicians and others.
These can become massively complicated and difficult to embed because of the number of touchpoints, information sharing that is required, interoperability of that information, and the maintenance of it.
We are moving towards a world where some of these things are becoming possible and that's only because of the world of integrated care. We are moving from a transactional relationship from the commission and the provider to a more consistent long-term view of relationships between commissioners and their patients as a partner.
As this partnership strengthens in an integrated care environment, between your GP, hospital visits, community management, personal care management, health management, become management under one banner.
You are then able to see how that gives an opportunity to cross-talking and embed platforms. But it's only really in that environment where we see relevant uptake. There needs to be a way of overlaying on the transactional relationship within those pathway designs if you really want to succeed.
Get involved
We know the importance and positive impact sharing knowledge and information within our community has and invite your opinions. We are keen to find out your thoughts on what he biggest hurdles in distributing digital health products within the NHS are. If there is any advice that you'd like to share, we would be excited to include you in our future case study. To get involved, please contact us at healthcare@theiet.org.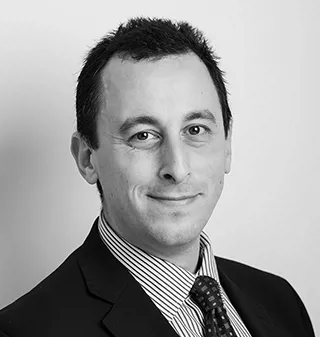 Dr Guy Gross, Consultation, LaingBusion
Guy Gross (MBA2006) is a doctor and serial entrepreneur in healthcare who has spent almost 20 years as an innovation consultant working with large corporations to identify opportunities in the healthcare space and launch products into newly created markets.

<!—Lead forensics script -->