Start of main content
Do regulators need to change to take advantage of new healthcare opportunities?
Published: Tue 8 Sep 2020
In November 2019, the IET Healthcare sector organised the inaugural Think Big Future Health & Life Science event. During the event, we took the opportunity to speak to Dr Guy Gross, Consultant at LaingBusion, about the role of digital technology for healthcare regulators.
Guy shared that historically, there has been some problems in trying to be proactive and productive in regulating and overseeing different parts of the system.
The Care Quality Commission (CQC) regulates and inspects health and social care services, often on a 3-yearly review of every site that delivers any sort of care. Each of the sites they visit gets a score to determine whether it's good, bad, needs improvement or is excellent. However, these services are given their ratings based on a single day and data that is submitted at various times when asked. 
Do regulators need to change to take advantage of new healthcare opportunities?
The true capability of digital technologies, which is real-time information on a streaming basis, is not used. This could be implemented through the various types of artificial intelligence and tools that are being used by other industries such the way trading and regulations are done in financial services, education being provided digitally, remote working, and monitoring and regulating activity.
Guy further stresses the importance of regulators needing to move into the role of being surveyors of the whole market and not simply acting as a pinpoint check. In the past, this has led to crises and scandals across the market, where ticking the boxes and having forms that look at individual performance of services, results in hidden problems never coming to the forefront.
By creating standards and mandating the reporting of that information, looking at how people are cared for and getting feedback from people within the community on a daily basis, we can raise flags where appropriate. This will make sure that these regulators are able to see where these problems arise before they ever become outstanding scandals, and address them accordingly.
Get Involved
Every company has different needs, challenges and lessons to share. Guy shared his thoughts on how regulators could adapt and change to take advantage of new healthcare opportunities and improve regulation.
We know the importance and positive impact sharing knowledge and information within our community has and invite your opinions. We are keen to find out your thoughts on regulators and digital technologies. If there is any advice that you'd like to share, we would be excited to include you in our future case study.
To get involved, please contact us at healthcare@theiet.org.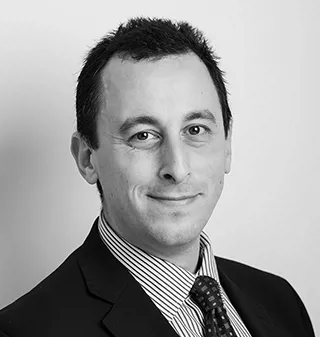 Dr Guy Gross, Consultation, LaingBusion
Guy Gross (MBA2006) is a doctor and serial entrepreneur in healthcare who has spent almost 20 years as an innovation consultant working with large corporations to identify opportunities in the healthcare space and launch products into newly created markets.

<!—Lead forensics script -->