New AV Forum report published, date for 2019 event announced
The aim of the report was to bring together the key highlights from the day and show why Applied Visualisation is becoming a growing area of focus across the industry while giving readers an idea of what to expect from the 2019 Forum.
The event brought together engineers, practitioners, researchers and technology providers from across various industry sectors to share expertise and best practice, as well as their knowledge and understanding of hardware and software advances and how applying virtual reality (VR), augmented reality (AR), data capture and analytics can be beneficial for business.
Attendees were able to find out how a range of businesses from medical and construction firms to manufacturing and automotive specialists have been making effective use of advanced visualisation technologies to drive innovation, identify potential new opportunities and solve real-world challenges, creating both impact and value.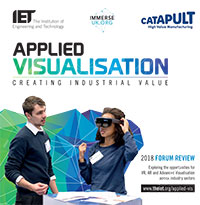 The format of the Forum consisted of case study presentations from companies such as Lloyd's Register and Hosokawa, interactive roundtables on topics including Skills and Business Barriers, exhibitor demonstrations from a variety of specialists and cross-sector networking.
Following the success of the previous year's event, the organisers wanted to capitalise on the continued interest and awareness of the technology to provide the attending parties with greater insight into its use and adoption. The structure of the day - comprising a blend of speakers, from OEMs and SMEs, through to policy makers and funders - gave the audience genuine vision and insight into the size and diversity of the Applied Visualisation ecosystem in the UK.
To find out more about the 2018 Applied Visualisation Forum, read the full report.
The event will return to the British Motor Museum on January 30th 2019.