Start of main content
Key challenges of internet voting debated at IET roundtables
Published: Wed 10 Jul 2019
The roundtables were attended by a variety of individuals with relevant knowledge and expertise in the field, from academics to industry and government representatives, and gave them an opportunity to share blue-sky thinking and explore how the IET can help to lead developments in this area. The conversations covered two of the main challenges that internet voting needs to address:
Technical - What are the security requirements, issues, threats and risks in internet voting? What would an internet voting system need to satisfy to be trustworthy?
Societal - What are the new opportunities enabled by internet voting? What are the drivers for internet voting?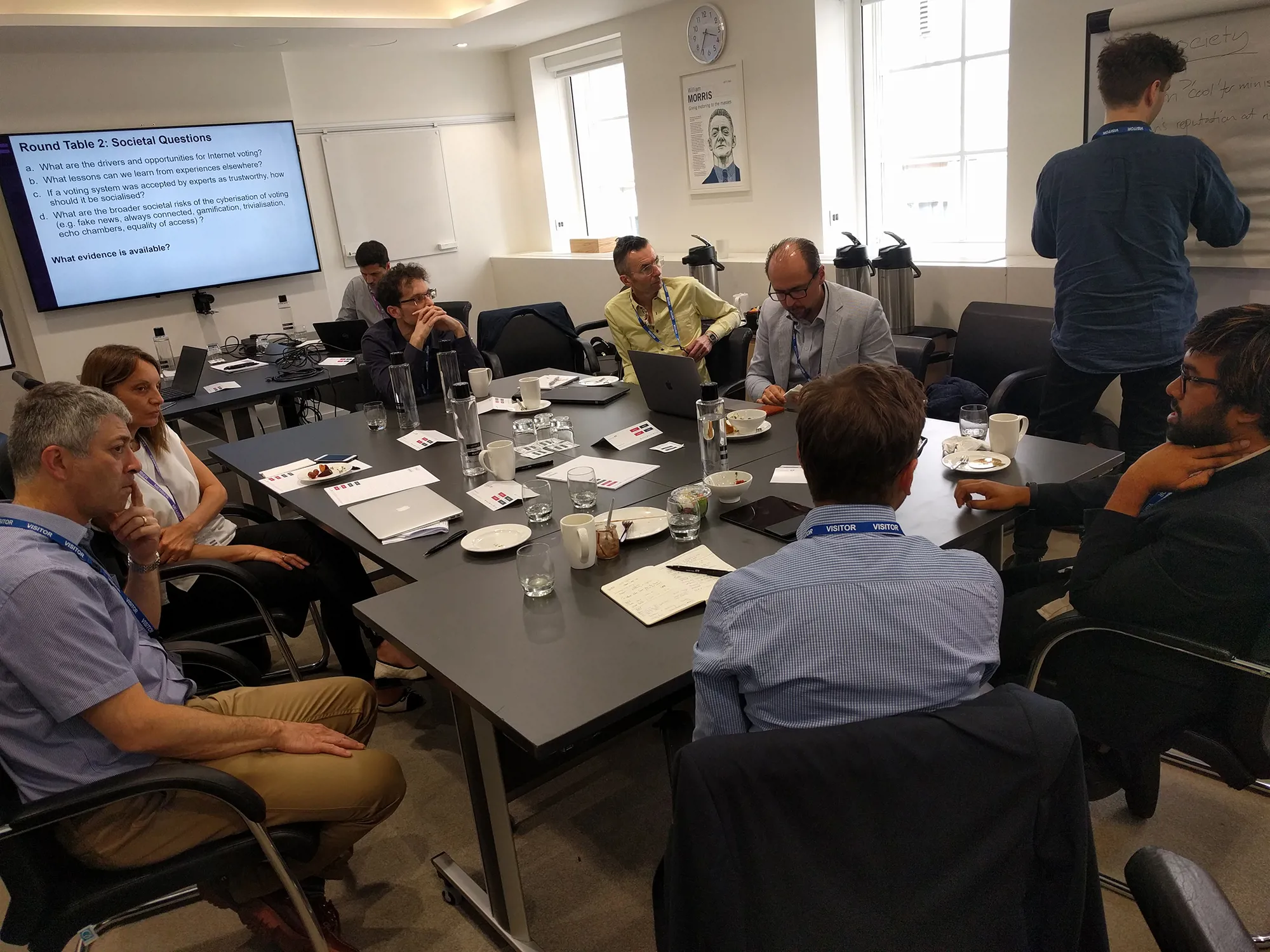 Each session was preceded by two warm-up talks from Mark Ryan, Professor of Computer Security at the University of Birmingham and Pascal Crowe, Data and Democracy Project Officer at the Open Rights Group. The aim of Ryan and Crowe's presentations was to give the participants some 'food for thought' on the potential technical and societal issues before the group discussions began. Link to their slides can be found at the bottom of this page.
The IET's E-voting Working Group
The workshops were the first activities to be delivered by the IET's new cross-sector working group chaired by Prof Steve Schneider, Director of the Surrey Centre for Cyber Security. The group was set up to explore various issues around electronic voting – with an initial focus on internet voting – as well as develop an official IET position on internet voting for statutory elections in the UK.
Another one of its objectives is to provide well-informed and authoritative technical advice on the issues, challenges and risks around such systems, with respect to their requirements, design, deployment and operation. 
Report and Call for Evidence
The IET, along with the cross-sector working group, has now begun the process of bringing together the findings from the two workshops with the aim of publishing a report on the subject later this year. A Call for Evidence is also being issued to enable IET Members who weren't involved in either roundtable to feed into the report. 

<!—Lead forensics script -->