Start of main content
Launch of the IMechE/IET survey results: the future manufacturing engineer
Published: Thu 22 Jul 2021
In late 2020, the IMechE and the IET came together to discuss what the future manufacturing engineer might possibly look like.
What are the key skills that engineers will need to survive and thrive?
Expert volunteers from the respective IMechE and IET manufacturing panels worked together to produce a survey with relevant questions targeted to gauge an understanding of what engineers in the sector think.
A compelling narrative based around those future challenges, written by David Wright, IET Design and Production Sector Executive Committee Deputy Chair and former Director of Strategic Relationships at Coventry University, was published to engage hearts and minds.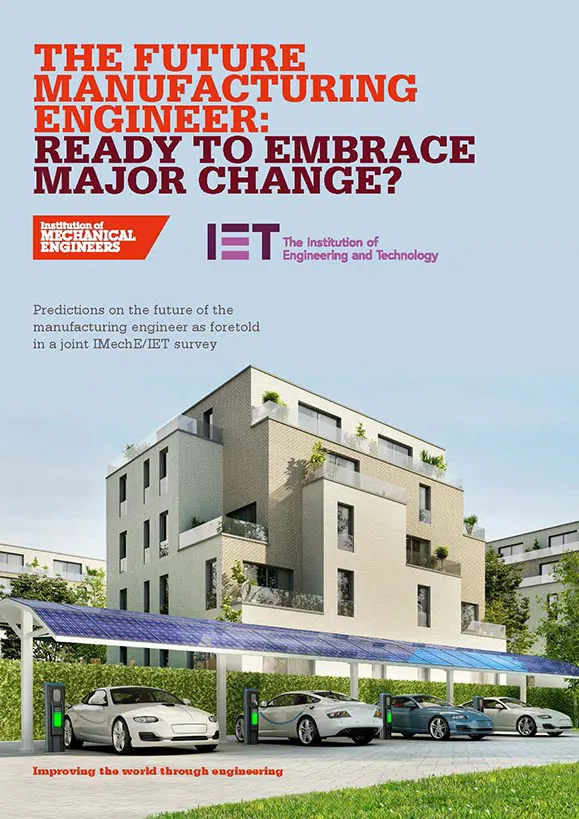 The topics in the survey questionnaire included how manufacturing engineering roles may change in the future, which competencies will be most important, and where manufacturing engineers can make the most significant contribution to finding answers to some of humanity's greatest global challenges.
It was promoted widely to IMechE and IET members and contacts and via social media and mailing lists, generating 346 responses. These came from a cross-section of age groups, ranging from 18 to over 75 years old, and from different levels of seniority, with the most common job descriptions being Senior Engineer and Consultant.
This report presents a snapshot as to what engineers are thinking and feeling about where manufacturing engineering is currently and how it will evolve in the future years.
In response to these results, the IMechE and the IET recommend:
For those seeking to start or continue a career in manufacturing engineering: Ensure you have the complementary training and support as well as your technical skills to develop your career and secure the success you seek.
For those seeking to recruit, train and retain manufacturing talent at all levels: Recruit flexibly and then invest in your people to bring out their ideas, agility, and contributions.
For those providing education and training to the next generation of manufacturing engineers: Seek to develop a pipeline of versatile and digitally literate problem solvers who are prepared to be lifelong learners in a rapidly changing environment.
Multi-disciplinary skills and knowledge, including in sustainability, energy systems, and behavioural science – alongside traditional engineering and science disciplines – should be a central part of the skills pathway for next-generation manufacturing engineers.
For the IMechE, the IET and other relevant professional engineering institutions: Collaborate widely with others, especially non-engineers, to detect change coming more quickly than you expect. Support the UK sector embracing and exchanging new ideas with others across the world to ensure productive manufacturing for all.
 

<!—Lead forensics script -->