In conversation with Marcus Burton MBE
Published: Mon 17 Feb 2020
We spoke with Marcus Burton MBE about his recent Mensforth Gold Medal success at the IET Achievement Awards, how his company Yamazaki Mazak is helping manufacturers across the globe to improve productivity and his ambitions for the on-going UK Made Smarter Review.
Marcus Burton is standing against the backdrop of Mazak's resplendent bright orange exhibition stand at Smart Factory Expo.
It's great to see him and to be in his company again, almost 12 months to the day. Last time, we'd been chatting in the queue to get into the Manufacturer's Top 100 Awards ceremony.
How time flies. A year on and Marcus has added another volunteer role to his roster, becoming President of the Manufacturing Technologies Association (the MTA).
Coincidence then that both the MTA and Yamazaki Mazak, where Marcus is a Non-Executive Director, should be celebrating their respective centenaries in 2019.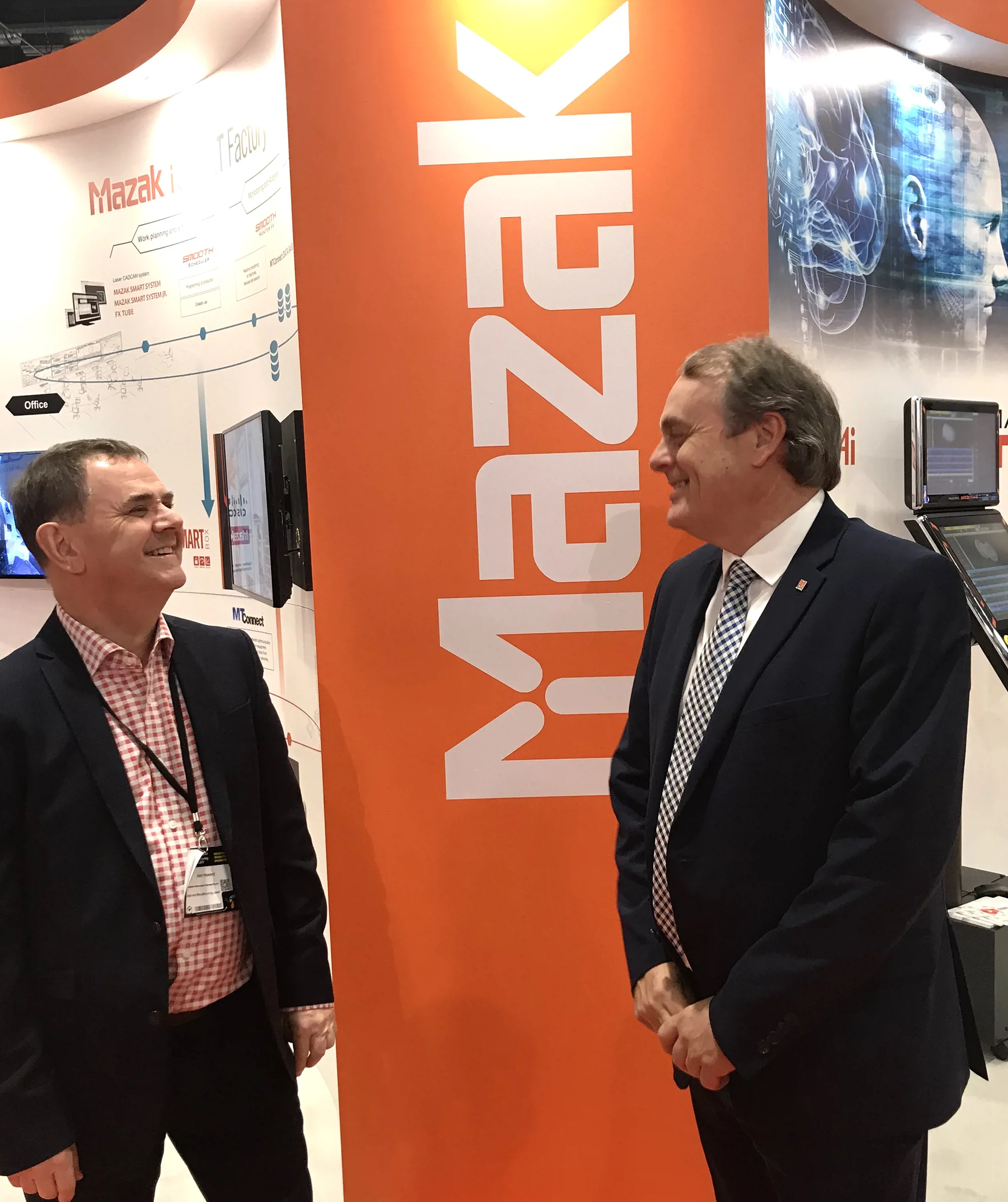 Marcus is passionate about manufacturing, a champion of Made Smarter and a very strong advocate of manufacturing productivity improvement through investment in technology.
A Chartered Engineer and MIET, he tells me he's delighted to have received the Mensforth Manufacturing Gold Medal at the IET's Achievement Awards.
It's a great occasion albeit tinged with a little sadness. He recounts the part his Dad played in getting him hooked on processors and programming, in the first place.
We've both lost our fathers in recent times, engineers both! Turns out his dad is with him in tiny part at the ceremony, after all, as Marcus wears his dad's cufflinks, on the night.
Marcus joins the illustrious list of Mensforth winners. 
Previous recipients include some great names from the world of manufacturing engineering.
Engineers such as Tom Williams CBE, former Airbus Chief Operating Officer, Gavin Campbell, Director Quality, Airworthiness & Technology Strategy at Bombardier and BAE Systems' Technology Officer, Nigel Whitehead to name just three.
Marcus rounds off the year with another richly deserved honour, receiving an MBE for services to export and inward investment, announced in the December 2019 New Year's Honours List.
It's a pleasure and a privilege to get to interview Marcus on camera. Watch it now!
In Conversation with Marcus Burton MBE on Manufacturing
<!—Lead forensics script -->