Start of main content
Launch of our new guide on digitisation for construction product manufacturers
Published: Fri 8 Oct 2021
This plain-language guide has been produced to help decision-makers in manufacturing identify why supplying structured data is important.
How to avoid poor investment decisions, how to set priorities and implement information management, and safe ways to share this information about products across the supply chain.
What is digitisation, digitalisation and digital transformation?
Digitisation is turning your analogue and disconnected data into connected, digital form. It's about connecting your sources of information so they can work for your business more efficiently and effectively. This guide is about digitisation.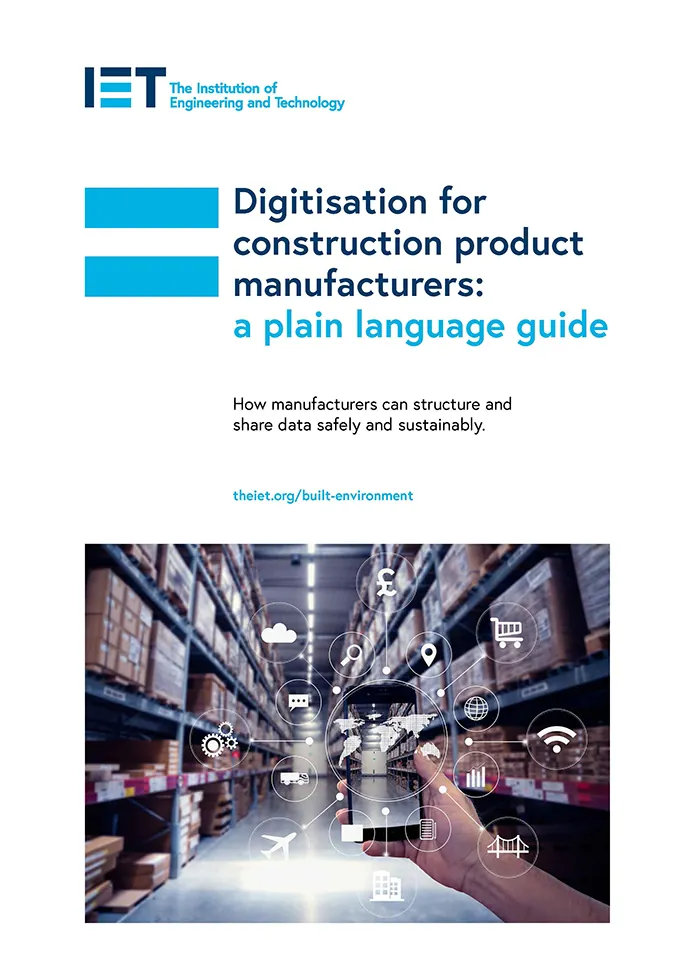 Digitalisation is making this digitised information work for you in your existing business – benefiting from things like e-commerce, product tracking (object identifiers), or contributing to a digital twin, golden thread or building logbook.
Digital transformation is about creating new business applications for data – new business models. These include artificial intelligence (AI) powered predictive maintenance, 3D printing and custom manufacturing, Internet of things (IoT) or Platform Design for Manufacturing Assembly (DfMA).
In 2020, IBM carried out an analysis for a major UK construction product manufacturer prior to a programme of digitisation.
The benefits forecast 12 months after its implementation was a 1.56% increase in turnover and a predicted further increase in sales of 6-7% over the following three to five years.
Manufacturers' benefits included increased revenue and margins, reduced costs, and brand improvement.
Our recommendations
The challenge of restoring confidence in the construction sector is a complex one, but it needs to be achieved through simple steps.
This plain-language guide sets out a straightforward way in which construction product manufacturers can comply with regulations, demonstrate integrity and transparency, and help make buildings safer.
For manufacturers
Read our guide.
This guide sets out a simple process to implement internal digitisation as the first step to compliance and commercial benefit. Section 3, Introduction and methodology, provides more context for this change.
Make a commercial decision.
Manufacturers can make commercial decisions about how to proceed in line with the standards to ensure compliance.
Work with your trade association.
Ask your trade association to support this work for your sector and talk to your fellow manufacturers. If you'd like us to talk to your trade association, please get in touch.
For the UK Government
Understand the sector.

The current landscape of construction product manufacturing, while innovative and profitable, is also complex and messy. Understanding the nature of the sector will help the Government to support initiatives that manufacturers can implement. The Government should encourage those working on policy initiatives to engage with SMEs directly through their trade associations.

Support the digitisation agenda.

Manufacturers are the originators of much of the key data in construction and are therefore crucial to a digital construction economy. By taking a digital-first approach to its policy initiatives, regulation and guidance, UK Government can encourage manufacturers to digitise.

Communicate digitisation to manufacturers.

The Government needs to take the lead on communicating that digitisation is necessary, that it's easy to implement – even for SMEs – and set out in simple terms the ways in which manufacturers can do this.

 

Read our full guide for comparisons on construction products, steps on how to digitise construction product information, how to approach standards, and more.

On 17 November 2021, the editorial board introduced this guide in a webinar.

<!—Lead forensics script -->