Start of main content
Innovative tech solutions proposed at fire safety hackathon
Published: Thu 4 Jul 2019
The event took the form of a hackathon, which saw individuals from different backgrounds and with varying skill sets come together to form teams and create innovations that could radically change the face of fire safety, potentially save lives and help prevent the reoccurrence of incidents like the Grenfell Tower tragedy ­­– all in the space of just two days.
Participants were then required to pitch their idea to the rest of the group and a number of expert judges, who picked an overall winner and runner-up. Cash prizes were on offer, as well as follow-up support.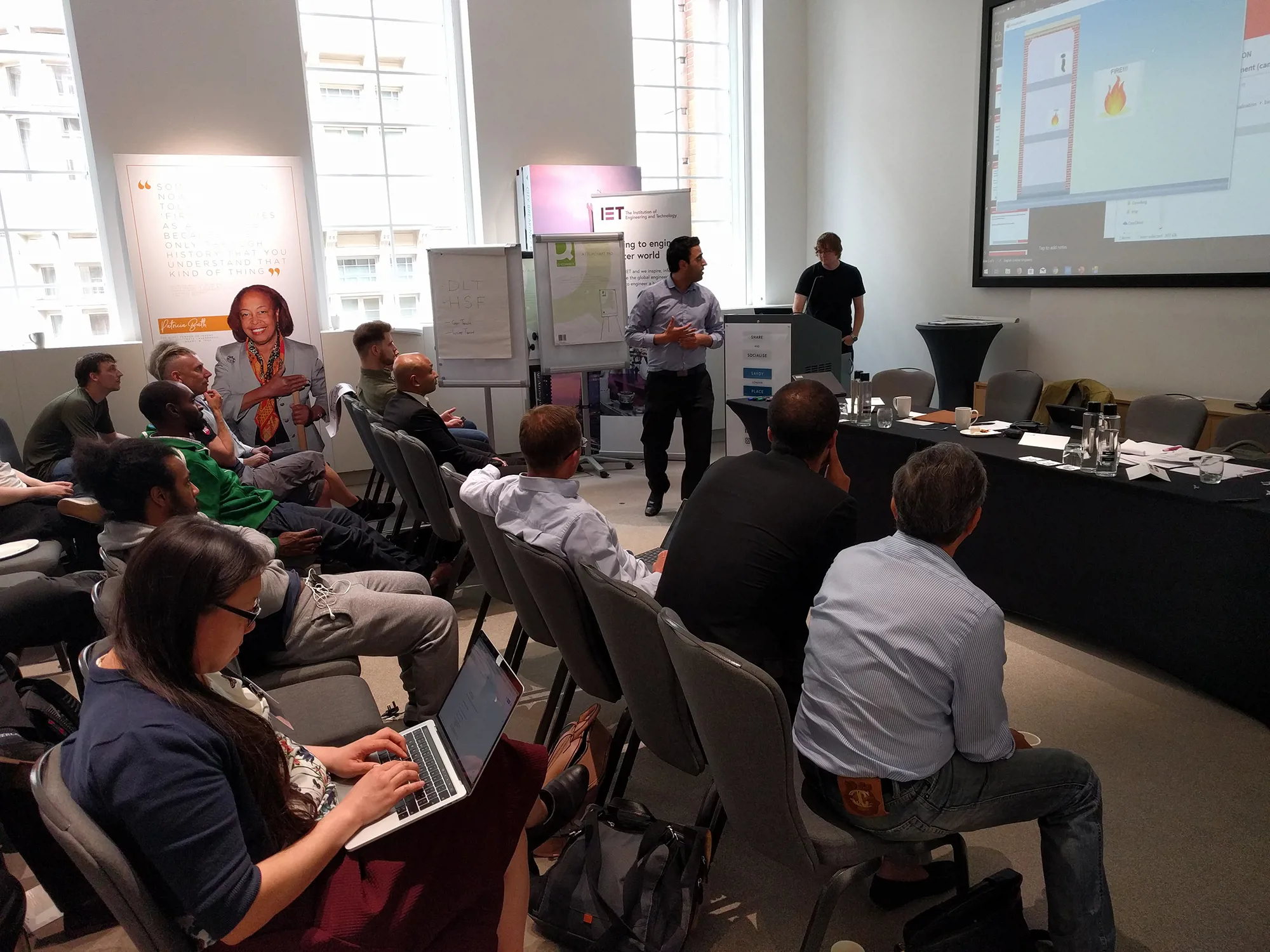 The themes
The six teams were urged to consider the recommendations made by Dame Judith Hackitt in her 'Building a Safer Future' report published after the Grenfell fire. Secondly, they were asked to study the following themes, ensuring they were an integral part of their proposed solution. These themes also formed the basis for the judging criteria:
Process – e.g. automated, validation of data/information, transparency of quality and approvals process. Full digital audit trails
Regulation – e.g. compliance with statutory regulations, fire standards etc. during design, construction and lifecycle
Technology – e.g. integration of existing systems or new technology must be easy to manage, adopt, develop and interact with. Minimum user upskilling requirement
Competency – e.g. validation checking on the competency of all stakeholders (operatives, manufacturers etc.) involved. Ability to digitally check the quality of materials used, system safety checks, manufacture tests, warranties etc. Consider possibilities for open data transparency for occupants/tenants on the quality of their homes/building.
Background and event structure 
The hackathon was organised by the IET, the Association for Project Safety (APS) and Hack_Construct, and followed on from a roundtable in November 2018 which saw the formation of working groups, with challenges explored and potential solutions highlighted.  
Sponsorship for the hackathon came from fire detection specialist FFE.
On Day 1 the teams were formed and attendees were shown presentations from David Martens of the construction and infrastructure consultancy DMRC and Cristina Savian of BE-WISE on how to build digital capabilities and digital twin technology – both topics that could help generate ideas. The teams were then sent off to discuss and formulate their ideas and start developing their pitches, working late into the evening.
On Day 2, teams put the finishing touches to their projects and finalised their pitches before presenting them to the judges, after which the winner and runner-up were announced.
The solutions
Winner – Strategic Life Time Decision-maker (SLTD)
Team Fired-Up's winning creation utilises black box technology to enable a balanced, transparent decision-making solution. With the SLTD unit and accompanying app, critical information such as building materials, escape routes and flame resistance of surfaces is available to all stakeholders, from the building manager to the resident. It also allows residents to communicate with the building manager and be shown the quickest way to exit the building in an emergency.
Runner-Up – Project Intellisense
Team Solent opted for a three-phase approach with their design. The aim of the first phase was to supply intel in the event of a fire using existing technology such as cameras and sensors; the second phase enables automated evacuation during a fire; the third is designed to help prevent a fire from occurring through automation of an intelligent management system, which tracks the number of occupants in a building using facial recognition technology. 
Distributed Ledger Technology
Team Client Angel used the two days to produce a Distributed Ledger Technology (DLT)-based Construction Design and Management Regulations (CDM) compliance framework developed in the form of a Digital Health and Safety File (DHSF).
Residents' Escape Plan
Team Resi Escape Plan proposed that residential buildings should offer clear guidance on what to do in the event of a fire within easy reach of all residents. The group shared ideas for simple, clear messaging that will prevent situations where occupants are unclear of what action to take in an emergency, and if it's a high-rise building, information on what a 'Stay Put' policy entails.
Integrated sensors
Team Bells 'N' Whistles' idea consisted of a series of sensors within an individual property that integrates with the building's fire alarm system to allow for managed evacuation.
Crowdsourced fire alarm system
Team Internet of Fire came up with a crowdsourced fire alarm system equipped with wireless thermometers and environmental sensors.
The reaction
Bobby Chakravarthy, IET Built Environment Panel Member, APS Past President and co-organiser of the Hackathon, said: ''I have been really overwhelmed with the commitment and imagination of all the people taking part. The two days have been a hive of activity with people staying on till 11 pm on the first day to work on their idea. The teams all took very different approaches to the problem and while some of the solutions were hardware-based, some were software-based and some behavioural; every single one of them would make a meaningful contribution to keeping people safe from fire.''
Ryan Tennyson of Hack_Construct, also an IET Built Environment Panel Member, commented: "This format provides a unique environment to use cross-industry best practice knowledge, skills and technology to help develop digital solutions to these problems rather than to simply rehash old ones. In aerospace, aviation and automobile industries high-risk safety issues and unsafe working practices are relatively unheard of because so much can be foreseen or tested out thanks to digital design, fabrication and manufacturing processes. There's no reason why this can't be applied to design risk management and fire safety."
IET Built Environment Lead Rick Hartwig added: "Tech skills, new technology and traditional engineering know-how are set to revolutionise the traditional world of fire safety within buildings by tapping into new technology. This event was all about bringing experts together from two different sectors to come up with new proposals which with the right development could improve fire safety and ultimately save lives."
The next steps
The workshop organisers are now planning to publish a full report on the findings from the Hackathon later this year while working to support the teams in developing their ideas further. The outputs will also contribute to the IET's response to the government's new 'Building a Safer Future' consultation on fire and structural safety in relation to high-rise residential accommodation in England.

<!—Lead forensics script -->